Throughout this page, you will be able to follow the work of the laureates of the UNESCO Prize for Girls' and Women's Education. The laureates will share with us regular updates on their projects and activities, discuss the needs of their community and inform us of new initiatives to come following the Prize. 
 
- April 2017 -
'Pretend work' in early childhood centres in Indonesia expands girls' career aspirations
By Ella Yulaelawati, Directorate of Early Childhood Education Development, Indonesia
Where can you find teachers, doctors, pilots, police officers all happily working side-by-side? In early childhood care and education (ECCE) centers in Indonesia.
Children's pretend play in early childhood care and education (ECCE) centres is recognized to have cognitive and social benefits. It can also reduce gender bias and stereotyping and expand career aspirations for girls.
At the Directorate of Early Childhood Development in Jakarta, we promote "pretend work" activities at an early age. This helps girls to think about their interests and abilities, and to open up occupational aspirations to include those traditionally associated with men (like computer programming and aerospace engineering).
Pretend work also develops girls' communication, social and thinking skills. For example, through pretend work activities, children produce and market products, and consider how to spend, save and share. We help them to work collaboratively, consider others' perspectives, negotiate, and to get organized. By thinking about and working with monetary and non-monetary resources, we help children consider not only about future professions, but also how they assist the people and the community around them.
Vocational skills and career options are obviously not based on pre-school alone. However, we believe that pretend work experience provides girls with the acquisition of important traits that they can use in their adult lives and prepares them for different career possibilities.
There are nearly 200,000 ECCE centres, about 600,000 ECCE teachers and educators, and around 12.6 million children have access to community-based ECCE centres in Indonesia. There are still children left underserved and who do not have access to ECCE. Most of these children reside in rural areas. Indonesia is aiming to establish at least one ECCE Centre in each village, to develop and empower rural communities in isolated and hard-to-reach areas.
By expanding ECCE that offers children opportunities for early imaginative play, we are opening up new worlds for children, advancing not only their own development but also gender equality.
The Directorate of Early Childhood Education Development was awarded the 2016 UNESCO Prize for Girls' and Women's Education for its project "Improving Access and Quality of Girls' Education through Community Based Early Childhood Education and Early Gender Mainstreaming".

----------------------------------------------------
Addressing gender-based violence on Zimbabwe college campuses
By Evernice Munando, Female Students Network Trust (Zimbabwe)
Mary* is a woman who recently came to the Female Students Network Trust (FSNT) seeking support following a sexual assault that took place on her college campus. A student at a teachers college, she had been raped by a campus security guard, who also threatened to kill her.
Mary is one of the many young women who come to us seeking assistance from the mistreatment, psychological abuse and sexual harassment that they are experiencing on college campuses.
The negative impacts of this abuse are far-reaching. Beyond the immense emotional distress,suffering and health consequences, gender-based violence affects these young women's education and career opportunities.
FSNT is supporting Mary and other victims of gender-based violence to access psychosocial support and to obtain justice, as well as advocating for safe learning environments throughout Zimbabwe so that these incidents do not occur ever again.
In the past, FSNT referred such cases to partner organizations with the capacity to offer counselling services, legal aid and medical support. However, with the increasing number of cases, the need is simply too great. FSNT is developing its own capacity to offer assistance and provide rapid responses when students are most vulnerable through its #SmartGirls campaign.
In Mary's case, FSNT offered its premises in Harare for counselling in an environment away from where she had been attacked. The Network also engaged a legal resources foundation in Masvingo for legal advice. We visited the teachers college to understand what had happened, and were received by the college principal, who welcomed our assistance and indicated that the case was being brought to court.
The Ministry of Higher and Tertiary Education Science and Technology Development applauded FSNT for its hard work in ensuring the safety of young women in tertiary education institutions, and sent a representative to visit Mary at FSNT premises.
FSNT is making strides in raising awareness and ending gender-based violence across Zimbabwe. We will continue to support Mary in seeking justice, and creating college campuses that promote respect and equality for all.
FSNT was awarded the 2016 UNESCO Prize for Girls' and Women's Education for its project "Empowerment of tertiary education female students through leadership development and mentorship programmes in Zimbabwe".
   *For protection and privacy, the victim's name has been changed.
----------------------------------------------------
- January 2017 -
Building the base: Empowering female higher education students in Zimbabwe
By Evernice Munando, Female Students Network Trust (Zimbabwe)
Men are as seen to be biologically and socially more powerful than women in Zimbabwe and many other settings around the world. This means that they often have better access to leadership roles and positions – including as college lecturers and administrators – than women.
When I was a female student leader many years ago, I saw many barriers to my, and to my peers', participation and involvement in decision-making. The exclusion of female students in leadership meant that our voices were not heard, our needs were not addressed, and our aspirations were not given space to flourish. Many women who did participate were labelled and subjected to various forms of abuse, including sexual harassment.
At the Female Student Network Trust (FSNT) we are fighting to change this. We are doing this first through individual transformation, where we are building the capacity of female students to understand their strengths and improve their leadership skills. We are also doing this through structural transformation, where these very same female leaders are challenging patriarchy and harmful social norms and transforming the institutions around them.
Since being awarded the UNESCO Prize on Girls' and Women's Education, we have expanded our efforts to raise awareness about sexual harassment in higher education, including during the 2016 16 Days of Activism against Gender Based Violence. Our #SmartGirls campaign enhanced awareness among students at the Bindura University of Science Education and Great Zimbabwe University of different forms of sexual harassment, and where to go to report incidents and get help. We are also making strides to create safe learning environments across the 10 provinces of Zimbabwe, supporting referrals to counselling, and links to medical support services for female students affected by violence.
The UNESCO Prize is inspiring change within Zimbabwe's student community. It is increasing female students' capacity to be knowledgeable about issues affecting their safety, to speak out, and to create supportive learning environments in higher education. It is truly building the base – the foundation for success – with female leaders creating a better learning space for all.
Read more about FSNT's work here.
----------------------------------------------------
- December 2016 -
"Speaking out for gender equality"
By Ms Ella Yulaelawati, Directorate of Early Childhood Education Development (Indonesia)
Gender roles and societal expectations and beliefs for girls and boys are transmitted through verbal and non-verbal language from an early age.
It is difficult for a child to grow up without some form of gender bias and expectations, whether it be messages that boys are better than girls at science or that it is a woman's job to nurture her children. In most cultures, even as babies, sons and daughters are treated differently – dressed in gender-specific colours, and given gender-specific toys. The messages and cues that children receive in the home and in their community are often reinforced by children's peers, by the media and the television, and even in their school experience.
Recently, at the 5th International Conference on Language and Education: Sustainable Development through Multilingual Education, I shared about how opportunities for children to promote gender equality need to start at an early age. My Early Childhood Education Development centre in Jakarta is aiming to do this.
In my centre we aim to provide a gender-responsive environment, with stories, songs and other visual materials that are free from stereotypes. All learners are encouraged to use all toys. Girls play with trucks in the sandpit, boys feed baby dolls, or vice-versa. We teach children to be themselves, and to imaging what they can become – a leader, a hero, and a problem-solver, for example.
We aim to create a safe space where both boys and girls can thrive, and children can express themselves, where everyone is equal, cared for and respected. We give equal time and value to girls' and boys' experience and feelings, and are taking some first steps on the path to gender equality.
----------------------------------------------------
- August 2016 -
"The right time to stand up"
Winning the Prize came just at the right time. It is a meaningful and powerful recognition of the need for robust intervention to ensure gender equality in early childhood care and education (ECCE) in Indonesia.
It works also to raise awareness among ECCE stakeholders who may not have given much thought to the importance of improving girls' and women's education. The Prize has embedded the idea that greater learning opportunities for girls and women contributes directly to future development that is truly sustainable.
The empowerment of girls and women not only benefits the female population, but has a fundamentally positive influence on everyone as all spheres of society are developed.
In Indonesia the idea of improving learning opportunities for all girls and women gained momentum with the awarding of the prize enlightening many people including parents. In the classroom female and male educators were further inspired to create a gender sensitive environment for their pupils in order to achieve sustainable goals.
In order to continue the work of creating better play-based ECCE I established a standard for gender sensitive daycare in the Ministry of Education and Culture which was inaugurated on 21 June 2016 by Former Minister Of Education and Culture, Mr Anies Baswedan.
The award has confirmed that this is the right time for everyone to make a stand. Besides the traditional obstacle of people believing that it is a woman's destiny to be disadvantaged, we face another challenge in Indonesia which is the frequent changing of the top leadership. This means that awareness-raising about gender sensitivity among the country's leaders becomes a constant task.  For this reason we are developing a policy framework, references and guidance to mainstream gender mainstreaming in ECCE, which includes programmes, a strategic framework, planning, institutional structure, facilities and infrastructures, and the implementation of learning for the early years.
The award has given further impetus to develop training and learning materials to reduce the gender gap in education. One such idea is the creation of toy libraries for families from the poor, rural marginalized populations to create a better gender sensitive environment for play and learning.
Newly appointed Minister of Education and Culture Professor Muhadjir Effendy (who replaced Mr. Anies Baswedan in July 2016) said the first goal was to improve vocational education. He said ECCE and the toy library would provide girls with age-appropriate and fun educational play which would spark their interest in role-play of professions such as policewoman or doctor.
We are also empowered to call for the media to play a bigger role in raising awareness among the public about the right of girls and women to a better education.

Inauguration of a renovated Day Care in the MoEC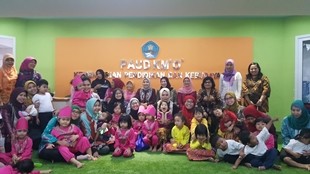 Children, parents, teachers and officials wives` association in the MoEC Day Care
----------------------------------------------------
- July 2016 -
"The day I heard FSN had won a UNESCO award"
By Evernice Munando, Female Students Network Trust (Zimbabwe)                                       
I could not believe when I found out the good news. It was a Friday afternoon and I was alone in the office doing some minor jobs while my colleagues were attending a programme at a local university in Harare, Zimbabwe. I remember I screamed and celebrated by running around the office yard losing my jacket in the process. I was overjoyed both as an individual and as the founder of my organization. I felt specially honoured considering where it had all begun. The passion and the hard work had been recognized.
Winning the UNESCO award has allowed FSN to gain in credibility and respect from the country as a whole, despite the fact that it is a civil society organization. Government departments and ministries have pledged to continue supporting the network's efforts for the emancipation of women and girls' education towards achieving SDG 4 by 2030. In return the organization feels an increased sense of responsibility to adequately deliver on its mandate: empowering female students in Zimbabwe and beyond.
FSN now plans on convening a consultative meeting to scale-up the efforts of the organization in policy advocacy in tertiary education institutions across further provinces in Zimbabwe. Consultations will involve female students, authorities of tertiary institutions, representatives of government entities and parliamentarians to establish an action plan and guide the organization's project implementation and objectives.
The organization envisions a democratic learning space for female students free from abuse and discrimination and filled with equal opportunities for girls and women. It aims to make female students aware of their rights and responsibilities, provide capacity-building training workshops and run sexual harassment campaigns and policy advocacy to ensure authorities' accountability toward the needs of female students.
The entire Network: the female students, its staff, members and the board are immensely humbled by this international award and UNESCO's support. We have been rejuvenated and energized to continue the hard work and increase the scope of our activities.