Almost the entire area of the Tadami Biosphere Reserve is a mountainous zone approximately 1,500m above sea level (maximum altitude 1,819.9m, minimum 350m), excluding the basins of the Tadami River and its tributary (the Ina River). Steep massifs are found in the southern and western parts while the northern mountains have slopes shaved off by avalanches and exposed bedrocks. In this complicated topography, "mosaic vegetation" is formed, where plant communities grow by adapting to each habitat environment. With the Tadami Biosphere Reserve belonging to the Japan Sea area climate, it subsequently assumes a humid subtropical climate.
Description
Map
Surface : 78,032 ha
Core area(s): 3,557 ha
Buffer zone(s): 51,333 ha
Transition zone(s): 23,142 ha 
Location: 37°17'14"N – 139°15'19"E
Administrative Authorities
The Kanto Regional Forest Office of the Forestry Agency, Fukushima Prefecture and Tadami Town
Tadami Beech Center
Administration and Planning Division
Tadami Town Hall
Fukushima Prefecture
2590 Machishita, Tadami, Tadami-machi
Minami-Aizu-gun, Fukushima 968-0421
Japan
Tel.: +8124-82-5220
Email: tadamibr@town.tadami.lg.jp
Website ǀ Facebook ǀ Twitter 
Ecological Characteristics
The Tadami Biosphere Reserve is located at the eastern edge of the Echigo Mountains, the western edge of Fukushima Prefecture, and the southern part of the Tohoku region in Honshu. Geographically, it consists of large relief mountains of more than 600m, middle relief mountains of 400-600m, low relief mountains of 200-400m, a gravel plateau and the floodplains of the Tadami River and Ina River basins. The high mountains of Tadami are home to riparian forests and predominantly cool temperate deciduous broad-leaved forests (typically beech forest; Fagus crenata). The former can be found in a basin of the Tadami and Ina Rivers, where a rare tree species Salix hukaoana grows naturally, across a total range of 50km, in the largest numbers found in Japan. The growth of this tree species depends on river disturbance (Spring melts), indicating that the basin's river environment has been conserved in a highly natural state. As an enclosed mountainous region facing the winter monsoon, this biosphere reserve has one of the heaviest rain and snow falls in Japan with annual average winter snow coverage of 2.5m. Steep complicated "nivation landforms" are formed particularly in the north from heavy snowfall and green tuff bedrock of comparatively fragile nature.
In response to these conditions of steep topography, oceanic climate and a complicated location environment, a plant population has developed, specifically adapted for these conditions. A landscape mosaic of vegetation is composed of evergreen coniferous forest such as Pinus parviflora var. pentaphylla on the ridges, shrubs like Quercus mongolica var. undulatifolia on the avalanche slopes, beech forest on the relatively stable parts where debris and soil have been deposited by avalanches on the lower part of the slopes, and riparian forests like Japanese wingnut (Pterocarya rhoifolia) along the stream banks. A rare species of alpine lily, Lilium rubellum, can be found across the snowpatch grassland of Mt. Asakusadake and Mt. Aizu-Asahidake and the characteristic avalanche slopes of Tadami, creating the largest autogenesis ground in Japan. Furthermore, in the Tadami area nature exists in a pristine primeval condition, with nivation landforms and minimal human interference within the vast 40,000 ha terrain. This provides two separate and ideal habitats for the Golden eagle and the Mountain Hawk-eagle; two living natural monuments with differing nesting environments and food sources. In addition to these umbrella species (Aquila chrysaetos japonica and Spizaetus nipalensis orientalis), large mammals like the black Asiatic bear (Ursus thibetanus japonicus) are found in abundance and rare animals like forest bats and the Frosted myotis (Myotis pruinosus) also inhabit this area.
Socio-Economic Characteristics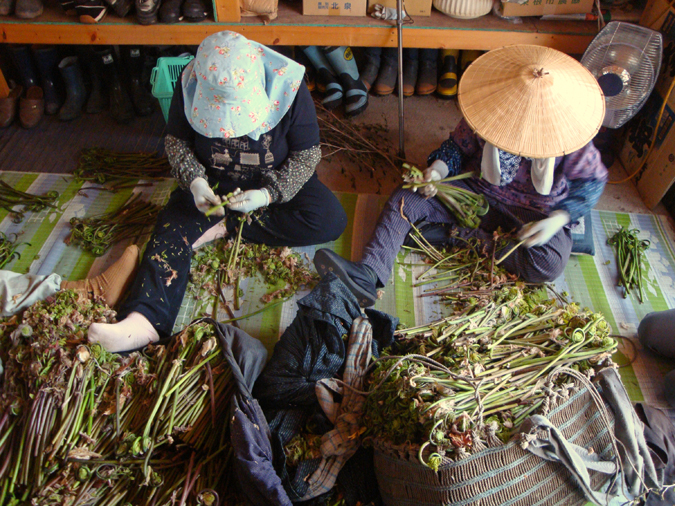 Tadami Town consists of 27 settlements, yet there is no area with a typical townscape and everything remains surrounded by forested mountains, fields and cropland. The basic industries of Tadami Town are primary industries such as agriculture and forestry. The main agricultural products are rice, buckwheat, honey and tomatoes. Regarding forestry, the planted forests of coniferous trees are enough for intensive harvesting and firewood is continuously used as fuel whilst reducing local consumption of fossil fuels. In some parts of the buffer zone and the transition area, the residents of the Tadami Biosphere Reserve have been utilizing forest resources sustainably and traditionally, without imposing any great pressure on the natural environment for a long time. By engaging in sustainable hunting, collecting edible wild plants and mushrooms, weaving vine baskets, using firewood as fuel, the residents' historical common practices support local life and the economy of the area.
Tourism is one of the main industries of Tadami Town with the possibility of development by utilizing the rich natural environment as tourist attractions. Trekking through beech forests, mountain climbing the three famous mountains (Mt. Asakusadake, Mt. Aizu-Asahidake and Mt. Gamoudake), and absorbing the scenery of the Ina River basin with its remaining natural environment are merely a few of many cultural assets. Other types of tourism include non-agriculture plants and self-catering "farm stays". The plants in the biosphere reserve consist of various small factories scattered across the transition area in a variety of fields; construction, automobile, electronics, etc. The unique concept of "Farm stays" offers visitors the opportunity to experience farming activities whilst living in a farmhouse. It is not only the center of stay-type tourism, but also an exchange between people from urban and mountainous areas, encouraging visitors to involve themselves in the practicalities of local life.
Back to Biosphere Reserves in Japan
Back to Biosphere Reserves in Asia and the Pacific
Back to World Network of Biosphere Reserves
Last updated: April 2020