Located along the French/German border, the Vosges du Nord/Pfälzerwald share three natural features: water, sandstone and forests. Sandstone outcrops characterize the vast forest belt where people manage beech, oak and pine forest. Springs, streams and lakes are found in the humid valleys.
Designation date: 1998 
Networks
Regional network:  EuroMAB
Ecosystem-based network: 
Description
Surface : 301,800 ha
Core area(s): 1,900 ha
Buffer zone(s): 70,000 ha
Transition zone(s): 229,900 ha
Location:
France: 48°46' to 49°11'N; 7°17' to 7°55'E
Germany: 49°02' to 49°37'N; 7°30' to 8°09'E
Administrative Authorities
Parc Naturel Regional des Vosges du Nord; Verein Naturpark Pfalzerwald; Ministry of Nature Protection and Forest Management  
Rita JACOB
Maison du Parc / Château,  BP24
67290 La Petite Pierre
Tel.: +33 3 88 01 49 59
Email: contact@parc-vosges-nord.fr and info@pfaelzerwald.bv-pfalz.de
Website ǀ Facebook ǀ Twitter
Ecological Characteristics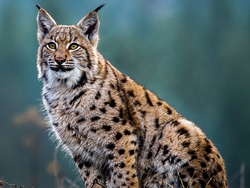 The Natural Parc of Vosges du Nord (France) was designated as a biosphere reserve in 1988, and the Pfälzerwald Natural Park (Germany) in 1992. These two parks have for some time prepared the creation of a transboundary biosphere reserve and in 1998 this goal was achieved.
The objective of this transboundary biosphere reserve is to develop methods for the sustainable management of natural resources and to establish a new relation between people and the environment. This is being done through research and education, all with the participation of local communities. The two units of this transboundary biosphere reserve are now jointly cooperating for example to establish long-term monitoring sites of water and air, to create a strictly protected forest reserve and to maintain the lynx (Lynx lynx) population.
The occurrence of lynx the peregrine falcon (Falco peregrinus) and the bog arum (Calla palustris) gain much attention from a nature conservation perspective.
Socio-Economic Characteristics
About 76,140 people live in the French part of the biosphere reserve (2000), whereas 160,000 inhabitants live in the German part (1991). Their main activities are forestry, tourism, traditional practices/ethnology/traditional knowledge.
Back to Biosphere Reserves in France
Back to Biosphere Reserves in Germany
Back to Biosphere Reserves in Europe & North America
Back to World Network of Biosphere Reserves
Last updated: October 2018