The Terres de l'Ebre biosphere reserve is located in north-eastern Spain and covers three regions – Baix Ebre, Montsià and Terra Alta. Sand plains, marshes, deltas, mountains and valleys with alluvial deposits from the Ebro river basin characterize this remarkable landscape while the estuary of the River Ebro forms the Delta del Ebro, one of the most important wetland areas in the western Mediterranean. Terres de l' Ebre includes large relief formations surrounded by steep slopes, plateaux and the mightiest river of the peninsula.
Four mountain ranges mark the topography of the reserve,including the extensive mountain massif Macizo dels Ports, which stretches to the foothills of the north-eastern Iberian Cordillera and Las Sierras de Cardó y de Tivissa that dominate the western regions. The highest peak in the biosphere reserve is El Montcaro at 1,447 metres.
Description
Map
Surface : 367,729.60 ha 
Core area(s): 73,530.60 ha (terrestrial: 38.712,3 ha; marine: 32.985,3 ha) 
Buffer zone(s): 79,297.20 ha (terrestrial: 69.738 ha; marine: 5.042,9 ha) 
Transition zone(s): 258,329.80 ha (terrestrial: 178.993,4 ha; marine: 42.257,7 ha)
Location: 40°52'42.01''N – 0°30'45.71''E
Administrative Authorities 
Consorci de Serveis Agroambientals de les comarques del Baix Ebre i Monstià (CODE)
Plaza Lluis Companys, s/n
Amposta – 43870
Spain
Tel.: +34 977.704.371
Email: jaragone@montsia.cat
Ecological Characteristics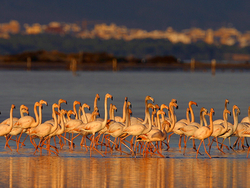 Altogether, six different landscape areas have been recorded in the Terres de l'Ebre Biosphere Reserve. Each of these areas incorporates various habitats, such as the Delta del Ebro which provides ideal hypersaline habitats for Limoniastrum and Zygophyllum, as well as beach groves and Pinus sylvestris (Scots pine) forests with Moneses uniflora (One-flowered Wintergreen). The Delta del Ebro is also home to 19 species protected under European, Spanish and Catalan wildlife legislation.
The hydrographic network of Terres de l'Ebre is structured into four basins with the main basin forming part of the River Ebro, which accounts for over 90% of the reserve's area. This network consists of secondary rivers, streams and gullies. The four basins are Cuenca del Ebro, Cuenca del Río Sénia, the basins of Calafat and Golfo de Sant Jordi, and the basins of Sierra del Montsià.
In addition, 12 endemic taxa of flora species were recorded within the biosphere reserve, for example, Thymus willkommii and Antirrhinum pertegasii. Furthermore, Atropa baetica, Lunaria botrychium (Common moonwort) and Cotoneaster integerrimus (Common cotoneaster) are among the 29 species present in isolated populations.
Socio-Economic Characteristics
There are 190,860 people permanently resident in the Terres de l'Ebre biosphere reserve. Their main sources of economic income are agriculture (the cultivation of olive trees), livestock and tourism. A current issue relates to the planting of rice fields in the delta area, as human intervention could lead to the disappearance of important habitats.
Terres de l'Ebre is not merely a territory with extraordinary natural heritage, it also contains 300 traditional sites recognized for their cultural significance, both nationally and locally. These include castles, chapels and churches, as well as towers of Islamic or medieval origin distributed along the coastal area and the River Ebro, which originally served as watchtowers to alert villages to coastal invasions.
The biosphere reserve is also renowned for its rock art, found in various cave paintings, created by the Iberian tribe Ilercavone. Several rock art sites have been recognized internationally and were included in UNESCO's World Heritage List in 1998. Twenty-two additional sites are spread across different shelters and caves representing the most important collection of rock art in Catalonia.
The castles and fortresses are also noteworthy, especially the monumental Castillo de Miravet, located on the summit of a hill overlooking the River Ebro. In 1153, this castle fell into the hands of the Knights Templar, who converted it into a monastery of Cistercian-Romanesque style. Nowadays, it is the most visited monument in the Terres de l'Ebre Biosphere Reserve.
Back to Biosphere Reserves in Spain
Back to Biosphere Reserves in Europe & North America
Back to World Network of Biosphere Reserves
Last updated: February 2019