Greetings Colleagues,
As part of the information sharing mechanism under the
UN Plan of Action on the Safety of Journalists and the Issue of Impunity
, we are issuing this newsletter every two months. Through this newsletter, we share with you information on the implementation of the UN Plan of Action. It includes development from the first-phase countries (Iraq, Nepal, Pakistan, and South Sudan), various ongoing and upcoming initiatives that could contribute to achieving the objectives set out in the UN Plan of Action. We invite you to submit relevant information concerning your initiative that would contribute to the UN Plan.
Connecting the Dots Discusses Safety of Journalists
Safety of journalists including emerging issues of digital safety, remains a crucial subject addressed by UNESCO's draft Internet Study titled Keystones to Foster Inclusive Knowledge Societies: Access to information and knowledge, Freedom of Expression, Privacy and Ethics on a Global Internet, as mandated by its 37th General Conference Resolution 52 (2013). Those key challenges and recommendations were broadly debated at several sessions of UNESCO's recent international multistakeholder conference Connecting the Dots: Options for Future Action, 3-4 March 2015. Read more.
---
JSI Assessment Launched in Nepal
On 20 February, UNESCO together with SODEC Nepal officially launched the Journalists Safety Indicators (JSIs) Assessment in Nepal with a national consultation meeting which took place in Kathmandu, Nepal. The JSI is designed to create a baseline to assess the level of safety of journalists at the country level. It is part of the UN Plan of Action on Safety of Journalists and the Issue of Impunity. Read more.
---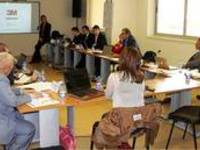 New Curriculum on Safety of Journalists
UNESCO Beirut Office and the IFJ organized in Amman, Jordan, a 3-day workshop with the aim to develop an academic curriculum on safety of journalists that can be adapted in universities in the Arab States region. The workshop, held in cooperation with the Jordanian Media Institute (JMI) and the Jordanian Press Association which took place from 26 to 28 January 2015, discussed a draft curriculum with ten deans of media schools and media lecturers from the region. Read more.
---
New recommendations for dialogue between journalists and the police in Tunisia
Reporters Without Borders and the Tunisian Center for Press Freedom (CTLP) recently published a list of recommendations for a "better dialogue between journalists and police officers" in Tunisia. In order to fight against impunity for crimes committed against journalists, and following a series of severe attacks, the recommendations are intended to give practical advice for conduct for media workers and security forces. Read more.
---
Global Safety Principles and Practice
A coalition of more than two dozen major news companies and journalism organizations gathered to endorse worldwide freelance protection standards for freelance journalists in response to the growing wave of intimidation, abduction and killing of journalists around the world. Read more.
---
IFJ Organizes Trauma Trainings for Journalists in Gaza
The International Federation of Journalists (IFJ) and the Palestinian Journalists Syndicate (PJS) organised a second trauma training for journalists to manage stress effects in media after the recent war on Gaza Strip. The 2-day training was conducted by experts from the Palestinian Red Crescent Society (PRCS) and included theoretical and practical sessions. It is part of a larger programme, focusing on the safety of journalists and founded by the Norwegian Ministry of Foreign Affairs. Read more.
---
Second International Meeting on Media Safety in Pakistan
The 2nd International Conference on Combating Impunity and Securing Safety of Media Workers and Journalists which took place in Islamabad, Pakistan on 27 and 28 January 2015.The conference, organized by the Centre for Peace and Development Initiatives (CPDI) and Pakistan Coalitions on Media Safety (PCOMS), was attended by more than 70 international and local representatives consisting of media practitioners, lawyers, political leaders, and human rights activists. Read more.
---
Freedom of Expression and Public Order
UNESCO's manual on training security forces on freedom of expression, freedom of the press and the protection of journalists is now available in French, English, and Arabic languages. The manual aims to give members of the security forces the tools that would enable them to both accomplish maintenance of order in compliance with human rights, and interact in a professional manner with journalists while guaranteeing their security.
World Press Freedom Day - 3 May 2015
3 May 2015 is World Press Freedom Day. UNESCO is organizing the main global celebration in Riga, Latvia together with the Latvian Ministry of Foreign Affairs. The global thematic is "Let Journalism Thrive! Towards Better Reporting, Gender Equality, & Media Safety in the Digital Age". The WPFD is celebrated in over 100 different countries and cities globally. To download the concept note, draft agenda, and the visual identity of the WPFD 2015 in different languages please visit the official website.
---
IPDC Debates Safety of Journalists
A debate on the safety of journalists in relation to the aftermath of the attacks on the satirical newspaper, Charlie Hebdo, will take place at the 59th meeting of IPDC Bureau at UNESCO Headquarters, Paris on 26 and 27 March 2015. The attending experts include Mr Carlos Cortés (independent expert on protection mechanisms), Mr Yves Bigot (Director-General of TV5 Monde), Mr Monir Zaarour (IFJ's expert on safety training), and Ms Dinah Kituyi (psychologist, expert on journalists and trauma). Read more.
---
Civil Society to Discuss Safety of Journalists Measures
Civil Society groups will meet in Copenhagen to discuss and assess the efforts related to the implementation of the UN Plan of Action in particular concerning the preventive and protective safety measures at country level. The meeting will also focus on improving coordination of efforts around the UN Plan, particularly with regards the strengthening of such measures. The meeting will take place in IMS Headquarters in Copenhagen from 25-26 March 2015.
---
RMNP Trains Journalists in Hostile Environment
Rural Media Network Pakistan (RMNP) will hold training workshops for journalists working in hostile environment in particular women journalists. The training will focus on four areas: physical, environmental, organizational, and educational. The project is funded with the support from UNESCO/IPDC.
---
Special Academic Conference on Safety of Journalists
Journalists' safety has seldom been a topic of systematic and in-depth academic research. Therefore, in collaboration with the Global Communication Association (GCA) Conference, UNESCO is organizing a Special Session on Safety of Journalists during the 10th GCA Conference taking place in the city of Berlin, Germany from 16 -19 July 2015.This Special Session is the first in a series of dedicated workshops organized by UNESCO, aiming to strengthen cooperation with academia in line with the UN Plan of Action on the Safety of Journalists and the Issue of Impunity. Furthermore, there will be a panel discussing safety of journalists as an academic agenda at the IAMCR Conference which will take place in Montreal, Canada in June 2015.