UNESCO Director-General's Report on the Safety of Journalists and the Danger of Impunity
2018 UNESCO Director-General's Report on the Safety of Journalists and the Danger of Impunity
The 2018 UNESCO Director-General Report on the Safety of Journalists and the Danger of Impunity provides an overview of data collected by UNESCO on killings of journalists that took place between 1 January 2016 and 31 December 2017.
The report also analyzes the status of judicial enquiries of the killings recorded by UNESCO since 2006, based on information made available to UNESCO by Member States.
182 journalists killed in 2016-2017
1010 journalists killed in the last decade (2006-2017)
Highlights
The following brochure summarizes the highlights of the 2018 UNESCO Director-General Report on the Safety of Journalists and the Danger of Impunity. The full Report will be submitted on 21 November during the Intergovernmental Council of the International Programme for the Development of Communication (IPDC). 
The following languages are available:
Full 2018 Report
Key Findings 2016-2017
Most dangerous regions
Three regions recorded the highest numbers of killings in 2016-2017: Arab States, Latin America and the Caribbean and Asia and the Pacific. In 2017, killings in Asia and the Pacific surpassed those that occurred in the Arab States. In both years, less than 10% of overall killings took place in Africa, Western Europe and North America, and Central and Eastern Europe, respectively.
Killings of journalists appear to be decreasing since 2015. This trend may be contested in 2018, with more than 80 killings condemned by the UNESCO Director-General as of October 2018. (UNESCO observatory of killed journalists)
Rise in killings of women journalists
In 2017, UNESCO recorded the highest number of killed women journalists (11 victims) since the Organization started reporting on killings of journalists in 2006. Men continue to represent an overwhelming majority (86% in 2017) of victims of fatal attacks against journalists.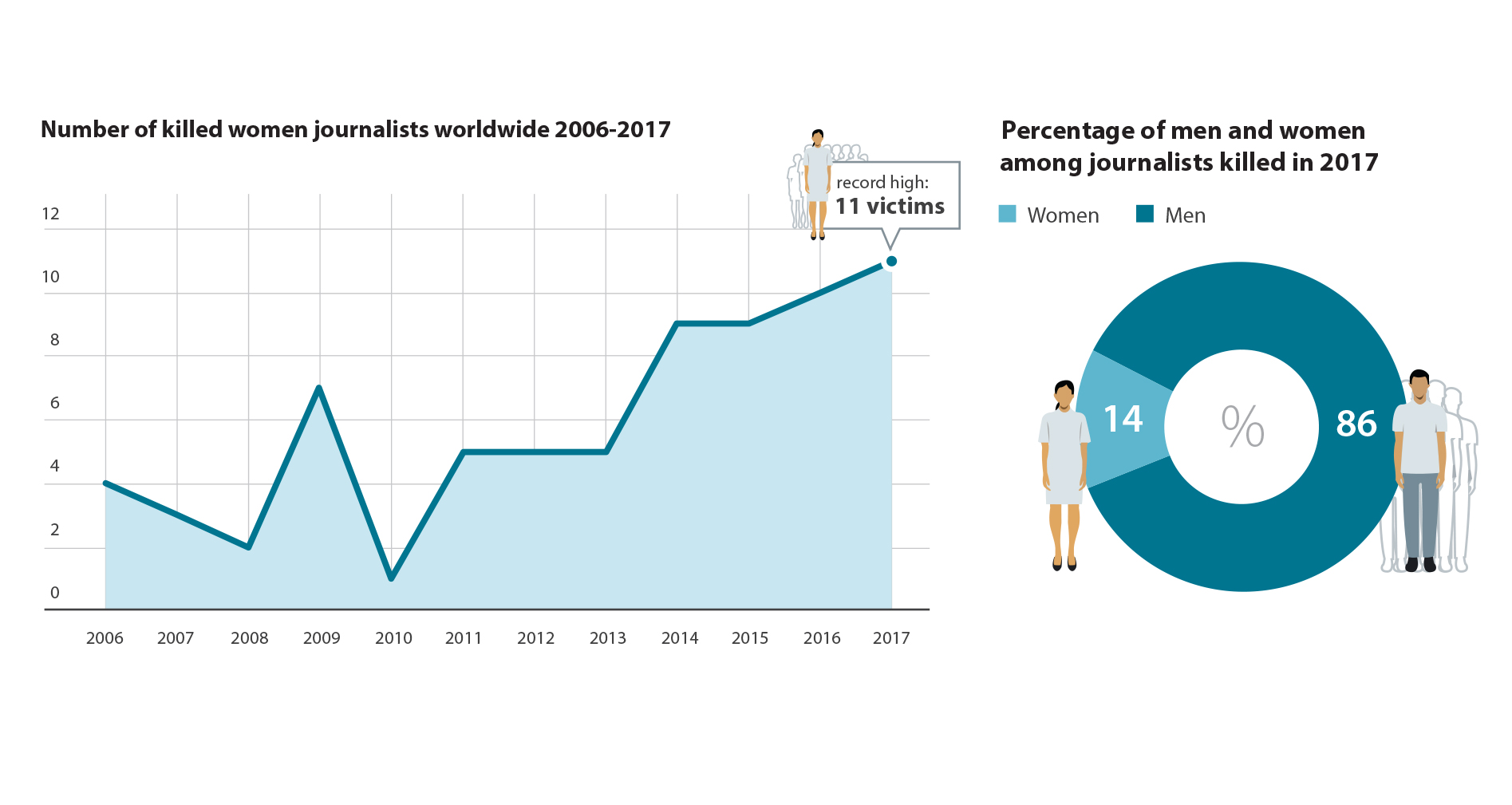 Highest number of killings among TV journalists
In 2017, almost half of the killed journalists (45%) were working in television outlets while in 2016, those working in this sector represented 34% of all victims. Among the TV journalists killed in 2016-2017, the majority were killed in countries currently experiencing conflict (55 out of 71 killed TV journalists).
Majority of victims are local journalists
In 2017, local journalists represented 90% of all killed journalists and in 2016, 94%. In both years, less than one in 10 of the journalists killed was an international reporter. Of the 14 foreign victims in 2016-2017, half were killed in countries experiencing conflict.
Staff journalists still comprise the majority of killed journalists, but freelance journalists are especially vulnerable
Compared to media staff, freelance journalists are widely considered more vulnerable, since they often lack adequate protection and support from the media organization(s) they are working with. Over the two-year period, 34 out of 182 journalists killed were freelancers, accounting for 19% of all fatalities.
More killings occurring in countries with no armed conflict
In 2017 for the first time in recent years, more journalists (55%) were killed in countries with no armed conflict than in countries experiencing armed conflict. This trend may possibly be explained by the absence of new armed conflicts and less journalists reporting from long-running conflict areas.
Slight reduction in impunity rate, but most cases remain unresolved
While in the last four years the response rate by Member States had been steadily increasing, from 27% in 2014 to a peak of 74% in 2017, 2018 was marked by a drop in the response rate, with only 64% of Member States providing a reply.
A drop in Member State responses to Director-General's request
Of the 1010 cases condemned by the Director-General between 2006 and 2017, 115 cases were resolved according to the information provided by the national authorities of the country. This represents an overall resolution rate of 11%.
*Updated version of DG Report brochure in all languages uploaded on 29 November 2018