JOHN BENSEMAN (New Zealand)
John Benseman has worked in adult literacy and related fields for over 40 years, primarily as a researcher and evaluator in the sector, but also as a teacher and administrator. John has a PhD in historical development of lifelong learning in New Zealand. While most of his career has been in formal tertiary institutions, he has also worked extensively in non-formal settings with NGOs, membership organisations and voluntary groups. John is widely published from his research and evaluation work, especially around his strong interest in research-informed practice where research findings are used to improve everyday practice. His most recent work was as the lead researcher in a series of large-scale evaluation studies of workplace literacy programmes (Effective workplace literacy and numeracy programmes: a research-based reader), evaluating family literacy programmes and identifying specific adult literacy and language programme and teaching strategies from research findings. In retirement John works as a research/evaluator for a local community development project and an adult literacy teacher.
Appointed in 2019.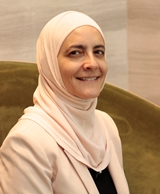 RANA DAJANI (Jordan)
Rana Dajani Ph.D. molecular cell biology, Harvard Radcliff fellow, a Fulbrighter, Eisenhower fellow, Professor, former center of studies director, Hashemite University, Jordan, Yale and Cambridge visiting professor. World expert on genetics of Circassian and Chechan populations in Jordan. Established stem cell research ethics law in Jordan. Advocate for biological evolution and Islam, speaker at McGill University and MIT. Jordan team leader in studying refugee youth with Yale University and the epigenetics of trauma across generations. Higher education reform expert, member UN women Jordan advisory council. Writer in Science and Nature, Established a women mentor network, received PEER award 2014. Organized the first gender summit for the Arab world 2017. Most influential women scientists in Islamic World, 12 among100 most influential Arab women 2015, women in science hall of fame 2015, King Hussein Cancer Institute for cancer and biotechnology award 2009 and 2016 Global Changemaker Award IIE/Fulbright. Awarded the Jordan star of science by HM King Abdullah II, Higher Education Reform Expert EU-TEMPUS, Jordan, founder service learning center, Hashemite University, speaker at TEDxDeadsea and TEDxSPUT, World Islamic Economic Forum 2012 and World Science Forum 2015. Developed a community-based model "We love reading" to encourage children to read for pleasure received Synergos Arab world social innovators 2009, WISE Award 2014, King Hussein Medal of Honor 2014, Star Award 2015, IDEO.org best refugee education program 2015, UNESCO International Literacy Prize 2017, World Literacy Council Award 2018 and the Jacobs social entrepreneurship award 2018. Author of the book: Five scarves, Doing the impossible: If we can reverse cell fate why cant we redefine success, Nova Publisher 2018. Reviewed by Nature.
Appointed in 2019
Dr. XIE Zheping (People's Republic of China)
With her Ph.D in political science and post doctor experience in education, Dr. XIE Zheping is an Associate Professor of Education at the Institute of Education, as well as the Deputy Director of Policy Research Office at Tsinghua University. She also serves as advisory board member of the Chinese National Commission for UNESCO and academic board member for undergraduate education of Tsinghua University. She was a Visiting Fellow at the London School of Economics and Political Science (2014) and served as jury of UNESCO's Prize for Girls and Women's Education (2016-2020). Before joining Tsinghua University, she worked at Renmin University of China. She has published over 20 papers and 6 books on education and international cooperation, and her current research focuses on education and global governance.
Appointed in 2021
WILLY NGAKA (Uganda)
Dr. Willy Ngaka has a PhD & M.Ed from University of KwaZulu-Natal, PGD & Masters in Project Monitoring and Evaluation from Uganda Technology and Management University, MA (PAM) & BA from Makerere University; and Diploma in Education from Institute of Teacher Education, Kyambogo. He is the founding and sitting National Coordinator for the Centre for Lifelong Learning and a Senior Lecturer in the College of Education and External Studies at Makerere University. Dr Ngaka has passion for literacy and a plethora of publications in the field. He founded the Uganda Rural Literacy and Community Development Association and is the convener of National annual intergenerational, cross-cultural and multilingual literacy conferences in Uganda. One of his most recent articles the Journal of Language and Literacy Education published in 2016 is: Generational, cultural, and linguistic integration for literacy learning and teaching in Uganda. He is now finishing a book on Modernizing Agriculture or Reproducing Poverty in Uganda: An ethnographic study of subsistence farmers' literacy practices, to be published by Fountain Publishers and an article on The role of orthography in adult literacy learning in African languages: The case of Lugbarati in Uganda that will be featured in the International Review of Education. He received UIL's CONFINTEA research scholarship in 2016, a UNESCO scholarship to his best practices in literacy at UNESCO's Kominkan-CLCs International Conference on Education for Sustainable Development in Japan in 2013; and International Literacy Association's 2006 Elva Knight Research Award for best PhD research proposal.
Appointed in 2017.
 
TAE RIN CHO (Republic of Korea)
Tae Rin Cho is a linguist who studies Sociolinguistics and Language Policy & Planning in Yonsei University (YU), Seoul, Republic of Korea (ROK). - PhD. in Science of Language at University of Paris 10, France - MA. in Korean linguistics at YU - BA. in Korean language & literature at YU. He wrote many articles and books on sociolinguistics, language policy & planning and applied linguistics such as Korean Language Education. Now he is professor of Dept. of Korean language & literature at YU since 2016 and vice director of Institute of Language and Information Studies at YU. He is also vice president of The Sociolinguistic Society of Korea and vice president of the Association for Korean Linguistics. He was (Senior) Researcher of the National Institute of the Korean Language (2005~2013) and Professor of Dept. of International Korean & Koreanology Education at Daegu University in Gyeongsan, ROK (2013~2016).
Appointed in 2021.