UNESCO-Japan Prize on ESD
The UNESCO-Japan Prize on Education for Sustainable Development (ESD) honours outstanding projects by individuals, institutions and organizations related to ESD.
ESD PRIZE BLOG
In this blog, the laureates of the UNESCO-Japan Prize on Education for Sustainable Development give us regular updates on their projects, experiences and intiatives. It was started in November 2015 by the three winners of the 2015 ESD Prize, and continued later by the 2016 laureates. Since November the 2017 winners have taken over.
 
May 2018: Blazing a trail - the Guatemalan change-makers
by Mark Edwards, Hard Rain Project (United Kingdom)
I enjoyed the third meeting of the UNESCO Global Action Programme (GAP) conference in San José, Costa Rica in April. It was an opportunity to meet practitioners in education for sustainable development from around the world and learn how UNESCO is meeting the Education 2030 Agenda. 
My invitation came because Hard Rain Project won a 2017 UNESCO-Japan Prize for education on ESD. The conference was also a great chance to meet previous laurates, and it took me tantalizingly close to Guatemala, the headquarters of SERES, one of the 2015 winners. 
SERES has been working since 2009 with the youth of Guatemala and El Salvador to give them the tools they need to bring about positive change through sustainable development, and I suggested a short visit to see if I could take pictures that might show the scope and impact the project is having.   
A short flight from San José, a night in Antigua, an astonishingly beautiful colonial town, and off at the crack of dawn to San Andrés Osuna. Two bumpy hours from Antigua is Guatemala City as it is for most of its people, a community dependent for survival on their own efforts. Here SERES trained a youth leader and together with 19 young people, have focused on dealing with rubbish and sanitation by leading cleaning campaigns and garbage disposal around the village.
They go beyond just cleaning parties to use theatre performances to take the message into the hearts and minds of the community. They offer a tremendous presentation. 
This is protest at its best; funny, moving, unexpected and serious all at once. Maria Fernanda Calvilla delivers a blazing performance that cuts through the stilted language of sustainability academics to bring alive the issues about our place in the world. If she had been born in Spain, she would no doubt have been on stage and screen. Here she is transforming a smaller audience; her talent is not wasted.
She reminds us that without the arts, education for sustainable development is a dull intellectual exercise that may be worthy but won't bring about the change so urgently needed in the world.
Over the next couple of days, I got to see young people planting trees, teaching forest classes, setting up income-generating schemes and tackling plastic litter. SERES has created a multiplier effect by training leaders. This is changing communities across Guatemala - a quiet revolution whose time has come. 

March/April 2018: Creating an alternative model to big business through traditional produce
by Lama Khatieb, Zikra for Popular Learning (Jordan)
Jameed, a dried goat yoghurt made by farmers in rural Jordan villages, has been used in traditional cuisine for decades. So when huge, cheap and poor quality industrial imports of jameed flooded the market the Zikra for Popular Learning team, working to promote sustainable local culture, decided to do something about it.
© Zikra for Popular Learning
Zikra, winner of the 2017 UNESCO-Japan Prize on Education for Sustainable Development, works to use traditional culture in response to social, economic and environmental challenges. Since the beginning of the year it has been active in a village in Al-Karak (rural area 175 Km south of Jordan's capital Amman) known for its distinctive Jameed.
For decades, families in rural areas in Jordan worked closely with local shepherds to make their own household supply of jameed. However, massive scale imports of the distinctive yoghurt from Turkey and Syria, have threatened this traditional product and the livelihoods of those who make it.
So, in early 2018 Zikra established The Jameed School aiming for localized economic change and resisting a consumer-based culture that drives people further from their local resources and identity.
The project has three dimensions, firstly it provides workshops for urban and rural community members on how to produce jameed and its related products such as white cheese and butter; how to identify the best milk to use and how to grow and use the herbs that flavour the products.
Secondly, it provides high quality, locally-made products for the Jordanian market. And finally, as an added element of Education for Sustainable Development, it spread knowledge about the importance of preserving local culture by organizing trips for school students where they learn about how to make jameed and meet the local families in Karak who produce it. The project, although in its early stages, already provides income for three to four families.
January/February 2018: "Winning the Prize has been a life-opener and a driving force to work even harder now"
by Sibanga Ncube, Sihlengeni Primary School (Zimbabwe)
It's amazing how time flies. The UNESCO-Japan Prize on ESD, which was held in Paris-France at the beginning of November 2017, is as if it was a month ago. What a memorable occasion and a life opener it was. The brief stay in Paris was awesome, more business-like and hard to forget. The warm welcoming and hardworking officers responsible for this function kept us on focus. We also had the precious time to meet with other Laureates and share great moments and good practices that we do, which we will always remember.
For the first time I personally saw and took photographs of the attractive historical structure, the Eiffel Tower. We had such an experience from this pleasant stay in Paris. We had the chance to set our eyes on the UNESCO Headquarters, where each and every member state has its national flag ever flying. The visit was climaxed by the awarding ceremony, what an experience! more so, for me who broke the ice on the stage.
The winning of the Prize money was given as the impetus to even work harder. It should be born in mind that our permaculture project seeks to mitigate land degradation and deforestation of which the prize money sets us to continue doing more. Our goal is to expand the existing projects we have and introduce new ones i.e. introduction of fisheries and roadrunner chickens. This is possible as we work together with the valuable parents' participation.
The community has never been so excited, it is on cloud nine. Numerous visits from schools around the province and other neighbouring ones are now an order of the day to see what Sihlengeni Primary is like.
Winning of this Award is now a driving force in fulfilling our SDGs and extending good practices through ESD and partnerships which will benefit everyone.
December 2017: Incredible stories of community learning
by Lama Khatieb, Zikra for Popular Learning (Jordan)
As a team of local knowledge enthusiasts, we took the plane last month to Paris, profoundly pleased to be among the winners of the UNESCO-Japan ESD Prize for the year 2017. We spent three amazing days at the UNESCO Headquarters, the team members were very warm and welcoming, making us feel like we have a family there the entire time. We were also honoured to meet the other laureates (from Hard Rain and Sihlengeni Primary School) and learn about their inspiring projects.
One of our favourite encounters in these three days was with Professor Kazuyuki Mikami, President of Miyagi University of Education, who shared incredible stories from early learnings he developed for sustainability observing his grandmother's practices, which is part of a heritage Japanese community people still carry generation to another today. One example would be the tradition of dividing the harvest of trees into three parts, collecting only the middle third of the tree fruit, leaving the lowermost third to travellers and passers-by and top third of the tree to birds, an astounding system of resource-sharing, community cohesion and connecting to nature and land.
We spent a couple of days to explore Paris after the three-day event. We were keen to visit museums that enclose rich holdings from our region, whether it's historic, artistic or cultural. We visited the Jacques Chirac Museum (Musée du Quai Branly), the Louvre and the Arab World Institute. We explored the local cuisine and were lucky to be invited to the house of a local family who shared with us their passion for music and dancing.
Since our return to Amman we have been busy with several projects: we are carrying on with the Traditional Music Identity Project in three public schools; we are working on a booklet/publication on how traditional paradigms affect our ability to fabricate community solutions; and we are carrying on with our community-based tourism projects as winter is a high season for our program.
 
November 2017: Designing a maze - educating on sustainable development
by Lloyd Timberlake, Hard Rain Project (United Kingdom)
We at the Hard Rain Project (HRP) have been having a lot of fun since the UNESCO-Japan Prize ceremony early this month designing a maze to educate the world about the UN's ambitious Sustainable Development Goals (SDGs).
Winning the prize gave us the inspiration, and the seed money, to commission David Craddock, former head of exhibits at the UK's famed Eden Project, where Hard Rain originally launched, to develop the maze concept.
The current iteration has nine cul de sacs that bring home the urgency of the SDGs. These dead ends will show, with humor and drama, things like a high-carbon future, over consumption and political apathy. The corridors will explain the 17 very radical Goals, such as ending hunger and poverty, all by 2030. We will show the benefits of success and the horrors of failure. The 'goal' is a room portraying a human world in harmony with the natural world.
The Maze is meant to create political will among the publics for sustainable development, hoping they pass that will on to the political leaders who must themselves negotiate a political and policy maze to reach the Goals.
We have experience to build on. Our award winning Hard Rain and Whole Earth banners have been seen in person by 15 million people on all continents. They appeared at venues such as the UN Headquarters, the London Olympics and the Copenhagen Climate Summit. Exhibitors provided much of the funding and labor, so HRP spent less than USD 100,000 over 10 years on the exhibitions.  
Our goal is to place at least one maze on each continent and have them travel as widely as possible. We are currently raising money for one proof-of-concept maze, an expense of some GBP 98,000 (USD 130,000).           
For more information contact Mark Edwards or Lloyd Timberlake.
 
September/October 2017: "ESD is growing consistently, every day."
by Miki Konishi, Okayama ESD Promotion Commission (Japan)
There is only one very positive answer to the question "How is ESD doing in Okayama?": "It's growing consistently, day by day."
Okayama City has gone from strength to strength since winning the 2016 UNESCO-Japan Prize on ESD and the UNESCO Learning City Award 2017 with a host of activities.
So what's new? In August, we organized a tour and stamp rally in a large shopping mall to let children learn about sustainable production and consumption while also introducing them to the Sustainable Development Goals (SDGs). Thanks to the event, they now know to look for labels which indicate Fair Trade or organic food and they learned why responsible consumption matters.
Coming up very soon is the annual ESD Forum and ESD Okayama Award 2017. The award was established in 2015 to contribute to showcasing good practices derived from community-based ESD in Okayama Prefecture (Okayama Regional Prize) as well as in the world (Global Prize).
This year we received 44 applications for the Global Prize from 29 countries, and two projects won the award.
Winning the UNESCO-Japan Prize on ESD raised the profile of the city at home and abroad and the number of people coming to look at and learn about our ESD initiatives from Japan and abroad has increased.
The two UNESCO awards have truly been and will continue to be the driving force behind ESD promotion in Okayama.
We believe every single step forward, big or small, counts towards making our world more sustainable. So we are committed to continuing to promote interactive learning and cooperative activities among different generations and sectors in Okayama and beyond. To keep up to date with what we are doing have a look at our portal site Okayama ESD Navi. Don't miss it!
 
August 2017: Our microgrants have supported not-so-micro sustainability projects
by Sophie Hemery, National Union of Students (United Kingdom)
When we learned last year that NUS won the ESD Prize for the Green Impact scheme, we knew immediately that we would use part of the prize money to award microgrants to Green Impact participants, to support their work with sustainability. Here are some of the fantastic things they've been up to thanks to our UNESCO award. 
For example, the University of Strathclyde have invested in their community garden. They've introduced a greater variety of crops, with more crop rotation, gotten more staff involved, focussed on biodiversity, committed to local collaboration, bought a birdfeeder and new tools, and held a workshop to make a sign. Phew, well done on all the hard work! 
At the University of Sussex, Sussexsport has purchased an electric bike to reduce staff car use when travelling between the two sports facilities on campus. Duty Manager Ben Ospalak explains: "The electric bike has allowed us to create a truly green alternative to driving around campus, and the basket allows us to transport heavy items that would be difficult to walk with. We're really happy to have been awarded the grant and hope other departments may see us riding around and be inspired to do the same!"
The University of East Anglia asked: water you doing with your water? They ran a water saving competition, in tandem with World Water Day, and used their microgrant to fund prizes. Entrants could either use meters to measure their consumption during a month, or enter a photo competition about water saving. Evidently, some took a humorous approach...!
The University of Chester wanted to use their microgrant to increase biodiversity on campus. They got students and staff on board, educating about the importance of biodiversity and holding a woodwork workshop to build bug hotels, and bird and bat boxes! We hope the critters are grateful for the efforts. 
To read more about the microgrants, click here!
July 2017: Moving towards multicultural coexistence
by Eiichi Tomonobu, Okayama ESD Promotion Commission (Japan)
Ever since the Stakeholder Meetings of the UNESCO World Conference on Education for Sustainable Development were held in Okayama City in 2014, opportunities for local young people to communicate with others from all over the world have expanded and inspired many new activities and cultural exchanges.
For instance, students of Okayama Municipal Takamatsu Junior High School learn about the rich historical heritage – including such sites as burial mounds – surrounding their school grounds. But the teachers at the school also teach them about cultures and histories of foreign countries, to help students understand different cultures to contribute to building an inclusive society. The school is also organizing online exchanges with people in other countries.
Along the same lines, some of the junior high schoolers visited Okayama University to meet with a group of Muslim students. They had halal lunch together in the university's cafeteria and then visited a mosque near the campus.
Certain other schools and Kominkan (Community Learning Centres) in Okayama City carry out programs to promote international understanding as well. This year the Okayama ESD Promotion Commission is planning to conduct international exchanges with South Korea and Indonesia.
Multicultural education is one of the crucial elements of ESD. In Okayama, we are thrilled to continue our activities to help create a sustainable society.
June 2017: ESD Prize boosts vocational training in Cameroon
by Hilary Ewang Ngide, Centre for Community Regeneration and Development (Cameroon)
At CCREAD, we are continuing our work to help bridge the gap for women and youths to get self-empowerment skills and knowledge across Cameroon. Before winning the ESD Prize in 2016, it was very difficult for us, a micro ESD training unit, to procure materials and heavy equipment for training. But the opportunity to expand and consolidate our ESD interventions became a reality after we received the award.
By October 2016, our ESD training Institute enrolled fewer than 50 trainees per semester on professional training programs such as environmental impact assessment, community organization, project management, climate change adaptation and mitigation, to name just a few. In April 2017, CCREAD-Cameroon hit a new level by enrolling in a single semester 107 women and youths into the various training programs offered by the ESD institute, which has now been renamed the International Institute of Education for Sustainable Development (CIIESD). Women and youths across Cameroon have heard the success stories about the integrated ESD intervention piloted by CCREAD-Cameroon and they are storming the training center in Buea in large numbers to get themselves enrolled. Imagine that 450 applications were received for the current training session.  
Now our management has mobilized a 12-member team in charge of ESD activities across Cameroon for the current action plan. The special focus this year is to promote intensive Vocational Training. Trainees are provided with empowerment skills on ICT tools. Women and youths from disadvantaged backgrounds are learning tailoring and designing, thus gaining direct economic opportunities, while as "earth champions" they are trained on environmental sustainability, climate change adaptation and social and economic surveys for policy development modules mainstreamed into the ESD training programs.
Presently, CCREAD-Cameroon is looking for local and international opportunities to further expand the CIIESD to meet the public demand, offer greater training opportunities and create a hub for the practice of ESD.
May 2017: ESD change agents advocating for the environmental future of El Salvador
by Corrina Grace, SERES (Guatemala/El Salvador)
On 29 March 2017, SERES leaders made their voices heard in the government halls of San Salvador as the Legislative Assembly announced the passage of an unprecedented move toward sustainability. SERES team members cheered along with the rest of the nation as El Salvador became the first country in the world  to completely ban metal mining.
The law came about as a result of over 12 years of activism on the part of various sectors of civil society who continued to work to prohibit metal mining despite intense resistance from the mining companies. Many SERES youth leaders participated in the most recent campaigns and events that led to the passage of the prohibition.
One of the goals of the SERES leadership process, particularly for the ambassadors who form an international network of change-makers in Guatemala and El Salvador, is to increase civic and political participation in order to effect systemic change aligned with ESD values.
The youth leaders' presence and participation in such an important national and worldwide achievement for sustainability is indicative of the myriad of ways in which SERES leaders are engaged in civic and political spheres as ESD change agents.
"To know that we now have a law that prohibits mining fills me with satisfaction," said Wendy Pérez, SERES ambassador who was present in the capital for the historic decision. "This day will remain marked in our minds and hearts, and all of us who are part of this cause to create a more just and sustainable world."
"To have achieved today the passage of this law has lit a candle of hope for all of the Salvadoran people. Today we can say, 'Yes we could!'" said Yeymy Ruíz, SERES ambassador and youth representative on the executive board of Asociación SERES who was also present for in San Salvador when the announcement was made.
Civic commitment and political advocacy remain on the agenda for SERES youth leaders and ambassadors in El Salvador. On 28 May, a popular referendum will be held in the municipality of Suchitoto on the designation and protection of water as a human right. SERES team members, ambassadors, and youth leaders are currently working to mobilize other youth and members of their communities to take action at the end of this month and say yes to the human right to water in order to secure a more sustainable future for their communities.
April 2017: More recognition and partnerships thanks to ESD Prize – Japanese students visit Jayagiri Center as part of ESD International Exchange Program
by Tintin Kartini, Jayagiri Center (Indonesia)
Among the effects of winning the UNESCO-Japan Prize is recognition of Jayagiri's works by colleagues both at the national and international level. Moreover, some of them are interested in looking more closely at what we are doing at the community level in practising ESD. For example, the National Federation of UNESCO Associations in Japan (NFUAJ) visited us on 27 March 2017. 
NFUAJ is a non-government organization founded in 1948 in order to promote UNESCO activities in Japan and until now it has more than 250 associations as members. Since, 2011, the NFUAJ has been organizing the "ESD International Exchange Program" for Japanese ASPnet Senior High School Students. In 2017 the NFUAJ organized an essay contest themed "ESD" and selected 12 of 101 applicants as the winners. NFUAJ then sent the winners on a study tour to Indonesia, including to Jayagiri Center.
The visit to Jayagiri Center aimed to develop mutual undestanding among Japanese high school students and our learners and to deepen understanding of ESD practices.  Beside the 12 winners of the essay contest, the delegation consisted of NFUAJ staff, a teacher and staff of the Bank of Tokyo-Mitsubishi UFJ. The delegation visted our office and also one of the laboratorium sites, Geger Sunten Comunity Learning Center (CLC). In the office, they were welcomed by our director and some staff members. Jayagiri's director, Mr Muhammad Hasbi, informed about the framework of Jayagiri Center's work as a center for development programs of nonformal and informal education (NFIE), one of which is the NFIE-ESD integrated program. Afterwards, we gave them an office tour including visiting our Parenting Class.
After visiting the office, the delegation went to visit Geger Sunten CLC. As the aim is to develop mutual understanding among the students, representatives from both side informed the audiences about their own school activities related to ESD.  Besides, the Japanese students also explained their experience in participating in the essay contest as well as what had they written in the essays.  The session then was continued with dialogue among students regarding with the daily activities, their schools and their hopes for the future. 
At the end of the visit, both sides gave cultural performances. Students from Japan gave a performance of Karate, traditional Japanese Dance, Origami, and other traditional games. Our students showed Jaipongan and Rampak Kendang - both are Sundanese traditional performances. When Jaipongan and Rampak Kendang were performed, some Japanese students joined the dance. In this session, it seemed that both sides enjoyed the moment and communicated in a friendly athmospher. We hope that this kind of events continue in the future!
Click here to watch a video about the visit of the delegation from Japan to Jayagiri Center
March 2017: Laureates converge in Ottawa for UNESCO Week
by Jamie Agombar, National Union of Students (United Kingdom)
March 2017 saw us laureates meet up again, this time at the UNESCO Week for Peace and Sustainable Development conference in Ottawa, Canada.
The conference was a superb opportunity to meet leading ESD practitioners from all around the world, and another platform to present our work to a new audience.
As well as running various workshops, and networking through the sessions and receptions, we also set up and managed our own ESD Prize stall in the main hall.
The ESD Prize booth at the UNESCO Week in Ottawa
Together with Felix, from rootAbility, we took advantage of the conference to make some additional visits in the days before the conference. Both rootAbility and NUS-UK work in student engagement in higher education, so we spent a day at the University of Toronto meeting students and staff involved in student-led sustainability campaigns and initiatives. I also took time to visit the equivalent organisations of NUS in Canada, the Canadian Federation of Students and Canadian Alliance of Student Associations, both based in Ottawa.
During the conference, we spent some more time with two of the Prize judges, Yoshi Nagata and Stephen Sterling, giving them updates on the work of all laureates, and how we have been using the prize money to bring about further positive change.  
At NUS-UK, since winning the UNESCO ESD Prize we have been on a bit of a mission to see how we can collaborate more on ESD with other national students' unions around the world. We are currently working on a joint global survey of student attitudes towards, and expectations on, sustainable development.
February 2017: "Our ESD spirit is the same" – meeting the other laureates at Okayama Forum
by Miki Konishi, Okayama ESD Promotion Commission (Japan)
On 22 January 2017, the five laureates of the UNESCO-Japan Prize on ESD – from Germany, Guatemala, Indonesia, Japan and the United Kingdom – gathered in Okayama City, Japan, to join the 'Okayama ESD Forum 2017'. Unfortunately, Hilary from CCREAD-Cameroon had to cancel his participation.
The Forum was initially planned by Okayama City and the Okayama ESD Promotion Commission to celebrate winning the honorable prize together with the Commission's stakeholders and the citizens of Okayama. But when we were in the middle of organizing the Forum, we were excited to receive the news that the other laureates would also be able to join [in the framework of a 5-day event co-organized by UNESCO and MEXT]. It became a great opportunity for people in Okayama to learn from them, and on the other hand to present various ESD activities in the Okayama Region. Around 400 people participated in the Forum.  
The laureates shared their vision, experiences and lesson learned. Their insightful comments gave us inspiration and energy to move forward. While the issues, targets and practices vary in each of our organizations and local contexts, our ESD spirit is the same.
In a panel discussion "Towards a new stage: Sustainable Community Development and the Role of ESD", six representatives from various sectors in the Okayama region, including the Mayor of Okayama City, presented their ESD efforts, tangible and intangible achievements and their future perspectives.
At the end of the Forum, all participants were asked to write a message on a leaf-shaped paper, answering the question: "What is YOUR action toward a sustainable society?" Some examples of answers were: "I want to do volunteer activities in my community", "Keep learning to contribute to building a mutually supportive society!" and "Meet and hope. Thank you!". The participants recognized the importance of ESD, and made commitments for own actions. The 'leaves' formed a tree of hope.
As Professor Yoshiyuki Nagata, one of the jury members of the Prize, emphasized in his keynote speech, winning the ESD Prize is "not a final destination but a start of a new mission." We will keep challenging ourselves as 'change agents', empowering ourselves and others, and moving together into the same direction: toward a sustainable future.
 
January 2017: "It is great to see the impact that the Prize is having on our work"
by Quinn Runkle, National Union of Students (United Kingdom)
Happy new year from all of us at the National Union of Students (UK)!
Since receiving the UNESCO-Japan Prize on ESD in October, we have had a very exciting couple of months. We made the decision to distribute £10,000 of the prize money as micro-grants for current individuals and teams involved in Green Impact. Our first round of micro-grants helped fund a variety of projects and initiatives including a living labs research competition for students at the Royal Agricultural College, marketing materials for a meat-free campaign at the University of Leicester Students' Union and materials to make birdfeeders to increase biodiversity on campus led by a staff group at Aberystwyth University.

This month we have also launched subsidised places, using some of our prize money, for universities, colleges, and students unions to join our Responsible Futures programme. Responsible Futures aims to embed ESD across the formal and informal curriculum by providing institutions with a framework to facilitate change. It is often run by universities and colleges in conjunction with Green Impact to further their sustainability efforts.
It is great to see the ongoing impact that the UNESCO-Japan Prize is having on our work. It is enabling more new students, staff, institutions, and students' unions to become involved in our programmes whilst also deepening the engagement of existing participants.
In the coming months we will be planning an event to showcase ten years of the Green Impact programme and celebrate the UNESCO-Japan Prize with colleagues here in the UK as well as meeting with the Japanese Embassy here in London to explore future opportunities.
 
December 2016: "Learning and acting for building a sustainable city and society"
By Shinya Miyazaki, Okayama ESD Promotion Commission (Japan)
We started the "Okayama ESD Project" in 2005 to promote ESD activities in the Okayama region. Various stakeholders, such as schools, universities, civic groups, businesses, community learning centers ("Kominkans") and local governments have been engaged in this project. In 2014, the Stakeholder Meetings of the UNESCO World Conference on ESD were held in Okayama City. For those reasons, the recognition of ESD is very high among people in Okayama. A public survey conducted in 2015 revealed that 37.1% of residents acknowledged ESD.
Our project was highly esteemed as a locally-rooted example of managing a city sustainably. Winning the UNESCO-Japan Prize on ESD encourages our stakeholders to continue and scale up their ESD activities. It is our mission to encourage and support more organizations and people to participate in our project, work together to build a sustainable society.
Personally, it was my second time to visit Paris, but I had never dreamed of visiting UNESCO in my life. It was a great opportunity for us to get to know UNESCO's staff and the other two laureates from Cameroon and the United Kingdom. We could also learn how they work to tackle their challenges. We would like to strengthen the connection with them as partners which are working for building a sustainable world.
As I mentioned above, various stakeholders' engagement is the characteristic of the Okayama ESD Project. Now we are planning to hold a commemorative ceremony on 22 January 2017 to reconsider ESD activities which have been carried out in the Okayama Region and discuss how we will move forward for accelerating sustainable solutions. It is planned that the other laureates will also attend the ceremony. It will be a wonderful opportunity to learn about the outstanding cases of ESD from each other and witness the exchange between them and the citizens of Okayama. I will write an article about this event in the next blog post.
November 2016: "High ambition to make everyone understand the importance of embedding ESD in their daily life"
By Hilary Ewang Ngide, Centre for Community Regeneration and Development (Cameroon)
The expectations of winning the prestigious UNESCO-Japan Prize on Education for Sustainable Development (ESD) got higher from the first day our nomination was confirmed and it brought with it satisfaction and a very high ambition to make every Cameroonian child, woman and youth understand the importance of embedding ESD in their daily life. It transited from expectations to very concrete plans when Centre for Community Regeneration and Development was finally named as one of the three Prize winners by the DG of UNESCO on the 15th of September 2016 and the entire team started looking forward to the award ceremony in Paris hopping and to return to Cameroon with the award and new energy for the planning and implementation of ESD interventions across all regions progressively.
Though our team had difficulties travelling to France, it ended in excitement when we finally managed to get to Paris where a very fantastic and carefully planned ceremony was organized during which we had time to experience UNESCO in its entirety with the marvelous coordination by UNESCO's ESD team and a good platform to share our integrated ESD program with other ESD stakeholders with the hope of learning from others, and building greater partnerships and creating synergies for the promotion of education for sustainable development. The side events provided an opportunity to exchange with other winners of the Prize and increase visibility of our interventions through UNESCO platforms and channels.
Finally, on the 11th of October 2016 in room XI of the UNESCO building, CCREAD-Cameroon received the award in the presence of Cameroon's Permanent delegation to UNESCO and eventually received in audience by Cameroon's Ambassador to France.
Returning with the award, the excitement and ambition is getting greater as different stakeholders such as WWF and other organizations are joining CCREAD-Cameroon to capitalize on the award while others approach our team daily for collaboration with the plans to meet with the Ministers of Secondary, Basic and Higher Education on course to present the award to them.
The quest is on, and CCREAD-Cameroon is already at work extending its ESD project to more schools in 2016: launched the first ever ESD focused essay competition for students with ESD prizes to be awarded to 25 students before the end of November 2016; 115 eco farms to be set up for community schools and for 98 schools to benefit from our integrated ESD activities in 2016 while more than 120 indigenous forest communities will be equipped with local community learning spaces for the promotion of ESD. The prize money is therefore being invested progressively to expand, consolidate and capitalize on these interventions. Having implemented ESD-related activities for the past six years, the winning of this prize has brought new orientation to the work of CCREAD-Cameroon and becoming a GAP partner on ESD starts a long term collaboration between CCREAD-Cameroon and UNESCO.
October 2016: "We'll be able to share what we do, and continue to grow"
by Jen Strong and Quinn Runkle, National Union of Students (United Kingdom)
The application process for the prestigious UNESCO-Japan Prize for ESD seems quite some time ago, yet now that we are here at UNESCO HQ in Paris it's starting to feel very real! For the National Union of Students (NUS) this prize has been a proud moment to recognise and reflect upon the achievements of our sustainability programmes over the past 10 years. Whilst we feel privileged to be the ones visiting the building itself and meeting the UNESCO ESD team, there is definitely a sense of a collective achievement of the students, their unions, the universities and community organisations who have participated in Green Impact and this pride is rippling through the programme.
The opportunity to get to know UNESCO, the history, the art and exhibitions scattered amongst its corridors has been fascinating, however this unique visit has most of all been invaluable for getting to know more about the breadth of ESD activities UNESCO are facilitating. The number and scope of groups and experts all working to develop our shared understanding of ESD, and making real impact on the ground is genuinely inspiring and the prospect of being part of these networks is tremendous for us and our student leaders. Meeting the other laureates was also a very special part of the visit, providing insight into how sustainability is perceived in other countries and cultures and how we can learn from one another. It really does feel like just the beginning!
As relatively local laureates (the only European winners) we were fortunate to be joined by two of our elected student officers Shakira and Melantha, and our Chief Executive Simon, who travelled from London to Paris for the award ceremony itself. Whilst the NUS has a strong reputation in sustainability engagement and campaigning, this is a relatively new area of work in our 93 year history, and the recognition provided by UNESCO and the jury members has certainly helped to shine a spot light on the creative and inspiring sustainability work within our unions. The publicity amongst our membership of 600 students' unions has been able to raise the profile of those who are leading in areas of ESD, whilst inspiring others to consider how they could begin to engage with their students on this agenda.
The preparation of the presentation was neatly planned so that the audience was filled with delegates from the UNESCO Executive Board, and the setting of the conference room provided a unique and special place for the prize giving and photo opportunity (which we quickly tweeted and circulated to everyone at home)! We were fortunate to not only have several of the NUS team to celebrate the day, but following the presentation were able to meet with our UNESCO national commission to explore how we can work more closely in the future and find opportunities for the promotion of ESD across the UK. Making so many links such as this has really given us enthusiasm that we'll be able to share what we do not just within the UK or the education sector, but continue to grow our programmes in different workplaces and communities with students at the heart of the process.
September 2016: Inspiring youth and communities to take environmental action
by SERES (Guatemala/El Salvador)
Once a month, in various rural and susceptible regions in Guatemala and El Salvador, SERES facilitates the three-day ACTIVATE workshop which brings young minds together to create community-led solutions in order to change their world for the better. This time was the turn of volunteers, aged 13-16, in small towns called pueblos across the rolling green hills in central Guatemala.
When teenagers meet for the first time in a group setting, the result is the same, even in rural Guatemala. The team of Guatemalan youth facilitators, who graduated as trained facilitators and ESD ambassadors through the SERES leadership program, guided the participants through a mix of fun activities with short presentations around pressing environmental issues such as biodiversity, deforestation and climate change, trying always to laugh and connect the group on cultural, social and generational levels.
ACTIVATE program participants learned to frame their knowledge in a local context, and are now aware of how local actions contribute to global environmental challenges giving them a starting point to make changes in their own communities. They completed their own ecological footprint worksheet, scored their actions on their daily use of food sources, transportation, water and energy, and they developed, by using SERES workbooks, a community action plan with three personal goals describing changes they can make every day to protect their environment and craft sustainable communities. Now, the next generation can learn and inspire their communities to take positive action towards protecting mother earth. The SERES facilitators will follow up to review how the goals were implemented and which impact their actions have had.
August 2016: "It was just a beginning"
by Tintin Kartini, Jayagiri Centre (Indonesia)
The GAP meeting in Paris from 4 to 6 July 2016, to which Jayagiri Centre was invited as one of the 2015 ESD Prize winners, is one of the greatest meetings I've ever attended. It was my first time visiting UNESCO headquarters where I met many great persons who are famous in their field.  What a very rare opportunity.  Having café-format discussion sessions enabled us to have a short but fruitful discussion with almost all participants.  And it was just the beginning; the fun and fruitful discussions continued in the next session; it was very interesting to hear many experiences, as well as barriers, in carrying out many kinds of programmes in many places around the world.  Also, many ideas came up and inspirations to be applied in our next projects at Jayagiri Centre.
Three days seemed too short for us to discuss many things we are facing in our own places as well as the project we are having in each Network. Surely, it was just a beginning.  We are having many things to discuss, many problems to solve, and collaboration to establish. Hopefully, we are having sustainable communication and collaboration in the future.
July 2016: Rooting sustainability - spreading into private, public and civil sector organisations
by Tim Strasser, rootAbility (Germany)
Some exciting things have been happening at rootAbility and within the Green Office movement…
Recently, some of the current Green Office teams met in Maastricht to come back to the original roots of the movement itself and exchange stories about how and why it all started and build those relationships that are needed to spread the movement further.
As more and more Green Offices are being launched (we have 25 by now), we are preparing the launch of a member-driven association to better coordinate, support and resource the international movement, based on the Green Office model. By the beginning of next year, we will found this association as an international umbrella organization that catalyzes the efforts of Green Office teams through enhanced collaboration, peer learning and coordination with national student sustainability networks.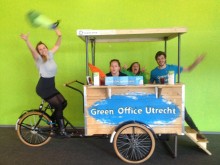 At the same time, we are seeing the GO model itself evolve more and more, as it is spreading not only among universities but also universities of applied sciences (Hogeschool Utrecht launched its GO in March), where the impact of student engagement for sustainability promises to find even more direct application in businesses. More collaboration for rooting sustainability not just within the university but also in urban development processes is also a key topic for the Green Office in Bologna that is getting active in Italy. This illustrates how the Green Office movement is evolving towards not only integrating sustainability within university activities but also spreading its roots into private, public and civil sector organisations.
 
June 2016: Learning comes from the will to change
by SERES (Guatemala/El Salvador)
"The youth of Patzun in Chimaltenango, Guatemala, wanted to make a change in their community. They could see all the beauty around them: the crops growing in their village, the diversity of species in the forest next to them and the beauty of the high mountains surrounding them. They wanted to learn how to preserve all this for the future generations, so they took action.
In June 2015 they created an action plan called Jun Che', Jun K'aslem (One life, one tree) and with enthusiasm and self-confidence they took immediate action to make their plan reality.
To learn how to make a change for their community they talked to experts as well as their own grandparents. They were given a small piece of deforested land to take care of and in one day they meticulously planted 70 trees. Cypresses were planted where landslides occur, oak trees where other trees were cut down to be used as firewood.
A second reforestation day is already planned for, this time involving students and teachers from the elementary schools of the community."
May 2016: Using puppet play to deliver pedagogical messages
by Tintin Kartini, Jayagiri Centre (Indonesia)
After receiving the Prize, Jayagiri Center established key steps for further ESD implementation, one of which was to provide grants to ESD lab sites to stimulate capital for self-sustaining programs.Eight lab sites (community learning centers - CLC) have received these grants: Nonformal and Informal Learning Group of Pamulihan; Guna Bakti Foundation of Narawita; Geger Sunten CLC; Bina Terampil Mandiri CLC, Female Farming Group of Ciomas; Kinanti CLC, Jayagiri CLC.
Let us talk a bit about the program conducted in Pamulihan. Pamulihan is developing a set of self-sustaining programs, for example a dalang course. The dalang course aims to transfer the skills of wooden puppet performance to the youth. The skills are how to play the puppet, how to deliver the story, even how to make different voices of the characters. Wooden puppet performance is a traditional performance in which many kinds of characters are represented by the puppets and play a role based on a story. The story represented in the performance is originated from Mahabarata and Ramayana Stories. The modification from the original story is made in order to deliver education or value messages (e.g. on environmental preservation) to the audiences.
April 2016: Making additional contributions to existing solutions
by rootAbility (Germany)
What has rootAbility been up to? Here are some highlights of our most recent activities:
The UNESCO Commission of Germany was so kind to invite us to present our work at their stand at Didacta – the major educational fair in Germany. We talked with a lot of people, and brainstormed about ideas to adapt the Green Office Model to schools and technical and vocational colleges.
Two more Green Offices opened their doors – in Kaiserslautern and Brussels. We gave kick-off workshops for both teams. We continued to support dozens of other Green Office initiatives in their steps towards gathering support from their university.
From summer onwards, we want to work together with more Green Offices to help them make their universities' sustainability performance more transparent. As a first step, we gave our first workshop on sustainability reporting for an organisation of the Dutch ministry.
Our efforts were recognized with another prize. The German Council for Sustainable Development named us as one of the 100 most innovative sustainability projects in Germany.
We started developing ideas for a bigger funding application. As a first step, we scanned the websites of over 100 networks and organisations working on sustainability in higher education and educational innovation to see what additional contribution we could make to existing solutions. Now we need to sit down and get our ideas to paper.
March 2016: Engaging, educating, empowering
by SERES (Guatemala/El Salvador)
"What better way to kick off 2016 than with our Annual Youth Sustainability Summit? Drawing together over 50 passionate young change-makers from Guatemala and El Salvador, this 5-day camp serves as our yearly hope-booster for the SERES team. Being able to be so close to the energy and dreams of young people working for a better future is why we do what we do: working together to weave stories and commitments, while sharing the tools that will help these young leaders to organize, build power and transform their communities.
As with the youth leaders who attended their summit and presented their Community Action Plans, for SERES the Youth Summit is just one of a number activities that we are planning for 2016. Our aim is to leverage the prize money from the ESD prize with matching funds from donors and foundations so that we can get maximum impact for investment. Already planned for the coming few months are three youth community congresses, two Activator trainings for youth to learn to be facilitators of SERES community congress program, and our regional gathering for ESD Ambassadors.
We are also excited to see our ESD Youth Ambassadors continuing to work hard and advocate for change, showing up in places like local government, youth councils and regional conferences on key environmental and climate issues. As one of our Ambassadors, Glenda Xulú said to us: "SERES by itself isn't a problem solver, it is just the trampoline you use to bounce off to go and resolve problems for yourself." Engaging, educating, empowering. Together, we can make a difference."
February 2016: Keeping the balance between economic gain, environment conservation and local culture preservation
by Edi Rukmana, Jayagiri Centre (Indonesia)
"Basically, our activities focused on solving our immediate problems. Thanks to the guidance from Jayagiri Centre, the solution we seek now is also taking economic, social, and environmental aspects into consideration, so that we meet our present needs without harming those of future generations."
(Ms Opi Ropiah, tutor for the female-farmer group Mekar Bersama at Ciomas Village, Ciamis Municipality, West Java)
"Ms Opi Ropiah was one among 160 participants, of which 60 were representatives from 8 lab sites piloting ESD projects, at a workshop at Jayagiri Centre on 5 February 2016.
The workshop on "Transformation, Innovation and Integration of ESD into Non-formal Education Programs" is the beginning of a set of activities designed as follow up agenda post-UNESCO-Japan Prize in 2015. It is generally aimed to further socialize the concept and implementation of ESD, which in turns it is hoped to mainstream in every non-formal education program. The immediate objective to be gained through this workshop is to strengthen collaboration between Jayagiri Centre and lab sites in implementing ESD programs.
This collaboration is benchmarked with the signing of Memoranda of Understanding (MoU) with the lab sites, which stipulate that Jayagiri will allocate, from the prize money, some USD 3,500 for each of the 8 lab sites as incentive to support the existing or to create a new project on transformative ways of ways of thinking toward a better life, innovative approaches in terms of learning activities, and integrative actions with respect to the three dimensions of ESD. Due to the recent appointment of Mr Djajeng Baskoro to Ungaran Centre (Central Java), the new Director of Jayagiri Center, Mr Muhammad Hasbi signed the MoUs along with the leader of each project site. Mr Hasbi confirms his support to maintain and improve ESD mainstreaming project.
Participants of the workshop were also enriched in terms of knowledge and understanding concerning the concept and implementation of ESD; policy, roles and significance of ESD in Indonesia education sector; ESD implementation strategy in non-formal education; and mainstreaming ESD in the education sector.
Through these sessions, the participants were refreshed in terms of their comprehension on what and how ESD can be integrated into their learning programs. Therefore, it is not surprising that they are now analyzing the root of the problem they face in their own respective site and at the same time considering the three dimensions of ESD. As indicated in the quotation in the beginning of this article, Ms Ropiah with her female farmer group are facing pollution problems caused by the large amount of manure produced from local farms. Initially, they simply dumped the manure into a pit and waited some time until it decomposed naturally. However, in the long run, this practice creates new problems such as water contamination and air pollution because of the odor. Using their new understanding on ESD, the group is now designing a way to accelerate the decomposition process through "organic compost management". In this case, they produce compost, in the right and safe manner, to fertilize their farm or to sell to other villages (economic dimension). At the same time, they can keep their environment clean and pollution free (environment). Last but not least, in the process they build harmonious cooperation among community members through "gotong royong" (working together as a community).
A similar process also happened in other lab sites. In Bina Mandiri CLC, they focus on harnessing water hyacinth that blocked rivers into handycraft. In Geger Sunten CLC, they cultivate steep land and unproductive lawn into a rose nursery. In Pamulihan, the group focuses their effort on preserving the fading local culture of wooden puppet through training of dalang kecil (young puppeteer). And so on for other lab sites as well with various focuses.
In conclusion, the lab sites use their refreshed understanding of ESD to focus on finding solutions for their problems. This transforms their frame of thinking toward a sustainable future. In the process, they keep the balance between economic gain, environment conservation and local culture preservation as the impacts of their activities."
January 2016: Our train to Paris
by Valentin Tappeser, rootAbility (Germany) - on the train to Rotterdam
"While global leaders, government representatives and large numbers of environment and sustainability activists were boarding trains to the French capital at the end of November last year to negotiate a long overdue post-Kyoto climate treaty, some of us from the rootAbility team boarded our very own "train to Paris" a couple of weeks earlier to receive the UNESCO-Japan Prize on Education for Sustainable Development.
As a small team of ESD activists who, since 2012, have been working hard to promote student-driven sustainability hubs (Green Offices) at universities across Europe - more than often in our free time, alongside other jobs and studies -, we were deeply honored to be among the first winners of such a prestigious award. Spending two days at the UNESCO headquarters, accompanied by a very welcoming and at the same time inspiring UNESCO ESD Team, will remain an unforgettable experience. Not only did we have the opportunity to present our work to government representatives and UNESCO staff in a very cozy and interactive breakfast session; our time at UNESCO was sprinkled with little highlights, including a tour of the UNESCO art collection, great food, long walks through the city and talks with other awardees and jury members, culminating in the award ceremony with Irina Bokova, Director-General of UNESCO, and Hiroshi Hase, Minister of Education of Japan.
Thinking back of it now, almost two and a half months later, one feeling that lasts besides a deep sense of gratitude and the memories of our experience, is a reassurance that the global ESD community is alive and well, and a sense of optimism that the ESD agenda will continue to gain political clout as the Global Action Programme unfolds; that the movement will grow to make a real difference towards global transformation. To me, the establishment of the UNESCO-Japan Prize on ESD as a rallying venue and multiplier represents a very important and welcome step towards justifying that optimism.
Since our return from Paris, the city gave birth to a seemingly historic document in the fight against climate change, which, not least, emphasizes the importance of education and training in the quest for a global transformation towards sustainable development. At rootAbility – energized by the recognition and empowered to expand our efforts with the award money received – we've been continuing to push for student-driven sustainability hubs, delivering workshops and trainings in Germany, the Netherlands and Italy. Also, we are happy to report that since beginning of November two new Green Offices have opened their doors at Hogeschool Utrecht and Universiteit van Amsterdam, thus raising the tally to a total of 21 Green Offices across the continent employing 105 students and staff with a yearly budget of 1.2 million euros to implement ESD and sustainability projects. Now off to Rotterdam to plan our activities for 2016."
December 2015: "Wherever you are, we invite you to join us"
by SERES (Guatemala/El Salvador)
"The award ceremony for the UNESCO-Japan Prize on Education for Sustainable Development (ESD) could definitely be considered one of SERES' highlights for 2015. All that we believe in and work for – providing opportunities for unlikely leaders to lead the way towards a sustainable future – was culminated in the moment that SERES facilitator Abigail Quic stepped onto the stage to accept the award and address the general assembly. Abigail – SERES alumni, facilitator, ESD Ambassador, role model and now program leader for our sustainability programs – is one of these unlikely leaders. From humble beginnings in a tiny rural community on the shores of Lake Atitlán, Abigail's leadership is sending out ripples of hope to many rural indigenous youth in communities across Guatemala. And there in UNESCO's headquarters, barely visible above the podium, as Abigail committed to building a corps of 7,000 ESD youth leaders by 2020 and called on those gathered to be a part of that task, the ripples expanded.
In the greater picture of the work that SERES does, the 2.5 days in Paris meeting with fellow laureates, UNESCO's ESD staff and the judges for the prize was time well invested. As facilitators in a grassroots organization, we spend a lot of time down in the weeds – side-by-side with the youth that we are training, giving everything we have to help them achieve their very best and build a sustainable future together. At that 6' level, caught up in the lives of these young leaders, it can be easy to forget the big picture. The time in Paris at UNESCO's HQ brought us quickly up to an altitude of 30,000' and gave us a chance to weave in the realities and experiences of the day-to-day into a high level strategic framework. This was especially insightful for Abigail, who spends less time at this altitude than Corrina Grace, SERES Executive Director. With this bridging of perspectives, we were able to connect the dots between how UNESCO's Roadmap for achieving the Education for Sustainable Development really worked at a community level for people on the frontlines of climate change.
This interpersonal agility – the ability to change perspectives and work at different altitudes, weaving together strategy and implementation – is also one of the skills that we teach in our leadership training, and this was a great opportunity to cultivate and practice the skill!
Returning back to Guatemala was as rewarding and grounding as it always is. Having had the privilege to participate in theis spaces, our responsibility is always to bring the learning, information and experience back to our colleagues and peers. We had a wonderful opportunity for doing this just after getting back in our Advanced ESD Ambassadors Leadership training. During the 5-day program, we discussed with the ten participants details about UNESCO's Roadmap, the goals of ESD, and where these young leaders fit into this work.
As we wrap up a busy and fruitful 2015, looking forward to an even more impactful 2016, the UNESCO visit is helping to set our aspirations for the year to come. We are reminded that here at home, both locally and regionally, we must continue to move between 6' and 30,000', playing back and forth between the grassroots and the high-level strategic as we weave together local actions with good leadership and stronger partnerships to build a more just, sustainable and peaceful society.
In Abigail's words: "Wherever you are, whatever you do, we invite you to join us.""
November 2015: "Our minds are still full of ideas"
by Djajeng Baskoro, Jayagiri Centre (Indonesia)
"It has been my dream to visit UNESCO in Paris. For me, as a practitioner at Centre for Development of Early Childhood, Non-formal and Informal Education (Jayagiri Centre), UNESCO HQ is not only a grandiose and historical site, but also I value it as a place that is full of knowledge in the field of education and culture. Thanks to the Almighty God, through the UNESCO-Japan Prize on ESD my dream of visiting UNESCO HQ has come true. As one of the winners, obtaining the award prize does not only make us proud of ourselves, of our programmes on ESD, but also it becomes the pride of my whole country, that to some extent Indonesia has contributed to the UN programme on ESD.
We departed from Indonesia with a delighted heart and an ecstatic smile on our face: Me, Djajeng Baskoro, with two of Jayagiri's ESD Team members, Mr Hidayat and Mr Edi Rukmana, along with Ms Ella Yulaelawati, Director of Directorate of Early Child Education, flying in high spirits to Paris to attend the UNESCO-Japan Prize on ESD awarding ceremony.
Landing in Charles de Gaulle International airport, we soon familiarize ourselves with the cool late autumn climate of Paris, which was 14°C. It was not very hard for us to adapt as we also come from a cool, mountainous area in Lembang, Bandung, West Java. Then, by car, we took the busy streets of Paris heading to our hotel in the vicinity of UNESCO HQ, which happens to be also near to the office of the Indonesian permanent delegation. My first impression of Paris is that it is indeed a great city, but surprisingly quiet for a big city, serene, cool, beautiful and full of art works created by highly dedicated men to their city. We visited the world-famous Eiffel Tower with beautifully designed and well-tended parks around. And it helped relieving our anxiousness facing the awarding ceremony.
During our visit to UNESCO HQ, all the staff warm-heartedly greeted us; helped us blend with the situation. It moved us deep in the heart to make the betterment for humanity in the world. The UNESCO HQ tour, guided by a staff from the cultural section, made a deep impression in our head. We learned about the history, the meaning behind every details of the garden, sculptures, paintings, meeting rooms, and the overall design of the great UNESCO building. Concerning this, one word printed in my mind: "EXCELLENT".
In the evening of the award ceremony, were present the Director-General of UNESCO, the Minister of Education of Japan, the Permanent Delegates of Member States, and the honourable Indonesian Minister of Education and Culture, Mr Anis Baswedan. We are proud of being able to pro-actively contribute to ESD.
By the time, we had to go back to our country. Our minds are still full of ideas of how we will further act in expanding and scaling up ESD implementation in Indonesia. It is our new dream to build an Indonesian nation that is contributing to the world's peace and prosperity, eco-friendly and sustainable in this present time and for the future."