UNESCO-Japan Prize on Education for Sustainable Development
The Prize honours outstanding projects by institutions and organizations related to Education for Sustainable Development.
ESD Prize blog
In this blog, the laureates of the UNESCO-Japan Prize on Education for Sustainable Development give us regular updates on their projects, experiences and intiatives. It was started in November 2015 by the three winners of the 2015 ESD Prize, and continued later by the laureates of 2016, 2017, 2018 and 2019 who are writing in turns every month.
March 2020: 'For A Better World' – a series of events in Hamburg shows how to bring about ecological and social change
by Theresa Senk and Isabelle Schipp, City of Hamburg (Germany)
We – the team of the Climate protection foundation of Gut Karlshöhe – are still working on our planned series of events "For A Better World" even amid the COVID-19 crisis. We are very grateful for the support we get from the UNESCO-Japan prize money. The series revolves around the organization of a participatory conference for everyone who is not only dreaming about a better world but also getting hands-on and trying to realize their vision – just like the motto: "We. Here. Now!". Even in this time of chaos, uncertainty and loss of orientation, we want to uphold the consciousness of long-term effects of the climate crisis and develop formats of participation to motivate young people to take part in the future and sustainable development of Hamburg.
That's why we're working with journalists and authors Ilona Koglin and Marek Rohde who have been giving idealists, activists and unconventional thinkers fighting for a fair and sustainable world a platform on fuereinebesserewelt.info since 2007. They're checking every idea precisely instead of labeling committed do-gooders as weirdos or troublemakers right away.
Ilona, Marek and we want to promote ecological and social change on a personal and a local level in Hamburg with an eye on the UN timeframe of 2030 through this conference and further event formats. For that we need empowerment, inspiration and connections which we get by connecting motivated people from non-profit organizations, social businesses and civil movements and giving them a space to educate themselves and to get hands-on right in their neighborhood.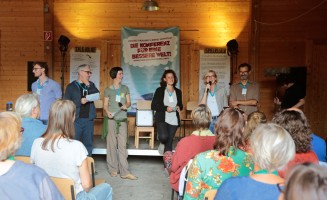 Because of COVID-19 effecting events negatively everywhere, we won't be holding the "Conference For A Better World" in September 2020 anymore, but probably in June 2021 surrounded by nature at Gut Karlshöhe. In the meantime, we are still working on ideas for advice on how to change your perspective on the world and how to learn to challenge your status quo but not be discouraged. The aim is to push rethinking towards the Sustainable Development Goals with the help of social movements.
February 2020: Composting & waste management: "An incredibly diverse platform for learning"
by J.G. Williams, Camphill Community Trust (Botswana)
It's high summer in Botswana and the Camphill school campus is buzzing with all forms of life. One patch in particular is positively thrumming with activity: the composting area! With acres of long grass and overgrown vegetation being cut back to allow safe access to learning and production areas across the farm, we have an abundance of biomass available for rapid transformation into humus on site. This is a summertime priority for the Lands & Gardens team, and an excellent living classroom environment for our learners.
Camphill Botswana has always made compost, but it is at the core of our current drive for improvements in agricultural produce and learning opportunities. Connecting the issues of fertility, productivity, efficiency, responsible waste management and hands-on education, composting is a truly holistic process. Bringing home the knowledge of what can be returned safely to the land, and what is truly waste represents a doorway to self-sufficiency, responsibility and productivity beyond the social norm.
Current methods of composting at Camphill Botswana regularly make use of biomass from the landscape, vegetable off-cuts and residues from the vegetable gardens, and kraal manure collected from holding pens in our extended community. Our vision for the future is to systematically include our cardboard, paper, kitchen wastes and fresh manures from livestock kept on the land. In essence, we want to take more control over the quality of our inputs while reducing our outputs of waste going to the landfill.
To achieve this we've started with simple wire cages for efficient compost making and biomass stockpiling around the campus. The next step will be the implementation of waste sorting depots at all major sources of "wastes" (eg. offices & canteens) so we can sort at source and stream different types of waste to responsible end-users and processes both on and off site. Suddenly our "waste" becomes a second-hand resource for careful and loving management. Labelled and colour-coded wheeled dustbins will greatly increase the ease with which these resources can be collected and transported to appropriate locations for further use. Beyond that, the inclusion of community-owned livestock from Otse village in a controlled rotational grazing system across campus will augment the poultry manure that is currently distributed by the handful of chickens and geese that currently roam the land freely.
This integrated model of production and waste management provides an incredibly diverse platform for learning on multiple levels and disciplines.
by Virgilio Viana, Sustainable Amazon Foundation (Brazil)
It was a very special moment to receive the prize from the Director-General of UNESCO Audrey Azoulay in Paris. The ceremony was quite impressive, not only to me, but also to our organization, the Sustainable Amazon Foundation (FAS). This was a very special recognition, one of the most relevant of our history, as a true milestone. FAS is the first Brazilian and South- American organization to receive this prize.
The prize was received in Brazil as a very special recognition to our work on education for sustainable development. The prize was widely communicated through social media and mainstream press. Our relationship with our partners got stronger, including funding agencies and technical partners. Besides the prize ceremony in Paris, on November 15th, we also had a prize ceremony in the Amazon, on November 21st, which was held at the city's landmark, the Manaus Opera House. The idea was to share with our staff, community leaders, partners and society in general. We had the presence of Mr. Vicente Nogueira, Secretary Education of Amazonas, Mr. Fabio Soares Eon, representing UNESCO through a video message, the Adjunct Consul of Japan in Manaus, Mr. Iwato Takahiro, in addition to all our staff and our main partners.
We are positive that UNESCO can become a very relevant partner to FAS. Our aim is to make this relationship stronger from 2020 onwards. The prize gave our education program a very high profile, a wider recognition within the education community and opened new opportunities for strengthening existing partnerships and bringing new partners for our challenge of promoting sustainable development of the Amazon.
We were inspired by the UNESCO prize to create a new innovative program on ESD, to be focused on youth from communities in the middle of Amazon. The project that is going to have a new curriculum focused on the Sustainable Development Goals (SDGs). It will be a one-year course, launched in February, and with the classes scheduled to begin in March 2020. This will provide education for leaders of Amazon communities to become leaders of sustainable development programs at the community level. The program will include practical training as well as basic theoretical understanding of the main challenges for sustainable development in the Amazon. This initiative is the first of its kind aimed at education and sustainable development at the technical level in the region.
by Ralf Behrens, City of Hamburg (Germany)
Compared to the other two laureates coming from Botswana and Brazil, the way from Hamburg to Paris is not very far. So I decided to take the train for this 9-hour trip to the award ceremony of the UNESCO-Japan Prize. I had an exciting time in Paris. The very warm hospitality, the numerous chats with UNESCO colleagues, jury members and interested people from all over the world – it was all very impressive.
At the same time, I was honoured that Hamburg was presented as kind of a model for other cities in the world to implement and mainstream ESD. I do not know if Hamburg serves as an example but we are very open to talk about our experience of bringing public bodies and civil society together to create an ESD strategy for a whole city - please feel free to reach out to us!
This was not our first prize: The city of Hamburg has already received several national awards in Germany. But back from Paris, I realised that something was different this time. I noticed a broader interest in our ESD activities. Calls from a radio station, newspapers and press agencies were the results of our press report about the UNESCO-Japan Prize. This prize will support us. Since our mayor will double the prize money, we will use it for the Hamburg Foundation of Climate Protection to run a think tank for a sustainable Hamburg 2030 with a special involvement of youth. The young participants at the ceremony loved the idea and celebrated it with me (see photo)!
by Richard Blake, Camphill Community Trust (Botswana)
We leave our village in Botswana, a place of light and heat and red sand. We leave a country waiting for rain. We arrive in Paris. It is cold, wet, grey. On entering the extraordinary UNESCO building during a convened General Conference, we meet hustle, diversity, protocols being observed. How can we connect these two - home and this place? How to explain about where we come from? How to fit in and understand what is happening here? Unlike the other two laureates for the 2019 UNESCO-Japan Prize, one having a city wide, the other a region wide focus, Camphill Community Trust is very local. Camphill uses sustainable education in a setting of social enterprises and perma-culture to support people with special needs and their families to achieve situated, person-centred inclusive and sustainable livelihoods in their local communities. Local work, small, incremental transformations for both people with special learning needs and their communities.
We experience great kindness. The whole Education for Sustainable Development (ESD) team welcomes us and the other 2019 laureates. We are honoured. We are led on a remarkable tour around the grand building - a building both forward-looking but also under restoration, slightly pock-marked by time. And then out into the cold November Japanese Garden, its last autumn leaves falling around us as we walk, - and back inside to warmth, to see the Art - all amazing. Hope, anticipation, anxiety, mingle.
We meet the Prize Jury. We discuss why we won the prize and the implications for our shared future. The conversation steers us towards a fuller realization of our responsibility to be an accessible model that others can visit, experience and find out about - replicate, appropriate ideas and activities for themselves, for their communities. We talk about a need to link up with other organizations across the region, horizontal connections - to learn from each other and further develop such locally situated accessible models - "sustainability commons" - a concept that one of the prize jurors points us towards. Something we have long been working for now has a name.
Having lunch with some of the prize jury members high up on the top floor looking out across the rooftops of Paris through the November mist and rain. The conversation turns to the climate emergency. We hear how cities, regions, one after another, are declaring states of climate emergency - a reality emerges. Looking out through the mist our thoughts turn to a parched dry landscape in southern Africa, waiting for rain.
At the prize giving ceremony in the evening, the Director-General addresses delegates, tired from their day's deliberations. She tells us all that UNESCO is communicating a clear agenda for implementing Education for Sustainable Development and thereby working towards achieving the SDGs by 2030. In addition, across the globe there are many excellent programmes, organisations and activities on the ground working from the bottom upwards to achieve these goals. A challenge remains though - there is still a lack of effective articulation in the middle spaces that exists between the two.
We meet to wrap up. We hear a presentation about the next phase of the implementation of ESD that have just been agreed by the UNESCO General Conference. A question is raised by a laureate. "How will the challenge of articulation in the middle be addressed?" The crisp answer comes back - "through your leadership". The shoes of a laureate are big to fill.
We bid fond farewells. We travel home. We arrive home. It has rained. Green shoots push up through the red sand...
October 2019: From Tokyo to the Namib Desert
by Panduleni Haindongo, Namib Desert Environmental Education Trust (Namibia)
The impact of the UNESCO-Japan Prize for ESD for prize-winners is far reaching. Of course, there is the initial excitement, publicity and financial support, but almost a year after NaDEET won this prize has brought a group of students all the way from Japan to the Namib Desert! A first for both the Japanese students and for NaDEET.
Twelve Bachelor of Education students from the University of the Sacred Heart, Tokyo came to Namibia to see and experience NaDEET's ESD practices first-hand. The long journey became a reality as their professor Yoshi Nagata, one of the international jury members for the ESD Prize, took the initiative to organise this tour together with two other colleagues.
The group of fifteen started their Namibia educational tour by first visiting a local primary school that participates in NaDEET Centre programmes annually. The trip continued to NaDEET Centre on NamibRand Nature Reserve where the visitors spent four days learning and practicing ESD. From solar cooking pizza to water saving to making recycled fire balls, the group engaged in all activities with enthusiasm. In the evenings NaDEET staff had the opportunity to exchange ideas and cultures over dinner discussions. A highlight was learning words from each other's language. At the end of the stay, the group expressed their excitement as they felt the connection with nature and how vital it is to protect our biodiversity.
The students were impressed with the work that NaDEET is doing and these are some of the impressions:
"Before I came here, I didn't clearly know what ESD is. But I spent 4 days here, I think I was able to learn and understand ESD."
"Knowing exactly my energy use! And it was so simple so that I can do the same thing when I go back to my country."
After their programme at NaDEET Centre, the group also made a short visit to the new Urban Sustainability Centre in Swakopmund.
by Merili Vares, Let's Do It Foundation (Estonia)
On September 15th we celebrate exactly one year from the first World Cleanup Day. The epic day that was full of excitement and joy but also hard work and tears. Many of us from the organising team recall it as "once-in-a-lifetime" experience. Helping almost 18 million people to join cleanups, get equipped and stay safe when they are working voluntarily is not an easy job. But most certainly worth the effort. Watch the video to remind the event from last year.
We are ecstatic that this year the action will repeat on September 21st. The day will enrol again as the sun moves from East to West like a green wave, engaging people in a 5 hour cleaning party. This year's World Cleanup Day is taking a more focused approach on learning from the findings of the day.
As part of the BreakFreeFromPlastic network, Let's Do It Foundation is inviting participants to contribute to a global Brand Audit. The first step in applying the Keep It Clean Plan principles in any community is to map out the "as is" situation and then set an action plan accordingly. Collecting information on what kind of waste (and whose) can be found polluting the environment is crucial to make future plans for improving the situation. In addition to naming brands, brand audits focus on analysing material's recyclability both locally and globally. Brand audits do not need pre-organised cleanup actions, it can easily be carried out at school or in the office. To read more, visit https://www.breakfreefromplastic.org/brandaudittoolkit
Our impact lies with our numbers and acting as one community. Let's Do It Foundation is inviting everyone to choose their own way to contribute to World Cleanup Day, September 21: Organise a cleanup yourself, join a local team at www.worldcleanupday.org or conduct a brand audit. Join the movement!
by Andreas Keding, Namib Desert Environmental Education Trust (Namibia)
Running high-quality programmes for participants in a remote area like NaDEET Centre is always a challenge. Behind the scenes, away from the education programmes at the Centre, there is a team running and maintaining systems of logistics (including food), maintenance and services like electricity, water, rubbish disposal and sewage.
NaDEET has put some of the award money from the ESD Prize into streamlining, improving and modernising these systems. Number one on the list is the co-funding of a bigger sustainable garden that will play into the creation of a circular food system. The idea of the garden is to take all the organic waste from the Centre (including meat, bones, leftover food) and process it into soil to produce more food for the Centre. The first steps have been made and the first soil has been produced. Water infrastructure has to be upgraded, made efficient and measurable.
As we are located in a very active tourism area, NaDEET is also spending some prize money to further its reach by developing a day centre. This is to start informing and educating visiting tourists about our work, ESD, light pollution, and the local conservation efforts on NamibRand Nature Reserve. We hope of course that through this exposure more sustainable travel will be encouraged and that some funds can be raised to bring school groups to the NaDEET Centre that cannot otherwise afford it.
Since a big part of sustainability is efficiency (use less) and renewable resources, we have also committed to upgrading our solar system and include new battery technology that will show the differences with our old system and highlight the use of technology in advancing sustainable development.
For me as the Technical Director of NaDEET winning the Prize has opened a great opportunity to explore the avenues of circular systems and trying to develop NaDEET infrastructure and support systems even more sustainably than before. I personally also felt educated in sustainable development because of what I learned during the process of planning these projects. It is presumed that sufficient funding can solve problems easily, I learned this is not necessarily so. Spending the money, wisely, sustainably and efficiently with sustainable outcomes is part of the sustainable development process.
July 2019: Becoming part of a global network: Impressions from the newest GAP Key Partner
by Angela Beer, Kalabia Education Program (Indonesia)
As a newly-minted UNESCO-Japan ESD Prize Laureate for 2018, the Kalabia was invited to attend the UNESCO Forum on Education for Sustainable Development and Global Citizenship followed by the Global Action Programme for ESD Partner Network Meeting held in Hanoi, Vietnam at the start of July.
For a relatively local organization working in remote West Papua, one of the most exciting aspects of winning the ESD Prize was the opportunity to become a GAP Key Partner – part of a global network of partner organizations working toward advancing ESD in their various contexts, and thus representing a global movement. Meeting and sharing with ESD practitioners and policy makers from around the world opened my eyes to the myriad actions underway pushing toward target 4.7 of the Sustainable Development Goals.
It's inspiring to see that non-formal education organizations like Kalabia are included and have a place to share their important insights and work. A thought that kept coming back to me during the forum as we discussed the need for transformative engagement in ESD, was the need to increase support for education happening in the non-formal sphere, which isn't as constrained by curricula and lag-time in legislative reform as are formal education institutions, and has the opportunity to provide those experiences that inspire and engage learners and trigger real action.
A special dinner with the other Prize laureates and jury members was a highlight of the events – sharing stories of how the prize has enabled so much more good work and produced a positive ripple effect of connections between organizations was inspiring.
These international meetings focused on a global agenda contrast starkly this month with Kalabia's immediate reality in West Papua, where the ship has had to undergo some major repairs and maintenance. The timing fortunately coincides with the regional South Monsoon season when local seas are not at their friendliest and ships are safer in port. Just two of the on-the-ground challenges to running its program based on this innovative platform. Kalabia will again begin sailing to bring their program to Papuan communities soon!
by Merili Vares, Let's Do It Foundation (Estonia)
In the past few months the Let's Do It team has been busy with creating something that might totally change the way we see trash. In partnership with SIFR and Microsoft, we have developed an AI algorithm for detecting trash in geolocated images and videos. The algorithm allows to identify and map waste much faster and more accurately than people can. For example, citizens using 5 different mobile apps mapped 121 waste points per day.
At the same time, WADE is able to analyse more than 8 million images a day. Collecting data about mismanaged waste is important not only for visualising global trash problem but also to give academics, policy makers, educators and businesses information about where the hotspots are, why they are there and what might be the solutions to stop waste ending up in nature or on streets.
Not everything that LOOKS like trash IS trash. Trash is a word people use for an object that lacks purpose. But the purpose of an object may not be obvious in the images we use for teaching the algorithm. We started with a sample of images, trained the model, and analysed the results. Based on the results, we determined what images we had to add to the next iteration of training. Detailed overview of what we did can be found here https://opendata.letsdoitworld.org/#/ai.
Everything that we do is open-sourced. The code is in GitHub https://github.com/letsdoitworld/wcd-ai Take a look and give us a Star!
In coming months we will be focusing on engaging stakeholders to start using WADE, assure that it works all over the globe. Our aim is to make at least 1 billion people in the world aware of the trash problem. If you have any additional questions or would like to work with WADE, send us a message at kristiina@letsdoitworld.org
At the same time, the Let's Do It World movement is actively preparing for the next World Cleanup Day, 21 September 2019. You are all welcome to join us and take action!
May 2019: 2 years on: NUS going further and faster on sustainability
by Jamie Agombar, Head of Sustainability, National Union of Students (United Kingdom)
Winning the UNESCO-Japan ESD Prize two years ago gave us such a boost and we haven't stopped running forward since then. As well as working on the climate emergency in the UK, supporting the youth climate strikes, working to shape UK education policy, and growing all our sustainability programmes, we have started an exciting new international collaboration.
In April, we formally launched Students Organizing for Sustainability (SOS) International, a new charity co-founded with the Danish and Irish National Union of Students. Through SOS we plan to get half of all the NUS's across Europe collaborating and innovating on sustainability by 2022, and then out to the rest of the world.
Did you know that less than 6% of the global population go to university but 80% of societal leaders have been to university? It is our universities that train our leaders, but it is plainly obvious they have typically been doing a bad job, that is why society is in such a mess. We urgently need our universities to stop turning out students who are focused on creating short-term profit over long term gain.
Sustainability should be seen as a learning entitlement, and treated as seriously as numeracy, literacy and wellbeing. Regardless of what they study, students need to leave university knowing what the climate emergency is and what they can do through their profession to stop it.
The best way to change what is taught is for students, who are both the consumers and products, to demand change. The student voice is the only legitimate way to change what is taught without infringing on academic freedom. That is why we have formed SOS International and, spurred on by our UNESCO award, we are very much up for the almighty challenge ahead of us.
April 2019: A warm exchange of ideas - and a chance to dress up and celebrate
by Viktoria Keding, Namib Desert Environmental Education Trust (Namibia)
For those who work at NaDEET on a daily basis, the red sand and desert dust have become part and parcel of our everyday uniform. That's why it was wonderful to get an opportunity for us to put on our best clothes to celebrate the UNESCO-Japan Prize on Education for Sustainable Development with members of a UNESCO delegation visiting the centre. An added pleasure was to see how the occasion showcased our cultural diversity (and the "gender balance") of our team:
From left: Priscilla Kuzeeko (Finance and Administrative Officer), Elizabeth Lammert (Homestead Manager), Pandu Haindongo (Environmental Educator and Communications Officer), Vicki Endjala (Centre Manger) and Viktoria Keding (Director)
The imminent arrival of the UNESCO delegation at the centre sparked a flurry of cleaning and making sure that everything looked its best by all the staff! No one was really sure who was coming and what the event would bring.
It soon became apparent that it was a pleasure for everyone in different ways. One of our interns, Theofilia Ndahalele, thought that the visitors, as a high-level delegation that works with ESD, would know everything. However, she reflected later, 'I was humbled by their interest in learning more about how ESD is practised at NaDEET'.
Long-term NaDEET team member, Elizabeth Lammert (lovingly called 'Ousie' meaning sister/mother) was left feeling positive that she had spread her message even further than just the Namibian people.
Kitchen Educator, Lea Shikomba, was impressed as to how much interest the group had shown in solar cooking and how it had made her feel proud to have been one of the people that taught them about this type of cooking.
For me personally it was rewarding and enriching to be able to host such a workshop at NaDEET Centre and to witness how our approach to ESD inspired the group.
 
by Angela Beer, Kalabia Education Program (Indonesia)
There was good news in July last year when the government of West Papua declared their intention to become the world's first 'Conservation Province', with the aim to ensure all provincial programs and policies would be aligned with the Sustainable Development Goals. The legislation was ratified this month (March 2019), and Kalabia took part in the celebrations ushering in the positive initiative with special ESD programming in the Fak-fak regency.
Kalabia believes that education is the foundation of all sustainable development and key to a sustainable future for West Papua. Winning the UNESCO-Japan ESD Prize allowed the programme to spread its message to a neighbouring Regency where they showcased their inspiring work and were able to provide concrete proof that sustainability should be at the core of this significant provincial transformation.
Proving that real change is taking place at all levels, on the last day of the program in the Kokas District of Fak-fak Regency, the education team received an inspiring story from the mother of one of the participating students. She told the team that after joining the first day's activities which were focused on understanding waste and its responsible management, including a community cleanup and garbage relay races, her daughter went home and saw her grandmother tossing the household trash into the sea. She immediately stopped her and explained what they had learned with the Kalabia that day. Both grandmother and granddaughter worked together to collect up the trash again while the mother stood watching and brimming with pride at her daughter's actions.
We hope this is the beginning of scaling up the program and cultivating these positive conservation attitudes and behaviours even more throughout the province for a sustainable West Papua.
by Merili Vares, Let's Do It Foundation (Estonia)
We kickstarted 2019 with the Clean World Conference in Tallinn, Estonia, with a forward-looking focus on the concept of the Keep It Clean Plan and its implementation, while also celebrating the amazing events of 2018, including World Cleanup Day and the UNESCO-Japan Prize. It was so wonderful to meet our amazing leaders and partners from around 100 countries.
We had very impactful and inspiring discussions, including a special session about the importance of education in bringing the Keep It Clean concept alive. Thanks a lot to Miriam and the ESD team for their participation and contribution!
During the conference, it became apparent that World Cleanup Day is unstoppable - not repeating it was not an option. At the same time, the global coordination of a world-wide event that mobilizes millions of people takes a lot of time and effort. Therefore, we decided to start rotating the coordination of the event within the movement and in 2019, our long-time cleanup coordinator Luan Hasanaj and his international team will be the main organizers of World Cleanup Day. Looking forward to see as many wonderful and powerful people taking action on World Cleanup Day, September 21 as last year. Let's Do It!
by Viktoria Keding, Namib Desert Environmental Education Trust (Namibia)
I love January in Namibia. It is the height of summer. Usually we have had some rain and everyone is back refreshed after a bit of a summer holiday.
In addition to all of our returning staff and post-graduate interns, we also welcome three nature conservation interns. Due to the additional funds from the prize money, we have increased the number of interns and staff by about 30%. Enough staff is always one of our biggest problems so it is fantastic to start the year with many new enthusiastic faces.
We decided to start off the year with a staff orientation day including some team building games. One of the challenges was to build an animal out of Legos. This group exceled in the task and even made sure that their giraffe had food and water. Lots of laughter was shared as other groups struggled to get their animals such as ostriches to even stand.
Half the team is now at NaDEET Centre on NamibRand Nature Reserve gearing up for the first group to arrive in February. We will be welcoming a group of 20 lower primary school teachers for an ESD workshop and translation of ESD materials into mother tongue. The other half of the team is at the coast working around the clock to get the Urban Sustainability Centre ready so we can officially open our doors.