UNESCO-Japan Prize on Education for Sustainable Development
The UNESCO-Japan Prize on Education for Sustainable Development (ESD) honours outstanding projects by individuals, institutions and organizations related to ESD.
ESD PRIZE BLOG
In this blog, the laureates of the UNESCO-Japan Prize on Education for Sustainable Development give us regular updates on their projects, experiences and intiatives. It was started in November 2015 by the three winners of the 2015 ESD Prize, and continued later by the laureates of 2016, 2017 and 2018 who are writing in turns every month.
June 2019: Educating on waste thanks to Artificial Intelligence
by Merili Vares, Let's Do It Foundation (Estonia)
In the past few months the Let's Do It team has been busy with creating something that might totally change the way we see trash. In partnership with SIFR and Microsoft, we have developed an AI algorithm for detecting trash in geolocated images and videos. The algorithm allows to identify and map waste much faster and more accurately than people can. For example, citizens using 5 different mobile apps mapped 121 waste points per day.
At the same time, WADE is able to analyse more than 8 million images a day. Collecting data about mismanaged waste is important not only for visualising global trash problem but also to give academics, policy makers, educators and businesses information about where the hotspots are, why they are there and what might be the solutions to stop waste ending up in nature or on streets.
Not everything that LOOKS like trash IS trash. Trash is a word people use for an object that lacks purpose. But the purpose of an object may not be obvious in the images we use for teaching the algorithm. We started with a sample of images, trained the model, and analysed the results. Based on the results, we determined what images we had to add to the next iteration of training. Detailed overview of what we did can be found here https://opendata.letsdoitworld.org/#/ai.
Everything that we do is open-sourced. The code is in GitHub https://github.com/letsdoitworld/wcd-ai Take a look and give us a Star!
In coming months we will be focusing on engaging stakeholders to start using WADE, assure that it works all over the globe. Our aim is to make at least 1 billion people in the world aware of the trash problem. If you have any additional questions or would like to work with WADE, send us a message at kristiina@letsdoitworld.org
At the same time, the Let's Do It World movement is actively preparing for the next World Cleanup Day, 21 September 2019. You are all welcome to join us and take action!
May 2019: 2 years on: NUS going further and faster on sustainability
by Jamie Agombar, Head of Sustainability, National Union of Students (United Kingdom)
Winning the UNESCO-Japan ESD Prize two years ago gave us such a boost and we haven't stopped running forward since then. As well as working on the climate emergency in the UK, supporting the youth climate strikes, working to shape UK education policy, and growing all our sustainability programmes, we have started an exciting new international collaboration.
In April, we formally launched Students Organizing for Sustainability (SOS) International, a new charity co-founded with the Danish and Irish National Union of Students. Through SOS we plan to get half of all the NUS's across Europe collaborating and innovating on sustainability by 2022, and then out to the rest of the world.
Did you know that less than 6% of the global population go to university but 80% of societal leaders have been to university? It is our universities that train our leaders, but it is plainly obvious they have typically been doing a bad job, that is why society is in such a mess. We urgently need our universities to stop turning out students who are focused on creating short-term profit over long term gain.
Sustainability should be seen as a learning entitlement, and treated as seriously as numeracy, literacy and wellbeing. Regardless of what they study, students need to leave university knowing what the climate emergency is and what they can do through their profession to stop it.
The best way to change what is taught is for students, who are both the consumers and products, to demand change. The student voice is the only legitimate way to change what is taught without infringing on academic freedom. That is why we have formed SOS International and, spurred on by our UNESCO award, we are very much up for the almighty challenge ahead of us.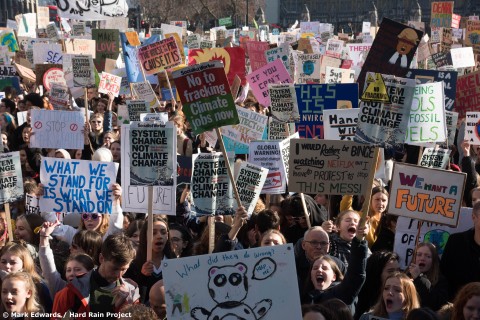 April 2019: A warm exchange of ideas - and a chance to dress up and celebrate
by Viktoria Keding, Namib Desert Environmental Education Trust (Namibia)
For those who work at NaDEET on a daily basis, the red sand and desert dust have become part and parcel of our everyday uniform. That's why it was wonderful to get an opportunity for us to put on our best clothes to celebrate the UNESCO-Japan Prize on Education for Sustainable Development with members of a UNESCO delegation visiting the centre. An added pleasure was to see how the occasion showcased our cultural diversity (and the "gender balance") of our team:
From left: Priscilla Kuzeeko (Finance and Administrative Officer), Elizabeth Lammert (Homestead Manager), Pandu Haindongo (Environmental Educator and Communications Officer), Vicki Endjala (Centre Manger) and Viktoria Keding (Director)
The imminent arrival of the UNESCO delegation at the centre sparked a flurry of cleaning and making sure that everything looked its best by all the staff! No one was really sure who was coming and what the event would bring.
It soon became apparent that it was a pleasure for everyone in different ways. One of our interns, Theofilia Ndahalele, thought that the visitors, as a high-level delegation that works with ESD, would know everything. However, she reflected later, 'I was humbled by their interest in learning more about how ESD is practised at NaDEET'.
Long-term NaDEET team member, Elizabeth Lammert (lovingly called 'Ousie' meaning sister/mother) was left feeling positive that she had spread her message even further than just the Namibian people.
Kitchen Educator, Lea Shikomba, was impressed as to how much interest the group had shown in solar cooking and how it had made her feel proud to have been one of the people that taught them about this type of cooking.
For me personally it was rewarding and enriching to be able to host such a workshop at NaDEET Centre and to witness how our approach to ESD inspired the group.
by Angela Beer, Kalabia Education Program (Indonesia)
There was good news in July last year when the government of West Papua declared their intention to become the world's first 'Conservation Province', with the aim to ensure all provincial programs and policies would be aligned with the Sustainable Development Goals. The legislation was ratified this month (March 2019), and Kalabia took part in the celebrations ushering in the positive initiative with special ESD programming in the Fak-fak regency.
Kalabia believes that education is the foundation of all sustainable development and key to a sustainable future for West Papua. Winning the UNESCO-Japan ESD Prize allowed the programme to spread its message to a neighbouring Regency where they showcased their inspiring work and were able to provide concrete proof that sustainability should be at the core of this significant provincial transformation.
Proving that real change is taking place at all levels, on the last day of the program in the Kokas District of Fak-fak Regency, the education team received an inspiring story from the mother of one of the participating students. She told the team that after joining the first day's activities which were focused on understanding waste and its responsible management, including a community cleanup and garbage relay races, her daughter went home and saw her grandmother tossing the household trash into the sea. She immediately stopped her and explained what they had learned with the Kalabia that day. Both grandmother and granddaughter worked together to collect up the trash again while the mother stood watching and brimming with pride at her daughter's actions.
We hope this is the beginning of scaling up the program and cultivating these positive conservation attitudes and behaviours even more throughout the province for a sustainable West Papua.
February 2019: Let's Do It! movement gathering in Tallinn, Estonia
by Merili Vares, Let's Do It Foundation (Estonia)
We kickstarted 2019 with the Clean World Conference in Tallinn, Estonia, with a forward-looking focus on the concept of the Keep It Clean Plan and its implementation, while also celebrating the amazing events of 2018, including World Cleanup Day and the UNESCO-Japan Prize. It was so wonderful to meet our amazing leaders and partners from around 100 countries.
We had very impactful and inspiring discussions, including a special session about the importance of education in bringing the Keep It Clean concept alive. Thanks a lot to Miriam and the ESD team for their participation and contribution!
During the conference, it became apparent that World Cleanup Day is unstoppable - not repeating it was not an option. At the same time, the global coordination of a world-wide event that mobilizes millions of people takes a lot of time and effort. Therefore, we decided to start rotating the coordination of the event within the movement and in 2019, our long-time cleanup coordinator Luan Hasanaj and his international team will be the main organizers of World Cleanup Day. Looking forward to see as many wonderful and powerful people taking action on World Cleanup Day, September 21 as last year. Let's Do It!
by Viktoria Keding, Namib Desert Environmental Education Trust (Namibia)
I love January in Namibia. It is the height of summer. Usually we have had some rain and everyone is back refreshed after a bit of a summer holiday.
In addition to all of our returning staff and post-graduate interns, we also welcome three nature conservation interns. Due to the additional funds from the prize money, we have increased the number of interns and staff by about 30%. Enough staff is always one of our biggest problems so it is fantastic to start the year with many new enthusiastic faces.

We decided to start off the year with a staff orientation day including some team building games. One of the challenges was to build an animal out of Legos. This group exceled in the task and even made sure that their giraffe had food and water. Lots of laughter was shared as other groups struggled to get their animals such as ostriches to even stand.
Half the team is now at NaDEET Centre on NamibRand Nature Reserve gearing up for the first group to arrive in February. We will be welcoming a group of 20 lower primary school teachers for an ESD workshop and translation of ESD materials into mother tongue. The other half of the team is at the coast working around the clock to get the Urban Sustainability Centre ready so we can officially open our doors.
by Angela Beer, Kalabia Education Program  (Indonesia)
Terima kasih – Thank you, or, literally translated from Indonesian, we "receive your love". Having the honour of receiving the UNESCO-Japan ESD Prize on behalf of the Kalabia Education Program in Paris consolidated my belief that this program is truly special and incredibly important. Although it was lovely to get kudos and praise for the program itself, it was being amongst such inspiring company as the other 2018 Laureates that was most affirming… not to mention awe-inspiring and completely humbling! Although our programs are in starkly different ecosystems and engage participants and communities on entirely different scales, the passion and commitment to ESD and belief in the possibility of making a difference was striking. Finding that commonality was inspiring and hopeful. These programs are instigating action and transforming human-beings into human-doings.
Having a few days in Paris with the other laureates and the accomplished ESD team from UNESCO also made me realize that the 'big deal' about winning this prize isn't necessarily the prize itself, but in the larger commitment that it represents and the network of partners to which we are now connected. We look forward to working with them more into the future.
While the Kalabia hopes to use the prize money to provide capacity-building opportunities for the Papuan Educator team as well as develop and publish a new educational story-book series for distribution in constituent communities, most significantly, we hope the funds can be used to leverage additional funding for program expansion. The West Papua government is in the process of declaring itself Indonesia's first "Conservation Province" and we hope Kalabia will be at the core of that transformation and that Papuan communities will have access to a tailored Kalabia-type Environmental Education program within the next few years. After all, we feel deeply that education underlies the path to sustainable development and a sustainable future.
Access to ESD is very important in a rapidly-developing, predominantly-coastal nation such as Indonesia, and we envision that Kalabia could catalyze a commitment to ESD throughout the nation, and thus motivate a paradigm shift in education which equips and empowers citizens with the knowledge, understanding and love for their environment that leads to responsible choices for a sustainable future.
Reflecting on the experience and award after a few months and as the year draws to a close has made us even more grateful. We broadened our network of committed individuals and organizations who love and respect the planet, and that more than anything, gives us hope for the coming year and beyond. With dreams of peace and love for our shared world, wishing everyone a wonderful holiday season and inspiring start to 2019!
November 2018: Learning by doing!
by Merili Vares & Eva Truuverk, Let's Do It Foundation (Estonia)
We as part of Let's Do It! World movement have always believed that education is the key to success in sustainable development. This year's UNESCO-Japan ESD Prize winners are the best example of how versatile that learning can be. From very local hands-on learning experience in Namibia to joyful and engaging storytelling on the Kalabia boat in Indonesia, we all give people a chance to learn by doing.
For Let's Do It Foundation, the prize was in many ways very important. First of all, when we found out that we won the prize, we were just preparing for the biggest action we have ever organized, World Cleanup Day on 15 September. It gave us a lot of confidence and power to coordinate the actions in 158 countries with 17 million people participating. World Cleanup Day 2018 was the biggest peaceful civic action against waste.
Secondly, there have been many doubts a
bout the effectiveness of the cleanups, whether they put too much responsibility on people and at the same time make no difference. Our 10 years of experience in more than 150 countries have shown that cleanups are a fun and positive way of engaging people in local communities to learn about waste problems, change their mindset and behavior. The prize appreciates and recognizes all those millions of people who have participated in cleanups and feel proud of themselves. In fact, the first bit of the prize money was spent on organizing a thank-you event to our volunteers and partners.
The rest of the prize money will give us an opportunity to continue with the implementation of our follow-up project, Keep It Clean plan. It states the overarching principles and vision for the management of resources and waste, meant to support any community wanting to improve its waste situation.
And last, but not least, the prize gave us a reason to visit one of our favorite places – Paris. We would like to thank all the wonderful people we met in Paris at the award reception. The meetings were very inspirational and gave us many new ideas how to improve our practice and actions. We are looking forward to cooperating with UNESCO and all its partners, specially our friends from Namibia and Indonesia. Kohtumiseni!
October 2018: "An inspiration to continue our work and to adapt to changing times"
by Viktoria Keding, Namib Desert Environmental Education Trust (Namibia)
"Congratulations!", "Amazing", "You really deserve it!"- these are some of the many comments that we have been receiving from around the world after being one of the three winners of this year's UNESCO-Japan ESD Prize. On 24 October we will be celebrating NaDEET Centre's 15th anniversary making the UNESCO-Japan ESD Prize all the more special for us in 2018. When we first started this little centre in the middle of the Namib Desert we had no expectations of what it would become - we simply knew that it was needed.
Here a photo of the Centre in 2003 and Dr Claudia Harvey, Director of the Windhoek Cluster Office who officially opened our humble Centre at the time:
One of the things we quickly learned was to be persistent; and to become as adaptable as the desert flora and fauna, if we wanted to not just survive. NaDEET Centre grew organically, and with input and the hard work of many interns, volunteers and eventually paid staff, it flourished. Only three years later we had a major set-back as the main building of the Centre burned down for unknown reasons. In a strange twist of fate, this event in 2006 was the impetus for NaDEET Centre to grow into the place it is today.
When we had started NaDEET with our focus on practicing sustainability it was not common in Namibia. One of the most exciting developments that have taken place during the same time is the explosion of programmes, policy and interest in sustainable development in Namibia and around the world.
Meeting the other prize winners in Paris was inspiring and exciting. We found so many areas where our work is complementary and discovered that similar activities are taking place in completely different ecosystems with similar powerful results. We will make sure to connect one of our partners, the Recycle Namibia Forum (RNF), with the Let's Do It Foundation to link up Namibian clean up campaigns with this international movement. We are eager to learn from the Kalabia how they are monitoring changes in the communities they work with and comparing this to our Namibian context. The days spent at UNESCO were such an inspiration to continue our work and to again adapt to changing times, attitudes and opportunities.
August/September 2018: 

Inclusive music project with traditional instrument
by Lama Khatieb, Zikra for Popular Learning (Jordan)
For the past few months Zikra has been busy establishing its "Bait Al-Nai" ("House of Nai") project. Nai is a traditional wind instrument made of reed, popular in the Levant area where it has been a common instrument for Bedouins, peasants and shepherds for thousands of years.
Although Jordan is home to the same reeds used by ancient Egyptians, local knowledge of how to make the Nai has been lost. The vast majority of public schools in Jordan do not offer music classes, while private music lessons can range between US$20 to US$30 per session, which is costly for most Jordanians. Music has become exclusive, which is conflicting with the roots of traditional Jordanian music, where entire villages would dance, drum and play music together.
"Bait Al-Nai" provides the opportunity for community members to explore the Nai and other local musical instruments made of reed such as Yarghoul, Mejwez and Shabbaba through Nai making workshops, music lessons and performances. The project provides the opportunity for traditional local musicians from across Jordan to share their art and knowledge with other community members, and to take part in concerts across the country to raise the profile of the instrument. "Bait Al-Nai" reaches out both to Jordanians from marginalized neighbourhoods and villages and to Westernized Jordanians from upscale Amman who may feel distanced from their culture.
June/July 2018: Continuous transformation
by Sibanga Ncube, Sihlengeni Primary School (Zimbabwe)
I just want to share with you some developments that Sihlengeni has experienced since the time we won the UNESCO ESD Prize 2017. Soon after receiving the award we started embarking on and expanding the already existing projects on Permaculture.
The latest developments have included "face-lifting" of the institution; planting more fruit trees and ornamental duranta trees; opening an ICT Lab for functional literacy; multiplying the Jojo tanks and water reservoirs for water harvesting; erecting more water points; putting on roof gutters (for water harvesting); fencing of the nature park to protect road-runners; introducing goats. More layers have been purchased to enable us to collect at least 7 trays of eggs daily. Our pig population has increased from 15 to at least 30 with an expectation of a further 20% increase in production in the next 4-5 days. The increase in piggery and poultry sections has necessitated us to construct more fowl runs and pigsties, respectively. To cap it all, the school took part in the 2017 Zimbabwe International Trade Fair (Z.I.T.F) in which we came in 3rd position, representing the Ministry of Primary and Secondary education.
May 2018: Blazing a trail - the Guatemalan change-makers
by Mark Edwards, Hard Rain Project (United Kingdom)
I enjoyed the third meeting of the UNESCO Global Action Programme (GAP) conference in San José, Costa Rica in April. It was an opportunity to meet practitioners in education for sustainable development from around the world and learn how UNESCO is meeting the Education 2030 Agenda. 
My invitation came because Hard Rain Project won a 2017 UNESCO-Japan Prize for education on ESD. The conference was also a great chance to meet previous laurates, and it took me tantalizingly close to Guatemala, the headquarters of SERES, one of the 2015 winners. 
SERES has been working since 2009 with the youth of Guatemala and El Salvador to give them the tools they need to bring about positive change through sustainable development, and I suggested a short visit to see if I could take pictures that might show the scope and impact the project is having.   
A short flight from San José, a night in Antigua, an astonishingly beautiful colonial town, and off at the crack of dawn to San Andrés Osuna. Two bumpy hours from Antigua is Guatemala City as it is for most of its people, a community dependent for survival on their own efforts. Here SERES trained a youth leader and together with 19 young people, have focused on dealing with rubbish and sanitation by leading cleaning campaigns and garbage disposal around the village.
They go beyond just cleaning parties to use theatre performances to take the message into the hearts and minds of the community. They offer a tremendous presentation. 
This is protest at its best; funny, moving, unexpected and serious all at once. Maria Fernanda Calvilla delivers a blazing performance that cuts through the stilted language of sustainability academics to bring alive the issues about our place in the world. If she had been born in Spain, she would no doubt have been on stage and screen. Here she is transforming a smaller audience; her talent is not wasted.
She reminds us that without the arts, education for sustainable development is a dull intellectual exercise that may be worthy but won't bring about the change so urgently needed in the world.
Over the next couple of days, I got to see young people planting trees, teaching forest classes, setting up income-generating schemes and tackling plastic litter. SERES has created a multiplier effect by training leaders. This is changing communities across Guatemala - a quiet revolution whose time has come. 

March/April 2018: Creating an alternative model to big business through traditional produce
by Lama Khatieb, Zikra for Popular Learning (Jordan)
Jameed, a dried goat yoghurt made by farmers in rural Jordan villages, has been used in traditional cuisine for decades. So when huge, cheap and poor quality industrial imports of jameed flooded the market the Zikra for Popular Learning team, working to promote sustainable local culture, decided to do something about it.
© Zikra for Popular Learning
Zikra, winner of the 2017 UNESCO-Japan Prize on Education for Sustainable Development, works to use traditional culture in response to social, economic and environmental challenges. Since the beginning of the year it has been active in a village in Al-Karak (rural area 175 Km south of Jordan's capital Amman) known for its distinctive Jameed.
For decades, families in rural areas in Jordan worked closely with local shepherds to make their own household supply of jameed. However, massive scale imports of the distinctive yoghurt from Turkey and Syria, have threatened this traditional product and the livelihoods of those who make it.
So, in early 2018 Zikra established The Jameed School aiming for localized economic change and resisting a consumer-based culture that drives people further from their local resources and identity.
The project has three dimensions, firstly it provides workshops for urban and rural community members on how to produce jameed and its related products such as white cheese and butter; how to identify the best milk to use and how to grow and use the herbs that flavour the products.
Secondly, it provides high quality, locally-made products for the Jordanian market. And finally, as an added element of Education for Sustainable Development, it spread knowledge about the importance of preserving local culture by organizing trips for school students where they learn about how to make jameed and meet the local families in Karak who produce it. The project, although in its early stages, already provides income for three to four families.
January/February 2018: "Winning the Prize has been a life-opener and a driving force to work even harder now"
by Sibanga Ncube, Sihlengeni Primary School (Zimbabwe)
It's amazing how time flies. The UNESCO-Japan Prize on ESD, which was held in Paris-France at the beginning of November 2017, is as if it was a month ago. What a memorable occasion and a life opener it was. The brief stay in Paris was awesome, more business-like and hard to forget. The warm welcoming and hardworking officers responsible for this function kept us on focus. We also had the precious time to meet with other Laureates and share great moments and good practices that we do, which we will always remember.
For the first time I personally saw and took photographs of the attractive historical structure, the Eiffel Tower. We had such an experience from this pleasant stay in Paris. We had the chance to set our eyes on the UNESCO Headquarters, where each and every member state has its national flag ever flying. The visit was climaxed by the awarding ceremony, what an experience! more so, for me who broke the ice on the stage.
The winning of the Prize money was given as the impetus to even work harder. It should be born in mind that our permaculture project seeks to mitigate land degradation and deforestation of which the prize money sets us to continue doing more. Our goal is to expand the existing projects we have and introduce new ones i.e. introduction of fisheries and roadrunner chickens. This is possible as we work together with the valuable parents' participation.
The community has never been so excited, it is on cloud nine. Numerous visits from schools around the province and other neighbouring ones are now an order of the day to see what Sihlengeni Primary is like.
Winning of this Award is now a driving force in fulfilling our SDGs and extending good practices through ESD and partnerships which will benefit everyone.