Women Make the News 2018
Her Headline
Her Headline sheds light on the gender inequality in sports media coverage of women athletes.
Install the extension at www.herheadline.com 
Using a research-informed language database developed to identify instances of gender-bias in sports reporting, Her Headline scans sports articles and highlights potentially problematic words and phrases, explaining why they could be indicative of sexism and imbalanced media coverage.
Purple indicates words and phrases that are often problematic. Light grey highlights more common terms that may be an issue.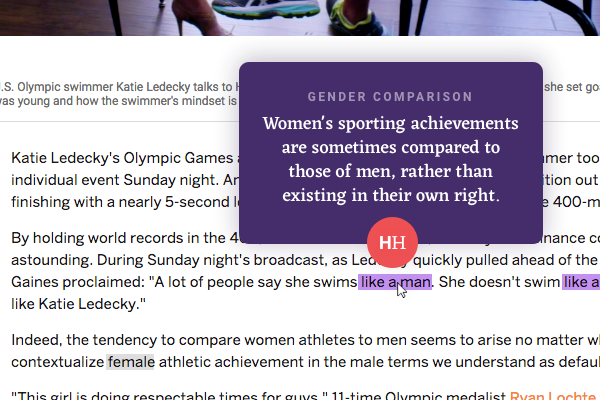 Using language insights from Cambridge University Press's "Aesthetics, Athletics and the Olympics"  - a study which analyzed over 160 million words used within the domain of sport uncovered the imbalanced language used in association with men and women in sports coverage.
The research suggests that sports coverage is very male-biased. Traditionally, up to 80 per cent of gender words in sports coverage are male, though there has been a considerable improvement in balance over recent years. 
Highlighted most recently by the 2018 World Radio Day campaign, sports broadcasting could be considered one of the worst offenders of gender inequality in offering fair and balanced coverage of woman. Despite the prolific advancement of women sports and women athletes and the potential for strong women to be positive role models, there continues to be an imbalance in the quality and quantity of sports coverage of women athletes compared to that of men.
Two weeks of Olympic coverage is a rare time when sustained coverage of sportswomen hits the headlines. Yet outside the period of major sporting festivals, staggering statistics from UNESCO's Global Media Monitoring Report indicates that 40% of all sports participants are women, yet women's sports attracts only 4% of all sports media coverage. And of that limited coverage, women athletes are often either objectified or portrayed as fragile and weak.
"The current definition of gender 'norms' is deeply rooted within society's collective consciousness; the media's representation of women athletes in sports reporting perpetuates these harmful gender stereotypes. To encourage a redefinition of gender norms and a fairer representation of women in sport, we must collectively recognise and address this unbalanced media reporting. This is why we've developed Her Headline."
By installing and using Her Headline, UNESCO encourages sports readers to take notice and to Take Action.
The extension can be installed at herheadline.com
'Her Headline' is a continuation of UNESCO's #HerMomentsMatter, a campaign promoting fairer coverage of women athletes launched last month on World Radio Day The campaign revealed that women represent just 7 per cent of sportspeople seen, heard or read about in the media, and only 4 per cent of sports stories focus primarily on women.  
The full Cambridge University Press report "Language, Gender and Sport" can be found on their blog.
For more information please contact: Belinda Gurd b.gurd@unesco.org