Team from University of Hong Kong wins Airbus Fly Your Ideas 2017 competition
© Airbus S.A.S. 2017. photo by P.Masclet / master films
Team DAELead from The University of Hong Kong has been selected by an expert team of judges as the winners of the Airbus Fly Your Ideas 2017 global student competition, organized in partnership with UNESCO. Team DAELead beat fierce competition with their effective design for a Private Stowage Compartment (PSC) underneath passenger's feet. The biennial Fly Your Ideas competition aims to encourage the next generation of innovators and uncover future solutions for the future of flight.
UNESCO shares Airbus' ambition to inspire young people to innovate for sustainability and pursue careers in science and engineering. "We need more young people both men and women, from every background and of every profile to acquire the skills the world needs to solve our greatest global challenges, as well as realize the potential of new opportunities", says Flavia Schlegel, Assistant Director-General for the Natural Sciences, UNESCO. 
The final stage of the competition took place this week in Toulouse, France. Five short-listed teams of students – whittled down from 365 entries in Round 1 – were invited to spend a week at the Airbus ProtoSpace facility to visualise, prototype and test their ideas using state-of-the-art equipment, before presenting them to a panel of academic and Airbus and aerospace experts.
© Airbus S.A.S. 2017. photo by P.Masclet / master films
The judges were impressed by the vision and skill of Team DAELead in seeing such a simple but effective solution for improved passenger experience. The new aircraft cabin design fully utilizes the space between the cabin floor and the cargo ceiling to give the passengers their own personal luggage space; Team DAELead received the €30,000 first prize.
The runners up, team Aquarius from Royal Melbourne Institute of Technology (RMIT), in Australia won €15,000 for their radical concept that turns a commercial airliner into a tool to stop rapid wildfire.
Airbus Fly Your Ideas, now in its fifth edition and organised in partnership with UNESCO, was launched to inspire the next generation of innovators from around the world. In their entries, the students had to answer one of five challenges identified by Airbus, ranging from improved passenger experience to manufacturing innovations, to provide sustainable solutions for the future of flight.
A record of nearly 5,500 students from around the world registered to participate in the 2017 competition. Since the Fly Your Ideas competition launched in 2008, more than 20,000 students from over 650 universities in over 100 countries worldwide have taken part.
Diversity is at the heart of the initiative: teams are encouraged to involve members from a range of academic disciplines and backgrounds. This year's finalist teams represent nine different nationalities and eight universities across Africa, Europe and Asia-Pacific.
Finalist teams
All five finalist teams came up with inspiring innovations, covering a wide range of ideas, from an alternative to satellite imagery, to improved aircraft taxiing and clever ways of boarding. The other teams selected for the final were:
Team Nevada
Obafemi Awolowo University, Nigeria
Improving Airport Taxi Flow and Efficiency: An airport taxiing system that uses sensors and algorithms for automated Ground Traffic Control, both in the tower and on the aircraft, to significantly improve aircraft traffic at airports and thus reduce emissions.
Team PassEx
Institut d'Administration des Entreprises – IAE Toulouse, France
Compact Luggage Strategy Mobile App: A revolutionary boarding system that uses a real-time mobile app to assign boarding status to passengers according to their luggage size. The Compact Luggage Strategy (CLS) addresses current storage issues in over-head compartments by distributing passengers across the aircraft according to the size of their baggage.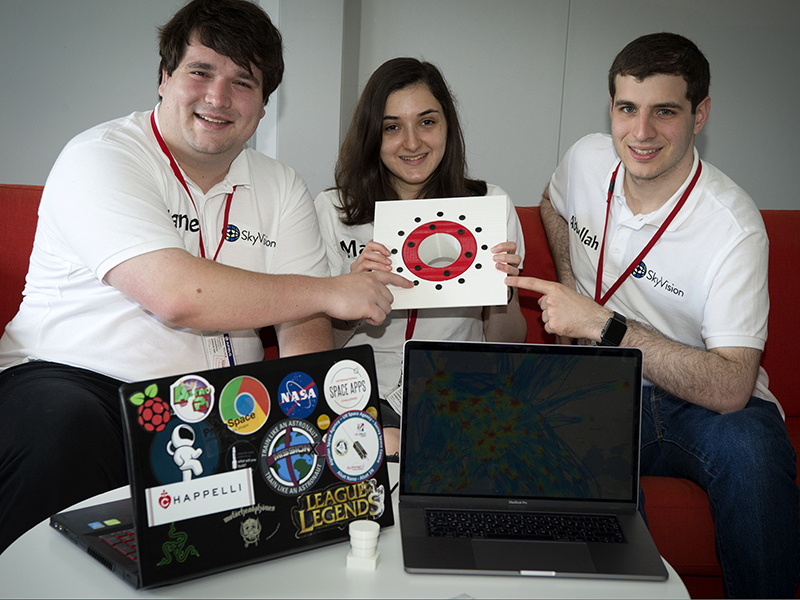 Team SkyVision
University of Surrey, UK
Airborne Earth Observation: A radical concept that turns a commercial airliner into an 'Earth Observation Device' by installing equipment into the belly of the aircraft to monitor ground activity during flight. An alternative to satellite imagery, it opens up new opportunities such as ecology analysis and urban planning.