Sustainable development is increasingly being integrated at all levels in universities, including in the overall strategy. The following are resuIts of the 2016 IAU Global Survey on Higher Education and Research for Sustainable Development (HESD).
The International Association of Universities (IAU), a membership organization, which brings together approximately 650 higher education institutions (HEIs) and organizations in some 130 countries, launched its first Global Survey on the Role of Higher Education in Fostering Sustainable Development in 2016. The aim was to contribute to the Global Action Programme on Education for Sustainable Development (GAP) by researching and analysing IAU Members' approaches to sustainable development.
120 HEIs from all continents took part in the Survey.The results underline universities' strong interest in sustainable development. More than 70% of the respondents are familiar with the Sustainable Development Goals (SDGs) and Education for Sustainable Development (ESD).
Picture2: Agenda 2030, ESD, SDGs and UNESCO GAP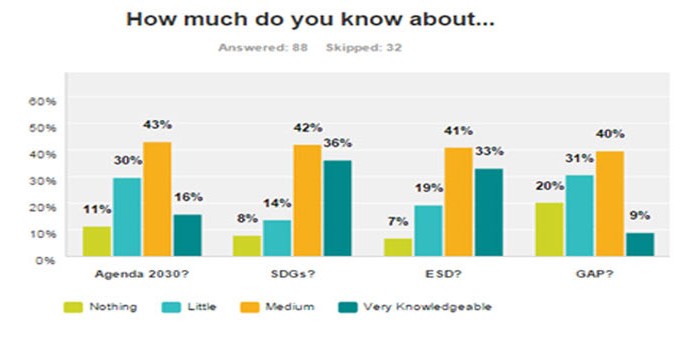 While sustainable development is still considered to be strongly linked to environmental issues (84%), respondents also underlined the importance of societal (68%) and cultural (60%) considerations.
Sustainable development is being integrated at all levels in universities, including in the overall strategy of 72% of the respondents.Yet, the survey results highlight the fact that there is still much to be done. 45% of respondents say their higher education institutions adopted a whole institution approach; 34% declare their higher education institutions adopted a strategic plan related to sustainable development; and 38% say that it is currently being developed. In addition, results show that universities increasingly collaborate on sustainable development issues, engage with sustainable development networks and look for examples on how higher education institutions integrate the different SDGs into the curriculum, research, campus management, etc. Such examples are included in the report and will be featured in an upcoming IAU publication. Discover inspiring initiatives to help achieve SDG 4.7 (and all the other SDGs) on the IAU HESD portal.
As the world moves forward with the implementation of the Education 2030 Agenda, UNESCO is committed to monitoring the progress towards the achievement of Target 4.7, with a focus on Education for Sustainable Development and Global Citizenship. Regular reports, news, analyses, publications and links to data sets produced by UNESCO and its partners provide evidence that indicate how the world is progressing towards achieving the Target..
More information