To mark the annual observance of Women Make the News, The United Nations Education Scientific and Cultural Organization (UNESCO), with support from Cambridge University Press, has developed the first ever sports media-focused gender equality Chrome extension called Her Headline
"Gender norms and stereotypes are deeply rooted within societies' collective consciousness and are perpetuated by media's representation of women and men as athletes." says UNESCO's Chief, Media Development Mirta Lorenco "Real change can only be achieved by raising awareness of what has shaped gender bias in the first place. Our extension will help to highlight this issue and promote fairer, more balanced coverage of female athletes in the media."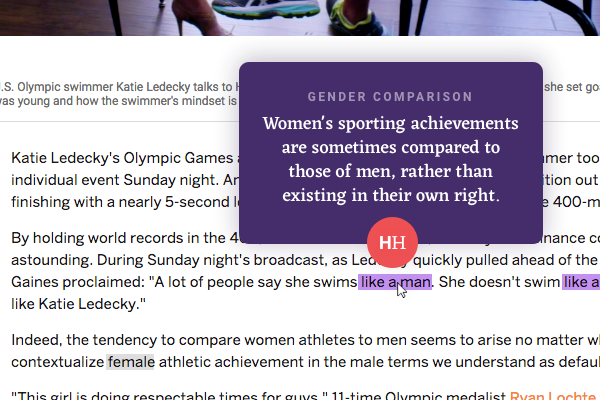 Using a database of pre-determined words, Her Headline scans sports articles and highlights gender-biased words and phrases that are often used in sports media coverage, and explain why they can be sexist or problematic.
Many of the extension's insights are based on language insights from the Press's "Aesthetics, Athletics and the Olympics"  - a study which analyzed over 160 million words used within the domain of sport in the Cambridge English Corpus to uncover the imbalanced language used in association with men and women in sports coverage.
"It's encouraging to see that the language used to describe men and women in sport is becoming more balanced, but we have a way to go. Our research indicates that female athletes still get less airtime than their male counterparts, and language related to physical appearance and personal lives, rather than athletic performance, is still more common for women than men," explains Laura Grimes, Senior ELT Research Manager at the Press
'Her Headline' is a continuation of UNESCO's #HerMomentsMatter, a campaign promoting fairer coverage of women athletes launched last month on World Radio Day The campaign revealed that women represent just 7 per cent of sportspeople seen, heard or read about in the media, and only 4 per cent of sports stories focus primarily on women.  
The extension can be installed at herheadline.com.
The full Cambridge University Press report "Language, Gender and Sport" can be found on their blog.
For more information please contact: Belinda Gurd b.gurd@unesco.org 
…..
About Women Make the News
Launched annually on the occasion of the International Women's Day (8 March), Women Make the News is a global initiative first celebrated in 2000, aimed at fixing global attention on an issue relating to gender equality in and through the media, driving debate and encouraging action-oriented solutions until global objectives are met.
About UNESCO
UNESCO or the United Nations Educational, Scientific and Cultural Organization is an institution representing 195 countries in the world. Its goal: "Building peace in the minds of men and women everywhere." Its international initiatives aim to strengthen the ties between nations and societies and mobilise the wider public. en.unesco.org
About Cambridge University Press
Cambridge University Press is part of the University of Cambridge. Its mission is to unlock people's potential with the best learning and research solutions. Its extensive peer-reviewed publishing lists comprise 50,000 titles covering academic research and professional development, as well as school-level education and English language teaching. Playing a leading role in today's international marketplace, Cambridge University Press has more than 50 offices around the globe, and it distributes its products to nearly every country in the world.