When :
from Tuesday 26 October, 2021 13:00 to Thursday 28 October, 2021 16:00
Where :
Online from Paris, Paris, France
The goal of this two-day conference, organized prior to COP26, is expected to raise awareness and build capacity around new approaches to assessing and addressing Climate-Resilient Water Management Approaches, including their vast potential within global climate policy and sustainable development agendas.
The first day of the conference will begin with an overview of the role of water in sustainable development policies. The event will then move to a high-level policy discussion on how these approaches fit into NDCs, SDGs, and other national climate or development programs. The first day will be finalized with the launch of a policy brief. On the second day, will highlight a complementary set of bottom-up approaches to climate adaptation will be followed by three panels with selected speakers from the webinar series "Adaptation in an age of uncertainty: tools for climate-resilient water management approaches" co-organized by UNESCO, AGWA and ICIWARM. Finally, on a third day, high-level speakers will bring their insights on the priorities and ambitions for COP26, followed by a session on practical approaches to institutionalize solutions, secure stakeholder engagement and enhance capacity building. The event will conclude with a synthesis of the conference to be presented at COP26. The outcome of the conference will provide input to the implementation of the IHP IX (2022-2029) "Science for a water secure World in a Changing Environment"
Registration   Watch live   Programme   Speakers   Partners   Contact
Tuesday, 26 October 2021
Watch the event live 26 October 1:00-3:30 pm (CET)
13:00 - 13:10      Welcome and Opening Remarks "The role of water in sustainable development"
Session moderated by
Mr. Abou Amani
, Director of the Division of Water Sciences, UNESCO
13:10 - 13:20      Special Opening Remark "Water and disaster risk reduction"
Mr. Han Seung-Soo
, Former Prime Minister of the Republic of Korea and Chair of the High-Level Experts and Leaders Panel on Water and Disasters, HELP
13:20 - 13:50      Keynote "Water as a climate connector"
Mr. Taikan Oki
, Former Vice-Rector of United Nations University, Tokyo
13:50 - 15:20      High-level Science Policy Panel "Bottom-up vs. top-down: Contrasting paradigms for addressing                                   climate change"
Mr. Sulton Rahimzoda
, Chair of the Executive Commitee, International Fund for Saving the Aral Sea, and Co-chair of the International Advisory Committee for the Dushanbe Water Process to promote the implementation of the International Decade for Action, 2018-2028
Wednesday, 27 October 2021
Watch the event live 27 October 1:00- 3:40 pm (CET)
13:00 - 13:05      Opening Remarks "Bottom-up Approaches to Climate Adaptation"
Mr. Anil Mishra
, Chief of Hydrological Systems and Water Scarcity Section, UNESCO
13:05 - 13:50      Panel 1 "Incorporating climate risks into decision-making through bottom-up approaches"
13:50 - 14:05     15 minutes break
14:05 - 14:50      Panel 2 "Facing uncertainty in hydroclimatic extremes: Flood and drought management under                                    climate change scenarios"
Session moderated by
Mr. Ad Jeuken
, Advisor at Climate Change Adaptation and Water Management, Deltares
14:50 - 15:35      Panel 3 "Water as a climate connector: water-food-energy nexus"
Thursday, 28 October 2021
Watch the event live, 28 October 1:00-3:45 pm CET
13:00 - 13:15      Opening Remarks and Recap of Days 1&2
Mr. Anil Mishra
, Chief of Hydrological Systems and Water Scarcity Section, UNESCO
13:15 - 14:05     "Priorities and ambitions for COP26 and beyond: Aligning climate policy and finance policies"
14:05 - 14:20     15 minutes break
14:20 - 15:10     "Institutionalizing solutions: Stakeholder buy-in and capacity building"
15:10 - 15:30      Participant involvement "Advancing the discussion to COP26"
Pre-recorded messages
15:30 - 15:45      Closing remarks and a Call to Action
Registration   Watch live   Programme   Speakers   Partners   Contact
   Abdoulaye Sene

Civil Engineer (first class at École Polytechnique Thiès, 1978), specialized in hydraulics, Abdoulaye SENE is Executive Secretary of the 9th World Water Forum (since 2018), former President of the Regional Council of Fatick (2002-2009), former Deputy at the National Assembly (2007-2012) and President of the Development and Land Use Commission. Abdoulaye SENE is also former Chairman of the Board of Directors of SOGEM/OMVS (2013-2017), Head of the Mission d'Études et d'Aménagement des Vallées Fossiles (1994-2000), Director of Rural Engineering and Hydraulics of Senegal (1990-1994), and member of various national and international institutions in the water, rural development and decentralization sectors.
   Abou Amani 
Dr Amani is the Director of the Division of Water Sciences at UNESCO, based in Paris. He is also Secretary of the Intergovernmental Hydrological Programme (IHP). Dr Amani is a civil engineer with graduation from the Ecole Polytechnic of Thies in Senegal (1990). He holds a PhD on civil engineering with focus on hydrology and water resources from Polytechnic of Montreal in Canada (1995). He also holds the title of
"
Maitre de recherche" which is equivalent to senior researcher or Associate Professor delivered by CAMES (African Higher Education Council). He joined UNESCO in 2006, first as science programme specialist in Accra, Ghana. He later was in charge of IHP for the Sub-Saharan Africa based in Nairobi before moving to headquarters in Paris as Chief of Section on hydrological systems and water scarcity within the Division of water sciences and then Chief of Executive Office of the Natural Sciences Sector. Before joining UNESCO, he worked at AGRHYMET regional centre in Niamey as regional hydrologist, head of water unit and scientific coordinator. He worked for three years for the Institute of Research for Development (IRD) as researcher and visiting scientist. He has been member and contributor of various committees, initiatives, panels for among others: World Water Council (WWC), IPCC and World Water Development Report (WWDR). He has many years of research and teaching and he is author of more than 50 scientific papers.
   Ad Jeuken
Ad Jeuken is a climate change adaptation expert at Deltares since 2008 holding a PhD in climate modelling (KNMI and technical university Eindhoven) and a professional background in water management. Now 12 years with Deltares he has developed as an international expert on climate change adaptation and has worked for international organizations like the European commission, ADB, GCF, WB, FAO and UNFCCC and for governments worldwide on climate change risk analysis, adaptation planning, training and capacity building. He is an author of the Climate Risk Informed Decision Analysis guide for water resources management as well as many other publications in the field of water, DRR and climate.
  Ahmed Mujthaba
Mr. Ahmed Mujthaba was appointed as the Minister of State for Environment on 29th December 2018. He has been entrusted with handling of sectoral policy co-ordination and monitoring of the services related to Water and Sanitation, as well as planning and implementation of Government Investment Programs in the area of safe Water and Sewerage. Mr. Ahmed Mujthaba has specialized in the area of governance and the national development. He graduated in Public Administration (INTAN/Malaysia & SLIDA/Sri Lanka 1986-1989) and has completed Post-Graduate studies in Development Policy and Planning at University of Wales, UK (1991/1992). He holds Master's Degree in Development Management, from the Indian Institute of Management- Ahmedabad (IIM-A). He was awarded the title of Professional Membership with Fellow Certified Professional Manager (FCPM) in March 2012. Before joining politics, Mr. Ahmed Mujthaba has worked at executive level in various government agencies for more than 25 years. This includes, Department of Telecommunication, Maldives Ports Authority, Maldives Center for Management and Administration (MCMA)/ Ministry of Planning, and Department of Penitentiary & Rehabilitation. He joined politics in 2006 and since then has filled a number of key positions, including the member of Policy Committee (2007 to 2012) and the party President for the South Central Province of the Maldivian Democratic Party (2009 – to-date), State Minister of Home Affairs (2008 to 2010) and State Minister at Ministry of Economic Development (2011 to 2012).  Additionally, Mr. Ahmed Mujthaba has been the elected member of the Governing Board of Commonwealth Local Government Forum (2009 to 2012). He has also gained experience of the UN System in the Maldives. He was the UNDP Consultant in the area of Decentralization and Civil Society Development at different times. Mr. Ahmed Mujthaba has gained experience in the private sector too. He was a Board Member at Island Transport Pte Ltd, (from 1996 to 2006), Executive Director of Sterling Group Pte Ltd, (2005 to 2008) and the Managing Director of Premier International Pte Ltd (from 2012 to 2018) and the Chairman of Haneen Shipping and Trading Pte Ltd., (from 2012 to 2018).
  Alan Jenkins
Alan Jenkins is Director of Science at the UK Centre for Ecology & Hydrology (UKCEH), the leading UK centre for environmental science across water, land and air. With a background in hydrology, he has worked nationally and internationally on acid rain, water quality, water resources and climate change impacts. He currently acts as the UK Hydrological Advisor with the World Meteorological Organisation and Chairs the UK input to the UNESCO Inter-Governmental Hydrology Programme. He is also an Honorary Professor in the Lancaster Environment Centre at the University of Lancaster and a Visiting Professor in the Department of Geography, University College London.
  Alexis Dufour
Mr. Alexis Dufour is a water resources engineer at the San Francisco Public Utilities Commission Water Enterprise. He is a licensed professional civil engineer with over 18 years of experience in hydrology, reservoir system operation and water resources planning. In recent years, he worked on how to integrate forecast information into operational decisions. Since 2016, he is leading a project on Long-term Vulnerability Assessment and Adaptation Plan for the SFPUC Water Enterprise. He represents SFPUC at the Water Utilities Climate Alliance and is member of the American Meteorological Society Water Resources Committee.
  Anil Mishra
Dr. Anil Mishra's academic, professional, and managerial experiences have spanned over 20 years, including education, capacity building, international technical co-operation programmes in the fields of hydrology and water resources and adaptation policies in Africa, Asia, Latin America and Caribbean, Arab regions and Europe.
In the Water Sciences Division at UNESCO, he is leading the section on Hydrological Systems and Water Scarcity and is responsible for coordinating global activities related to hydrological processes, extremes, and Climate Change. Dr Mishra also coordinates UNESCO's programme for the Global Network on Water and Development Information for Arid Lands (G-WADI), International Sediment Initiative (ISI), the FRIEND-Water initiative (Flow Regimes from International Experimental and Network Data); the International Flood Initiative (IFI); the International Drought Initiative (IDI); the World Large River Initiatives (WLRI); and the Snow and Ice Initiative.
Dr. Mishra has authored, co-authored numerous scientific publications, edited books, scientific reports and policy briefs and convened and co-convened conferences focusing on Climate Change, Hydrological Extremes, Sediment and Erosion Transport and Management. Dr. Mishra also facilitated several science policy dialogues during the side event of the High-Level Political Forum (HLPF) on Sustainable Development, and UN Climate Change Conferences (Conference of the Parties, COPs).
   Bhava Dhungana
Since 2007, Bhava has been working at international level in the field of climate change. Her current duties include, supporting and advising developing country Parties to prepare for the implementation of the Paris Agreement, with a focus on the enhanced transparency framework. In this context, Bhava lead's the UN Climate Change secretariat's training programme called the Adaptation Academy, which falls under the flagship programme "Climate Action Support Transparency Training." This programme brings together numerous partners from research and educational intuitions to provide targeted trainings to experts from developing country Parties on conducting climate change assessments and enhancing national climate change reporting systems. Bhava as a master's degree in natural resource management form the Asian Institute of Technology. She also has experience in areas of access to energy services for poverty reduction having worked for the UNDP Asia-Pacific region previously.
  Blanca Jiménez Cisneros
Dr. Blanca Jiménez Cisneros has been the Ambassador of Mexico in the French Republic since August 2021. She has a rich experience as a researcher, particularly in environmental engineering, water management, fight against the climate crisis and scientific diplomacy. With a background in Environmental Engineering (1980), Dr. Blanca holds a Masters Degree in Pollution Control (1982), a Doctoral Degree (1985) and a Post-Doc in Treatment and Reutilization of Wastewater.  From 2018 t0 2021, she was Director General of the Mexican National Commission for Water (CONAGUA). Dr. Blanca has worked in UNESCO as a Director of the Division of Water Sciences, being also responsible for the Intergovernmental Hydrological Programme, gathering 165 countries from all regions. Dr. Blanca is the author of more than 509 articles and 24 norms, in Mexico and internationally.
  Casey Brown
Dr. Casey Brown is Associate Professor at the Department of Civil and Environmental Engineering at the University of Massachusetts at Amherst and Adjunct Associate Research Scientist at Columbia University. His primary research interest is the development of analytical methods for improving the use of scientific observations and data in decision making, with a focus on climate and water resources, and he has worked extensively on projects around the world in this regard. He has a Ph.D. in Environmental Engineering Science from Harvard University and led the water team at the International Research Institute (IRI) for Climate and Society at Columbia University.
Chipili Chikamba
Chipili Chikamba is at present Infrastructure Director for Water and Sanitation with Millennium Project Completion Agency Zambia. Prior to this he was the Infrastructure Development Director with Millennium Challenge Account -Zambia in the implementation of the Millennium Challenge Corporation funded urban water project tor Lusaka City. The project was for water, sewerage and drainage infrastructure as well as Asset Management, Computerized Maintenance Management operationalization and Drainage Maintenance support to the water company and city council.  He has also worked as Asset Manager for Lusaka Water and Sewerage Company, Zambia's largest Water and Wastewater utility, setting up the asset management practices for management of water and wastewater infrastructure. Mr. Chipili Chikamba holds a Master of Science Degree in Municipal Water Infrastructure and Sanitary Engineering specialization, from the UNESCO-IHE Water Institute in the Netherlands. He also  Bachelor of Engineering Degree in Agricultural Engineering from the University of Zambia and a Project Management Diploma from the Zambia Centre for Accountancy Studies. He is a registered engineer, a former member of IWA and IAM. He has more than 20 years' experience in Water and Wastewater Management.
  Diego Rodriguez
Diego J. Rodríguez is currently a Lead Water Economist for Eastern and Southern Africa based in the Bank's office in Pretoria where he is responsible for analytical work on climate change, resilience, and urban water security. Prior to this, he spent five years as a Senior Water Resources Management Specialist based in the Bank's office in Mexico City where he was responsible for the formulation and implementation of lending operations, and the design and implementation of sectoral, policy, and analytical studies. At the global level, he leads an initiative on water in the circular economy and resilience (WICER) and also leads the team responsible for implementing the decision tree framework for incorporating resilience and climate and non-climatic uncertainty into water resource planning and investment project design. Prior to joining the World Bank, he worked at the Inter-American Development Bank and the Danish Hydraulic Institute (DHI). He holds a PhD in Economics (Water), an MA in Applied Economics and a BS in Economics. He has more than 25 years of experience in economic analysis of projects, non-market economic valuation, hydro economic analysis, and in incorporating water in macroeconomic frameworks.
  Divas Basnyat
Dr. Divas B Basnyat is an independent researcher and consultant, and leads the Water and Climate Program at Nepal Development Research Institute (NDRI). He is currently the Team Leader of the consulting team of International Centre for Environmental Management (ICEM) for the ADB TRTA "Flood Risk Management and Asset Management Support", under the ADB funded Government of Nepal's Priority River Basins Flood Risk Management Project. He is also serving as the Climate Change Specialist in the consulting team of the World Bank funded "Preparation of River Basin Plans, Hydropower Development Master Plans and Strategic Environmental and Social Assessment" for the Government of Nepal. His more than 30-year professional career includes working on hydropower project design and systems studies at Nepal Electricity Authority (NEA), academic teaching and research at the Institute of Engineering, Tribhuvan University, Nepal and the Asian Institute of Technology (AIT), Bangkok, and international consulting work in 13 countries in Asia and Africa. He recently completed his assignment as the Team Leader of the Project Implementation Consultant (PIC) of the ADB funded "GMS Flood and Drought Risk Management Project in Cambodia" (May 2015 – June 2021). He led the study on "Adaptation to Climate Change in the Hydroelectricity Sector in Nepal" for NDRI in 2015 – 2016 He was the River Basin Planning consultant for the formulation of the Water Resources Strategy (2002) and the National Water Plan (2005) by Water and Energy Commission Secretariat (WECS). His specific areas of expertise are water resources systems analysis, river basin planning and management, hydrological studies and modelling, climate change risk assessment, water-induced disaster risk management, and institutional development. He was a Fulbright Scholar in 2003-2004.
   Fiona Ngarachu
Dr. Fiona Ngarachu is a research fellow working at the Kenyatta University Geography department under the BRECcIA project. (
http://www.gcrfbreccia.com/
) The focus of her current role is to undertake research and engagement that helps us to understand policy making agendas, processes and mechanisms concerning food and water security in Kenya, Malawi and Ghana. Fiona is also the Kenya stakeholder country coordinator working with several partners to ensure that stakeholder priorities are integrated within the project. Fiona has previously conducted both qualitative and quantitative research around refugee resettlement and reproductive health in Africa having worked with HIAS Kenya refugee agency and the UNAIDS technical support facility for East Africa. Fiona holds a B.A degree from the United States International UniversityAfrica in international relations, an Msc degree from Strathclyde University in political science and a PhD degree from the University of Southampton in political science.
  Geoff Wilson
Geoff is a professional civil engineer with over 30 years' consultancy experience covering a wide range of water-related disciplines, including hydraulic engineering, hydrology, water resources, flood risk, water supply, coastal and maritime projects in Europe, Middle East and Asia/Pacific. Geoff's current position is within the Sustainable Development and Climate Change Department of ADB where he provides specialist advice and supports project preparation for a variety of water-related projects.
  Han Seung-Soo
Dr. Han served as Prime Minister of Republic of Korea (2008-09). He was UN Secretary-General's Special Envoy for Climate Change (2007-08) and for Disaster Risk Reduction and Water (2013-18), Special Adviser to the UN/World Bank High-Level Panel on Water (2016-18), Member of the UN Secretary-General's Advisory Board for Water and Sanitation (UNSGAB) (2007-15), Member of the UN Secretary-General's High-Level Panel for Global Sustainability (GSP) (2010-12), and Founding Chair of Global Green Growth Institute (GGGI) (2010-12). He was President of the 56th Session of the United Nations General Assembly (2001-02), Korea's Minister of Foreign Affairs (2001-02), Deputy Prime Minister and Minister of Finance (1996-97), Chief of Staff to the President (1994-95), Korean Ambassador to the United States (1993-94) and Minister of Trade and Industry (1988-90). He was a three-term Member of Korean National Assembly representing Chuncheon, Gangwon Province, his hometown. He was educated at Yonsei University (BA), Seoul National University (MPA) and University of York, England (Ph.D. 1968/D.Univ.1997). Prior to his entry into politics in 1988, he taught and/or did research at the Universities of York (1965-68), Cambridge (1968-70), Harvard (1985-86) and Tokyo (1986-87), and had a distinguished academic career as Professor of Economics at Seoul National University (1970-88). He is currently, among others, Co-Chair of International Finance Forum, Chair of High-Level Experts and Leaders Panel on Water and Disasters (HELP), Chair of the Water Advisory Group of Asia Development Bank, Club de Madrid Member, Vice-Chair of Zayed Sustainability Prize Jury, Member of the WMO Climate and Water Leaders Group, Chair of the Board of Trustees of Yuhan Foundation, and Founder of GG56 Ltd, a big data/blockchain company. He was Chairman of the 2014 PyeongChang Winter Olympics Games Bid Committee. He was awarded the 6th European Communities Prize on his doctoral thesis, The Growth and Function of the European Budget in 1971, received the Nobel Peace Prize on behalf of the United Nations in 2001 and awarded an honorary Knighthood (KBE) from HM Queen Elizabeth II of the United Kingdom in 2004.
  Johan Hanssens
Johan Hanssens is Secretary-general of the Department of Economy, Science & Innovation within the Flemish administration since 1 December 2015. He holds master's degrees in economics and law from KU Leuven.  He started his career in the banking sector. From 2000 to 2015 he was advisor (deputy chief of staff / chief of staff) of different party leaders in Flanders and ministers in the Flemish government. He advocates the 'quadruple helix' R&I model and transformational innovation policy.
  John Matthews
Dr. John H. Matthews is the Executive Director and co-founder of the Alliance for Global Water Adaptation (AGWA), an international NGO focused on supporting experts, decision makers, and institutions within the water community to work together to find solutions for resilient water resources management. His work primarily targets decision-making frameworks for adapting water infrastructure and ecosystems to climate impacts. John has been published in many policy, scientific, and technical journals and books, including Science and Nature Climate Change. He has advised a wide range of institutions, including bilateral, multilateral, NGO, national level agencies, UN agencies, foundations, and corporations on topics including non-stationary resource management, finance, economics, and management practice. He is a columnist with OOSKAnews and a Courtesy Faculty member of Oregon State University's Water Resources Graduate Program. Previously, John started and directed global freshwater climate adaptation programs for WWF and Conservation International. He has PhD in Aquatic Ecology from the University of Texas.
   José Luis Ossio
José Luis Gutiérrez-Ossio is a civil engineer with a master's degree in photogrammetry and geographic information systems. He has been working in the adaptation to climate change field for many years contributing to design adaptation projects, monitoring and evaluation systems, and training on the scientific bases of climate change and on the use of different tools to mainstream adaptation to climate change on developing projects. José Luis worked for the public and private institutions, as well as for international cooperation programs and projects financed by World Bank and GIZ.  
   Julien Harou  
Julien Harou is Chair in Water Engineering at the University of Manchester since 2013. Previously he was a lecturer at University College London. He has a PhD from the University of California Davis in water resources engineering and economics and an Master's degree from Cornell University.
Julien's group contributes globally leading research in water resources planning and management, water-energy-food systems, and environmental management software.  He is research director of the $10M RCUK-funded FutureDAMS project, lead of NERC's Water Stewardship Portal project and a coinvestigator of NERC's UMFULA project. Recently his group worked with IUCN on the German-funded WISE-UP climate change adaptation project, the NSF-Belmont funded Jordan water security project, the EU SmartH20 project on smart metering and dynamic pricing, EPSRC Transforming water scarcity through trade project, and the EPSRC Adaptation and Resilience to climate change project. His group co-built the analytical engines behind the Water Resources of the South East, and Water Resources East regional infrastructure investment planning projects, and is a contributor to TNC's Hydropower by Design approach and WWF's Connected and Flowing initiative.Current and recent collaborators include the World Bank, IUCN, UK water regulators (EA, Ofwat), UK water companies, TNC, IWMI, WWF, IFC, DEFRA, the European Commission, IHA, and various consultancies.In 2010 he received a NASA Launch Innovator award for his group's contributions to water management and open software. Julien is an Honorary Professor at UCL.
  Kari Davis
Kari is an interdisciplinary water and climate professional. In her role as Technical Director for the Alliance for Global Water Adaptation (AGWA), she works on a variety of projects relating to water resilience, climate change adaptation, nature-based solutions (NbS), decision making under deep uncertainty, food security, and climate risk assessments. She has additional professional experience in chemical and environmental engineering and international development and is dedicated to promoting equity and justice in all aspects of her professional and personal life.
  Kelsey Harpharm
Kelsey Harpham brings an interdisciplinary background combining the technical elements of water resources engineering with climate policy and diverse international project experience. She joined AGWA in May 2021 as Project Manager for the "Water Tracker for National Climate Plans" — an initiative to help countries self-assess and enhance water resilience in their national climate planning. Prior to joining AGWA, Kelsey was guiding teams of international and national experts on initiatives in collaborative watershed management, disaster risk reduction, and bottom-up approaches for climate resilient infrastructure. The outcomes of this work are being adopted by national and local level governments in Mongolia, Lao PDR, Vietnam, Sri Lanka, Indonesia, Thailand, Nepal, and Cambodia. Previously, Kelsey worked designing water and wastewater sector infrastructure for municipal and industrial clients in the US. Kelsey received a master's degree in Water Resources Engineering from Oregon State University in 2016. She was a 2018-2019 Luce Scholar based in Hanoi, Vietnam and serves as a trustee on the board of The Asia Foundation. Outside of work, she enjoys early morning runs along whichever body of water is nearest and traversing the urban and natural landscapes that surround her.
  Koen Verbist
Dr. Koen Verbist is a Programme Specialist working at the UNESCO Regional Office for Southern Africa, where he is responsible for the implementation of the Water Sciences Programme (IHP), as well as the Man and the Biosphere Programme (MAB) for Southern Africa, to support and implement interdisciplinary and intersectoral projects in the field of Natural Sciences. Particularly in Southern Africa, he has been supporting the implementation of flood and drought risk management strategies and to address climate change impacts on water security. He has led the development of the Drought Atlas and the setup of Flood and Drought Monitoring systems for countries in the region. More recently, he has supported the development of a novel approach to address climate change impacts on water resources and to identify appropriate adaptation pathways. He obtained his PhD in 2011 at Ghent University, Belgium, targeting the improvement of water harvesting systems in drylands and has co-authored several UNESCO publications on these topics, as well as over 25 scientific papers in international journals.
  Krista Decat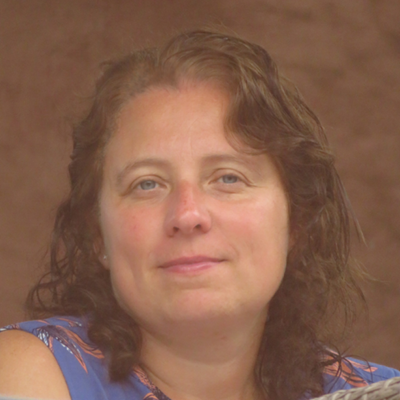 Since January 2021, Krista Decat has been working as the program coordinator of the Blue Deal, the ambitious plan of the Flemish government to fight against water scarcity and drought that the Flemish region is increasingly confronted with. With the Blue Deal, Flanders strives for less paved surfaces, more water retention and infiltration, and more efficient and circular water use. This plan engages many parties with numerous concrete actions and projects and large investments to structurally tackle drought and prevent water scarcity. Her background in water resources management includes the application of sewer system technology, the preparation and implementation of investment programs and the impact of climate adaptation on water management.  Prior to her arrival at the Commission on Integrated Water Policy, the organisation which is responsible for the coordination of the Blue Deal, Krista Decat worked at Aquafin, the municipal wastewater company active in the Flemish region. Her prior responsibilities have included account management, coaching of multidisciplinary teams and developing green & blue infrastructure strategies. She is also board member at Join For Water, the only NGO in Belgium that solely focuses on water. Join For Water is committed to sustainable access to water in developing countries and inspires to reduce the water footprint.
Krista Decat holds a master's degree in civil engineering from the University of Leuven.
  Marc Tkach
Marc Tkach is a Director of Infrastructure and Integrated Program Management at the Millennium Challenge Corporation. In his infrastructure role he is responsible for the development, implementation, and oversight of infrastructure grant programs in MCC's partner countries. As IPM technical director, Marc advises, leads workshops and improves operational performance in the global portfolio. Lastly, he is the SME on bottom-up adaptation approaches.
Marc is a licensed civil engineer in the United States. He recently completed a second multi-disciplinary masters in 2020 in sustainability leadership from the University of Cambridge. His research targets how practitioners make sense of sustainability during infrastructure planning.
 

Mario López Pérez
Mario López Pérez has over 40 years of experience in water management, with expertise in climate change water rights, nature-based solutions, transboundary management, and the water-energy nexus. He has served as a World Bank Consultant for the MENA Region and held posts at UNCD, GWP Central America, CIIFEN, The Nature Conservancy, WWF Perú, the Sonoran Institute, and Pronatura Méxci. Currently, Mario is a Senior Water Resources Consultant for the Alliance for Global Water Adaptation, working to support the Bolivian government with targeted climate-centric adaptation guidance relating to their NDC. He is also engaged in the Water Tracker initiative, a tool and diagnostic guide to help countries self-assess and enhance water resilience in their national climate planning.
  Mojtaba Shafiei
Mojtaba Shafiei is a hydrologist and water resources strategic planning consultant. His expertise and main activities during the past ten years span over hydrological modelling, water accounting, socio-hydrological studying, roadmapping in water management, and sustainability assessment of river basin systems. Mojtaba is currently working at EWERI (a private-sector research institute in Iran). He is active internationally collaborating with IHE Delft, The Hague Academy for Local Governance, various scientific associations and consulting engineering companies. Additionally, he participated/organized in several national and international water-related capacity-building programs. Mojtaba is keen to find solutions for narrowing the actionable knowledge gap between researchers (science) and policymakers (policy) in the context of sustainable water management.
  Pooja Prasad
Pooja Prasad is a post-doctoral researcher in the Department of Land and Water Management at the IHE Delft Institute for Water Education. Her research experience is in water and agriculture for food security in semi-arid regions of Asia and Africa. Her research explores the use of data and models to inform and be informed by participatory methods for decision making under uncertainty. In eastern Africa, she is applying participatory adaptive investment pathways in the context of smallholder farmer-led irrigation. Her PhD research focused on systems analysis of agricultural intensification in the drought-prone regions of Maharashtra, India, and contributed to the Government of Maharashtra Project on Climate Resilient Agriculture (PoCRA). Her thesis was awarded IIT Bombay's Excellence in PhD research award. Pooja has a PhD from the Centre for Technology Alternatives for Rural Areas (CTARA), Indian Institute of Technology (IIT) Bombay and a Masters' degree from Stanford University.
  Sarah Connors
Sarah has been at the WGI TSU since January 2017, first as a Science Officer, then a Senior Science Officer, and is now Head of the Science Team. She is responsible for the delivery and coordination of science-related activities of the TSU throughout the preparation, review and completion phases of the WGI report, together with the TSU Head, Anna Pirani. Sarah's responsibilities include the line-management of the Paris Science Team, as well as the coordination of work done in collaboration with the TSU members based at the Chinese Academy of Meteorological Sciences in Beijing, China. Sarah supports the work of the AR6 authors, working closely with the WGI Bureau, as well as the WGI Co-Chairs. She is an author on the WGI Summary for policymakers, Technical Summary, and contributing author to Chapter 8: Water cycle changes. As well as the WGI contribution to the AR6, Sarah has worked on the Special Report on Global Warming of 1.5°C and the Special Report on Climate Change and Land. Her main activities included the coordination of the SR1.5°C Frequently Asked Questions and the Chapter Scientists, and providing general scientific support to both Special Reports. Before working at the WGI TSU, Sarah was a Science Policy Fellow at the European Geoscience Union (EGU). She holds a Ph.D. in Atmospheric Chemistry.
  Saverio Krätli
Dr. Saverio Krätli is a freelance researcher and consultant specialising in the interface between science and development with a focus on pastoral systems. He has over twenty years of experience working with all range of stakeholders, from UN agencies and NGOs, to research institutes and pastoralist civil societies organisations. With the UK-based International Institute for Environment and Development (IIED), Saverio helped developing the Valuing Variability concept and is now supporting this component within BRECcIA, a Global Challenges Research Fund programme for building research capacity for sustainable water and food security in sub-saharan Africa. Saverio is honorary editor of Nomadic Peoples, the journal of the Commission on Nomadic Peoples based at Oxford University and part of the International Union of Anthropological and Ethnological Studies (IUAES). He is also associate research fellow at the German Institute for Tropical and Subtropical Agriculture and Trans-disciplinary and Social-ecological Land-use Research at the University of Kassel (DITSL), and visiting fellow at the Feinstein International Centre of Tufts University, US. Saverio holds a B.A. in philosophy from the University of Bologna, Italy, an M.A. in anthropology of development from the University of Sussex and a DPhil from the Institute of Development Studies (IDS) in the UK.
  Shamila Nair-Bedouelle
Shamila Nair-Bedouelle took up her duties as Assistant Director-General for the Natural Sciences at UNESCO on 1 April 2019. She comes to UNESCO from the United Nations Environment Programme (UNEP), where she had served as Director of the OzonAction programme since 2012. Responsible for implementing the Multilateral Fund for the Montreal Protocol, she had coordinated a unique network of 147 national Ozone Action offices, providing developing countries with scientific and technical advice as to which alternative technologies to choose to the chemical substances depleting the Ozone Layer. A strong advocate for enhancing womens' role in science and engineering, she launched UNEP's first training programme for women technicians.Dr Nair-Bedouelle has  pursued her research interests in parallel to her career at the United Nations. She has been Director of Research at the University of Paris V in France since 2000 and was nominated First Class Director of Research at INSERM in 2017.
.
  Shuchi Vora
An engineer, a social scientist and a conservationist, I work at the interface of science, policy and practice. I have almost a decade of work experience in freshwater conservation projects where I have set up multi-stakeholder platforms, facilitated transdisciplinary research through knowledge brokering tools and implemented community-based adaptation projects in urban and rural contexts. I am also a contributing author to the IPCC Sixth Assessment Report Working Group II Chapter 4 on Water and Adaptation. I currently work with Global Resilience Partnership on knowledge brokering and MEL on climate and water resilience initiatives. I have previously worked with The Nature Conservancy and WWF. I have degrees from University of Oxford and Tata Institute of Social Sciences Mumbai. When not found working on resilience initiatives, I enjoy music, reading writing, Yoga, gardening, cooking and meditation.
  Sulton Rahimzoda
Mr. Rahimzoda was appointed in 2005 a Chairman of the EC IFAS and has since then led the high-level dialogue on transboundary water resources and environmental management in the Aral Sea basin. Mr. Rahimzoda held several prominent positions in the Gov-ernment of Tajikistan, including the position of the Head of Environment and Emergency Situation Department at the President Executive Office, the First Deputy Minister of Land Reclamation and Water Resources in 2010-2013, and the First Deputy Minister of Energy and Water Resources in 2013-2019, at the same time representing Tajikistan as a member of the Interstate Commission for Water Coordination of the Central Asia. From September 2019 to mid-2020, he served as the Ambassador Extraordinary and Plenipoten-tiary of the Republic of Tajikistan to the Republic of India. In September 2020 Mr. Rahimzoda was once again appointed a Chairman of the EC IFAS representing the President of Tajikistan as a Pres-ident of IFAS. Mr. Rahimzoda is also an esteemed water diplomat actively promoting and advocating water issu-es at global level. Mr. Rahimzoda authored a number of publications on different aspects of water resources ma-nagement in Tajikistan and Central Asia.
  Taikan Oki
Prof. Taikan Oki is a special advisor to the president of The University of Tokyo, and a professor of the Department of Civil Engineering, Graduate School of Engineering, The University of Tokyo. His previous academic positions include Associate Professor with the Institute of Industrial Science, The University of Tokyo and Associate Professor with the Research Institute for Humanity and Nature. His areas of expertise are global hydrology and the sustainability of world water resources under climate change including the virtual water trade and water footprint. He was one of the coordinating lead authors for the chapter "Freshwater Resources" of the IPCC WGII AR5. He got many awards such as the Biwako Prize for Ecology in 2011, and the Japan Academy Medal in 2008. He is the first Japanese AGU Fellow in its Hydrology Section (2014) and the first Japanese winner of the Dooge Medal of the International Hydrology Prize (2021).
  William Logan
Will Logan directs the International Center for Integrated Water Resources Management (ICIWaRM), a UNESCO-affiliated center hosted by the USA's Institute for Water Resources, where he worked since 2008. Recently, he authored Managed Aquifer Recharge and the U.S. Army Corps of Engineers and coordinated the reviews of several major aquifer storage and recovery (ASR) studies for Everglades restoration. In 2009, Will doubled as Science Attaché for the U.S. Mission to UNESCO, in charge of fresh water, climate change and ocean issues.  From 1999-2008, Will was (Senior) Staff Officer at the Water Science and Technology Board of the U.S. National Academies. There, he directed studies on water use, streamflow information, ecosystem restoration, river science, space-based and in-situ sensor technology, fluvial geomorphology and biofuels.  Formerly, he taught at The George Washington University and coordinated the Association of Geoscientists for International Development (AGID). Will has an M.A. from the University of Texas and a Ph.D. from the University of Waterloo, in hydrogeology.  He serves on the Board of Directors of Aqua-LAC—UNESCO's water journal for Latin America and the Caribbean—and on the Governing Boards of UNESCO centers in Chile and Germany and the Alliance for Global Water Adaptation.  
Registration   Watch live   Programme   Speakers   Partners   Contact
This conference is organized under the framekwork of project "Climate-resilient water management approaches: Application towards climate action and 2030 development agenda", supported by UNESCO/Flanders Fund-in-Trust for the support of UNESCO's activities in the field of Science (FUST).