Project Updates - 2021
The project researchers had a research stay at Centro i-mar from Universidad de Los Lagos in Puerto Montt where it was possible to freeze-dry sediment subsamples, and to estimate de total organic matter. This was a new and very positive experience for two new young members of our network - Fabiola Galleguillos (Geology student) and Diner Bernal (Marine Biology student) - who develop their professional training under the supervision of Dr. Patricio Diaz, and Dr. Ivan Pérez.
Additional funding was used to improve the project's website, and promote the online scientific Café CITI 084 with students from the Faculty of Sciences from Universidad Austral de Chile. The aim of this activity is to introduce the Oceanography to future generations and motivate their interest for the earth sciences and promote the project.
Two PhD students were integrated in the project's team: Victor Merino from Universidad de Buenos Aires, and Dharma Reyes from Univesity of Bremen. Both have a lot of experience in microfossil studies. With their support it will be possible to interpret the information that sediments provide, as well as building the age model for each sediment core.
During this year the project participated for first time in the ICHA congress where Diner Berna presented the research "Spatiotemporal variability of lipophilic toxic-producers from a "hotspot" in Chilean fjords system".
The project leaders applied for funding from the National Science agency in Chile.
In the pictures are Fabiola Galleguillos, Diner Bernal, Ivan Perez and Claudia Aracena.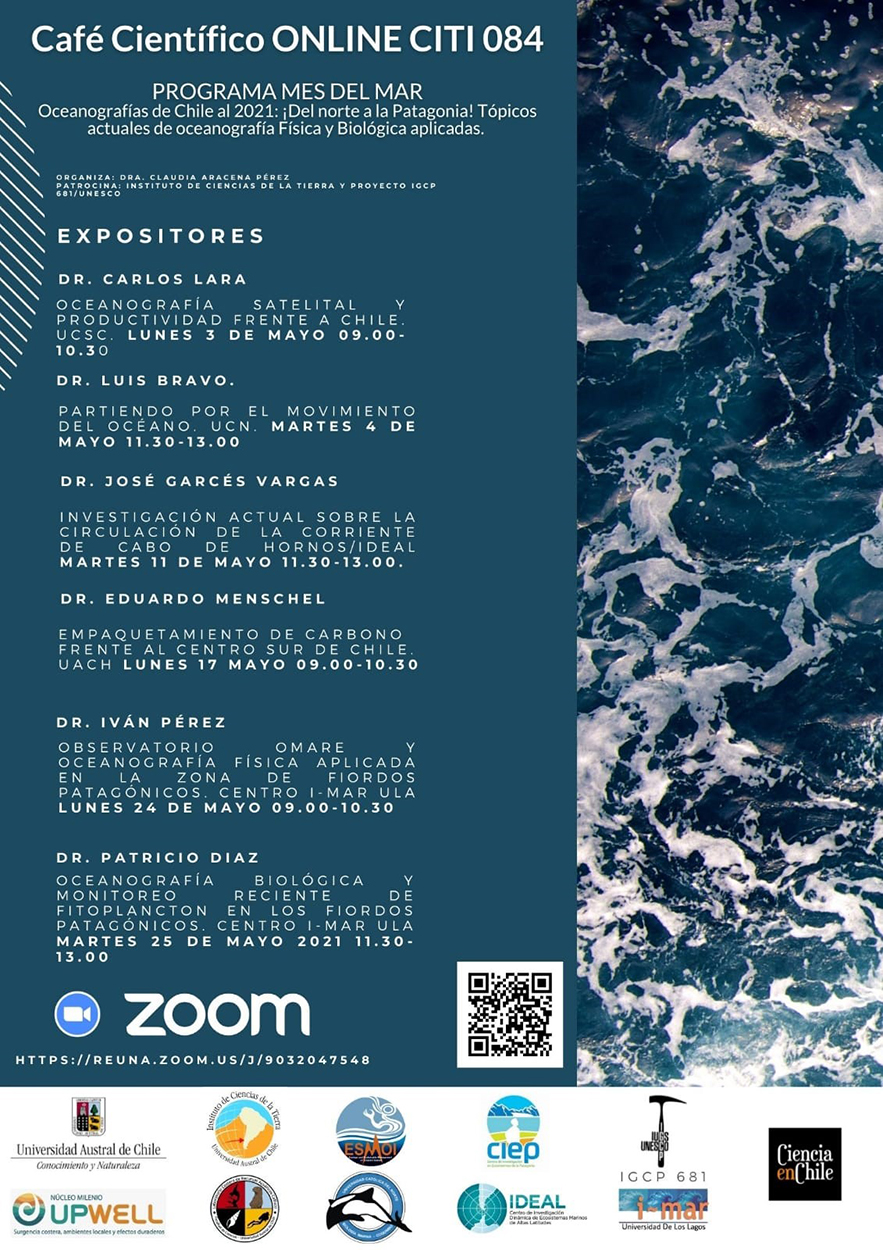 Brief outline of the project
Microalgae, named phytoplankton, are the base of the food web in the ocean, and are responsible for converting carbon dioxide to oxygen via photosynthesis. There is a group of phytoplankton known as harmful algae (HAB's) causing damage to human health, wildlife, fisheries and aquaculture production.
The coasts of Patagonia are key areas to investigate their blooms, since are located in one of the most pristine ecosystems in the world. Towards the west side, aquaculture is the economic activity that exerts the greatest environmental pressure.
However, in 2016 the microalgae Pseudochattonella cf. verruculosa killed nearly 12% of the Chilean salmon production causing the worst fish and shellfish mass mortality ever recorded. Along this region present and past continental freshwater contribution varied temporally playing a significant role in modulating ocean productivity. Such environmental variability could influence occurrence of HAB's which paleoecology at millennial timescale in Patagonia has not been investigated.
The aim of our study is to reconstruct phytoplankton (microalgae) distribution and composition over the last 1000 years in sediments from western Patagonia. The results of this project could contribute to preserve and protect natural heritage from Patagonia, and to predict HAB's response on assessing future aquaculture feasibility for the region.
Related Information
Duration: 2019-2023
IGCP Theme: Global Change
Contact