"A more than 300-year-old stone-cutting tradition links many small workshops to the natural geology of the region"
Celebrating Earth Heritage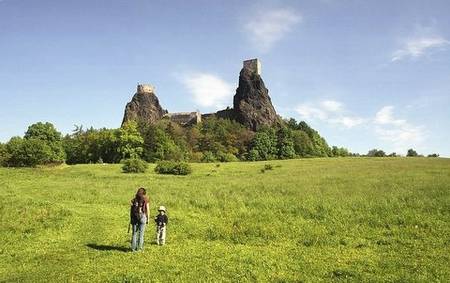 The Bohemian Paradise UNESCO Global Geopark is located nearly one hundred kilometers to the northeast from Prague.
Bohemian Paradise UNESCO Global Geopark shows a wide range of geological, mineralogical and archaeological features and contains some of the most interesting landscapes in the Czechia. Bohemian Paradise UNESCO Global Geopark represents an excellent geologic textbook. The Lower Paleozoic rifting related to the opening of Rheic Ocean was associated with sedimentation and volcanic activity of the Železný Brod Volcanic Complex (about 500 million years ago). The Late Devonian subduction was followed by Lower Carboniferous continental collision. The oldest terrestrial volcanism (about 290 million years ago) is present by Late Carboniferous and Permian rocks. An east-west oriented depression started to subside in Late Carboniferous and Permian- sedimentary and volcanic rocks. Sediments of Cretaceous sea created foundations of world-known sandstone rocks. An intensive volcanic activity occurred in the Tertiary about 17 – 5 million years ago. Several monogenetic volcanoes and many volcanic features such as columnar jointing, volcanic tubes, lakes and veins have international geological relevance. Quartz, agates and jaspers can be found in amygdales and veinlets of the volcanic rocks. Sandstone "rock cities" such as Hruba Skala, Bethlehem Rocks, Klokoci Rocks and the Prihrazy Rocks form characteristic features in the landscape. Rare dolomite caves are also to be found. The occurrence of minerals, precious stones and petrified remnants of plants and animals are world known too.
Sustaining local Communities
It is situated between the towns of Jičín, Sobotka, Mnichovo Hradiště, Železný Brod, Jilemnice and Nová Paka. Bohemian Paradise (Český ráj) earned its name in the 19th century due to its picturesque landscape with many castles build in beautiful areas on sandstone rocks and extinct volcanoes. The most precious parts of the UNESCO Global Geopark are located within the territory of the Protected Landscape Area Bohemian Paradise (Czech: Český ráj) which was declared in 1955 as the first Protected Landscape area in former Czechoslovakia (182 km2).
Bohemian Paradise UNESCO Global Geopark fosters scientific research and cooperation with universities and research institutes, stimulating the dialogue between science and the local population. The area is a spectacular outdoor classroom. Teaching packages cover broad areas of science. This is accomplished through interpreted geosites, museums, information centers, trails, seminars, educational materials, displays and guided tours. The UNESCO Global Geopark is a forum of discussion among municipalities for sustainable development strategies and for fields like research, tourism, and education. The special focus is to promote a wide discussion on sustainable strategies of local socioeconomic development and to share good practices in economy and geoconservation, as a way to raise awareness of local companies and other stakeholders on the promotion of activities in those domains. The promotion and development of traditional activities and local products, and a strong emphasis on geotourism are part of a holistic approach of the territory integrating biodiversity, culture, architecture, and ethnography.
The economy of the region is based on small and middle size companies providing tourism services. Thanks to a more than 300-year-old tradition, stonecutting and processing are common among private workshops or small companies dealing with this handicraft, logically connected with the natural geological potential of the region. This makes Turnov the centre of Czech jewellery-making: 80 km from Prague the region is easily reachable by car, bus or train. The very rich natural and cultural heritage includes medieval fortified castles and ecclesiastical buildings, together with different museums, trails, guided services and special events on the theme of nature and geology which make the Geopark an ideal destination for educational and leisure purposes.
Related information
Global Geopark Network Designated Year: 2005
UNESCO Global Geopark Designated Year: 2015
Localisation: N50°35'50'', E15°07'02''
Area: 742 km2
Contact
Tel: +420 481 540 253
Postal address: Antonína Dvořáka 335, 511 01 Turnov, Czechia
Official representative