Facing the emergency in the region
Children, young people and adults are staying away from school due to COVID-19.  In Latin America and the Caribbean, many countries have declared educational quarantine (school closure?) as part of efforts to stop the pandemic. 
UNESCO is supporting countries in their response to these new scenarios and facilitating learning continuity.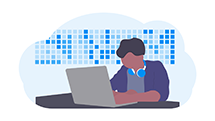 Contact:
Press and public information:
Carolina Jerez Henríquez
Knowledge Management Section
Regional Bureau for Education in Latin America and the Caribbean
Tel: +56992890175
c.jerez@unesco.org
Focal point for the emergency, Regional Bureau for Education in Latin America and the Caribbean:
Mary Guinn Delaney
Regional Advisor, Education for Health and Well-Being for Latin America and the Caribbean
Regional Bureau for Education in Latin America and the Caribbean
mg.delaney@unesco.org
*Thanks to Shabna Ashraf, for the creation of the illustrations used in this platform