UNESCO Director-General's Report on the Safety of Journalists and the Danger of Impunity
Key Findings 2006-2015
A decade of combatting impunity
A clear upward trend in the rate of journalists' killings can be observed over the course of the last decade. While between 2006 and 2011, the average annual rate was of 67 killings, it increased to an average of 106 killings per annum between 2012 and 2015. 
Impunity continues to be a widespread problem. According to information received from Member States, 63 of the 827 killings condemned by the UNESCO Director-General between 2006-2015 have been resolved, which constitutes only 8% of all cases. Moreover, no information was received on 419 cases or 51% of all cases.
Number of Journalists Killed Per Region
The highest number of victims over the last decade was registered in the Arab States region where UNESCO documented 287 killings of journalists' deaths (or 35% of the total). One quarter of all cases occurred in the Asia-Pacific region, where 210 killings were recorded. The Latin America and Caribbean region accounted for 176 cases (or 21% of the total), the Africa region for 104 cases (or 13%), the Central and Eastern Europe region for 36 cases (or 4%) and the Western Europe and North America region for 14 cases (or 2%).
Gender Breakdown of Victims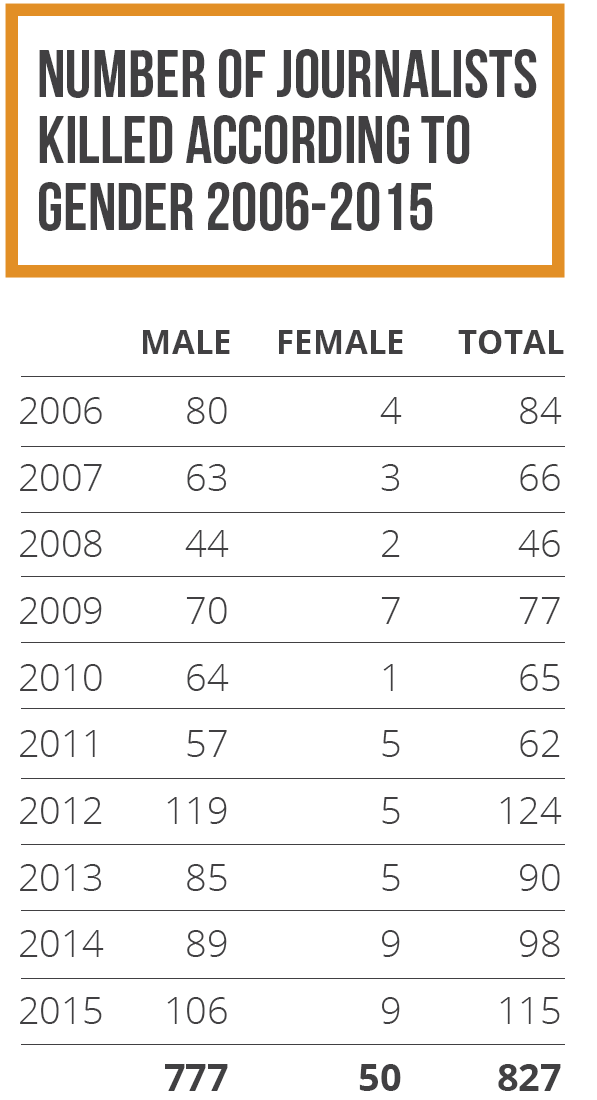 The vast majority of journalists killed each year are men, representing approximately 94% of all victims. Killings are, however, only the tip of the iceberg and women journalists have to deal with a range of threats such as intimidation, abuse and violence, including sexual assaults and harassment.
Number of Journalists Killed According to the Type of Medium
Journalists working for print media represent the highest proportion of journalists killed in the last decade, with 316 journalists' killings (38% of all cases) condemned by the Director-General. The second highest is journalists working in television, with 234 killings (28% of all cases), followed by those working in radio (171 killings, or 21% of all cases). There has been a general upward trend in the number of victims among television and radio journalists.
Number of foreign correspondents killed vs. local journalists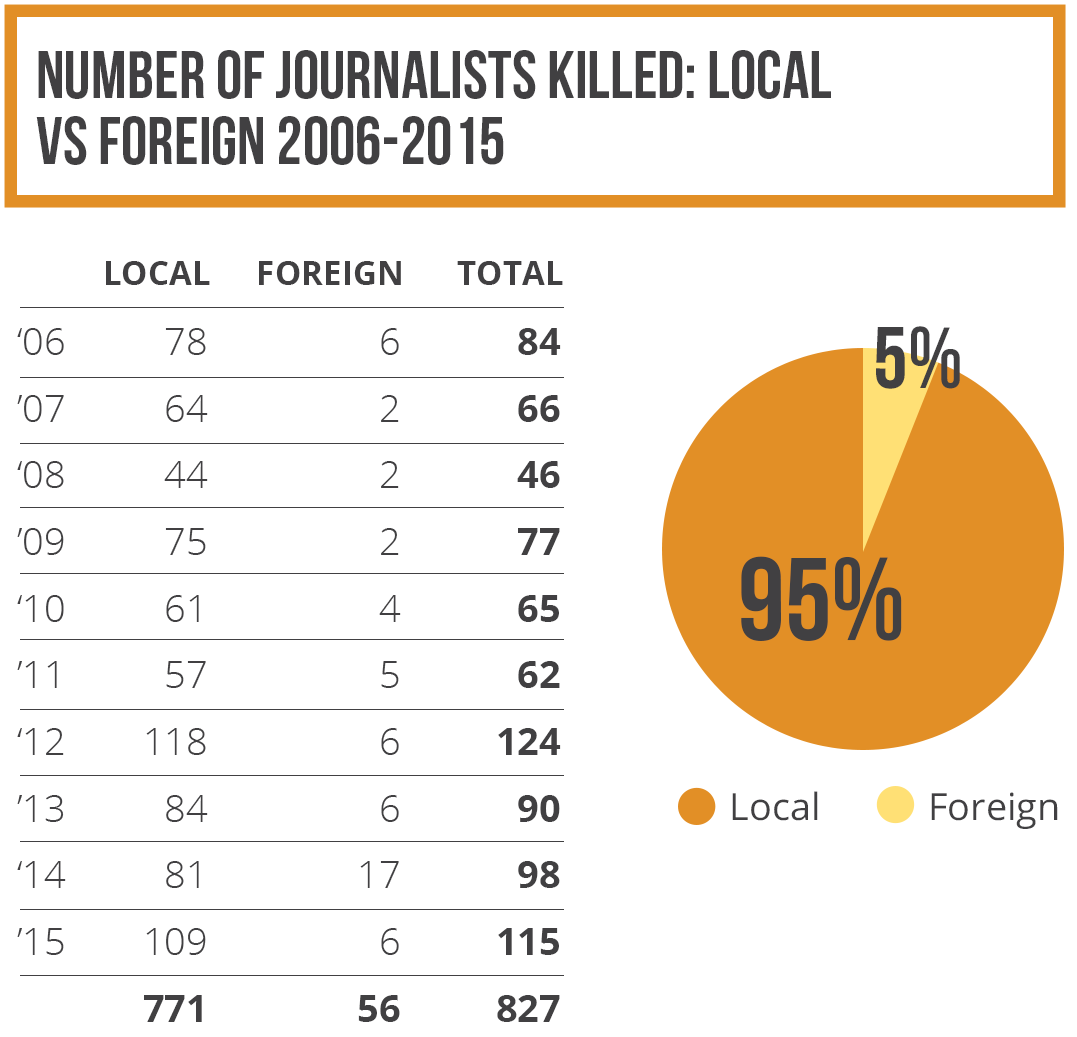 Although the killing of international journalists often generates more media attention, an overwhelming majority of the 827 journalists killed over the course of the last decade has been local journalists, accounting for 95% of all cases compared to 5% for foreign correspondents.
Number of staff Journalists killed vs. freelancers
Freelance journalists are particularly exposed to risk, as they often work alone on stories in dangerous environments, and rarely get the same level of assistance and protection as journalists employed by a media house.  According to UNESCO data (supplemented by CPJ data), over the last decade 158 freelance journalists have been killed, representing 19% of all cases.