Actions to Support Media,
Enhance Access to Information,
and Leverage Digital Technologies in the Fight Against the Pandemic
Free and professional media, the right to access information, and digital technologies are playing a critical role in the global fight against the COVID-19 pandemic.
UNESCO is the UN agency with a specific mandate to promote "free flow of ideas by word and image". It welcomes the immense efforts of communication and information communities to tackle the current COVID-19 crisis, including:
sharing lifesaving information, debunking misinformation,
strengthening the implementation of the fundamental right to information,
leveraging the use of public interest media, ICTs and OER for e-learning, and connecting people online.
UNESCO is closely monitoring the impact of this crisis on media freedom, safety of journalists, and the fundamental right to access information.
In a context of unprecedented challenges for the media and digital technology sectors, UNESCO has created a "resource center" of selected responses to COVID-19.
It includes a collection of examples of actions related to communication and information made available for the purpose of:
sharing practices,
identifying priorities,
facilitating partnerships,
amplifying good practices,
providing advice and technical assistance to governments and relevant national stakeholders, and
fostering North-South, South-South, and triangular cooperation.
This "clearing house" provides a non-exhaustive list of illustrative examples. It will continue to evolve with the COVID-19 pandemic and the quick development of responses.
Some of these initiatives have been led or directly supported by UNESCO. They are labeled with an asterisk (*). Others are implemented by official partners or other relevant stakeholders.
For questions, comments, and information on additional initiatives please write to: resourcecenter-covid19@unesco.org
Freedom of expression, safety of journalists and interrelated human rights
UNESCO, United Nations and Partners:
UNESCO and RSF's Safety guide for journalists: A handbook for reporters in high-risk environments aims at providing guidelines and practical advice for all those who risk their lives to bring information to the public. The handbook includes a useful chapter on safety precautions for journalists when covering epidemics.
COVID-19: How to include marginalized and vulnerable people in risk communication and community engagement, guidelines developed by UN Office for the Coordination of Humanitarian Affairs.
The High Representative for the United Nations Alliance of Civilizations and the Special Advisor for the Prevention of Genocide have made a Joint Call for Solidary, Unity and Action. They want to remind the world of the common threat we are now facing with the coronavirus, and express their concern with regards to the hate, racism and discrimination, people infected with the virus are facing. What the world needs most now are humanity, solidarity, kindness and compassion.
On the occasion of the International Day for the Elimination of Racial Discrimination (21 March), the UN Special Rapporteur on contemporary forms of racism, racial discrimination, xenophobia and related intolerance, called the States to take actions against the rising xenophobia and discrimination due the COVID-19 crisis. 
Other resources:
Tackling disinformation
UNESCO, United Nations and Partners: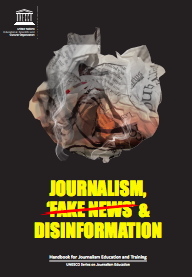 UNESCO's Handbook on understanding and countering disinformation designed for journalism education and training. Collaboratively produced by international experts, it includes tools and exercises to support disinformation literacy and countermeasures relevant to the COVID-19 'infodemic'. (*) This handbook is now available in 16 languages (English, French, Spanish, Arabic, Russian, Portuguese, Bosnian, Macedonian, Kazakh, Kyrgyz, Tajik, Indonesian, Malaysian, Tetum, Thai and Vietnamese) and 26 more translations are currently in progress  (German, Italian, Albanian, Dutch, Polish, Bulgarian, Romanian, Greek, Georgian, Turkish, Farsi, Chinese, Hindi, Bengali, Japanese, Korean, Filipino, Khmer, Burmese, Pashto, Urdu, Tamil, Kiswahili, Amharic, Igbo and Hausa).
UNESCO promotes media and information literacy to tackle disinformation, including the initiative "think before sharing". 
"Myth busters" for public health advice on COVID-19, produced by the World Health Organization
PortalCheck.org is the first digital platform in Latin America and the Caribbean aimed at collecting resources to face the effects of disinformation linked to the COVID19 pandemic in the region.
Other resources:
Professional reporting on COVID-19
UNESCO, United Nations and Partners:
UNESCO syllabus on science and health journalism, included in its model curricula on journalism education. (*) 
Self-Directed Course "Journalism in a pandemic: Covering COVID-19 now and in the future"  in multiple languages launched by UNESCO and WHO and organized by the Knight Centre for Journalism in the Americas at the University of Texas at Austin. 
Press councils in South East Europe have called for professional reporting on COVID-19; an action welcomed by UNESCO. (*) 
This multilingual webinar, "Covering the COVID-19 Vaccines: What Journalists Need to Know" offers up best practices for journalists covering the vaccines, particularly with regard to vaccine distribution and the science behind the vaccines. It was organized by the Knight Center for Journalism in the Americas at the University of Texas at Austin, in partnership with UNESCO and the World Health Organization and with funding from the European Union.
Other resources:
Access to information and knowledge
Now more than ever, the world needs access to information.
It is crucial that governments provide maximum transparency to dispel rumours and keep the public and the media fully informed about ongoing developments.
Open access to scientific information is key in this crisis, meaning that all resources developed on COVID-19 should be made available free and open licensed (CC BY-SA). Thus, to assist efforts to contain and mitigate the spreading of the COVID-19 pandemic, it is critical to encourage access to basic science research and innovation.
 
UNESCO, United Nations and Partners:
Other resources:
Digital technologies
UNESCO, United Nations and Partners:
Corona Virus Media Watch launched by the International Research Centre on Artificial Intelligence in Slovenia, category 2 centre under the auspices of UNESCO. It provides global and national news updates based on a selection of media entities with open online news. Policymakers, media and the public can observe emerging trends related to COVID-19 in their country and the world.
 
Other resources:
To ensure access to information, Access Now has urged governments across the globe to ensure free, open and secure internet access.
Artists, athletes and creative and entertainment industries have mobilized to promote live streamed theatre plays, DJ sets, and performances, usually connected to philanthropic initiatives, through digital technologies.
The establishment of this resource center was co-funded by the Norwegian Ministry for Foreign Affairs, the Multi-Donor Programme on Freedom of Expression and the Safety of Journalists, and the European Union.