Courier
About
Of all the journals published by the United Nations and its specialised institutions, The UNESCO Courier has always occupied first place for the number of its readers and the range of its audience, said the American journalist Sandy Koffler, the Courier's founder and first editor-in-chief, in 1988. The magazine has changed a great deal over the years, both in content and in form. But it pursues its original mission: promote UNESCO's ideals, maintain a platform for the dialogue between cultures and provide a forum for international debate.
Available online since March 2006, The UNESCO Courier serves readers around the world in the six official languages of the Organization (Arabic, Chinese, English, French, Russian and Spanish), and also in Catalan, Esperanto and Korean. A limited number of issues are also produced in print.
The reappearance of this historic journal in 2017, through the generous support of the People's Republic of China, is much more than the resumption of an editorial endeavour: it is a valuable opportunity to renew our commitment to the Courier's founding values.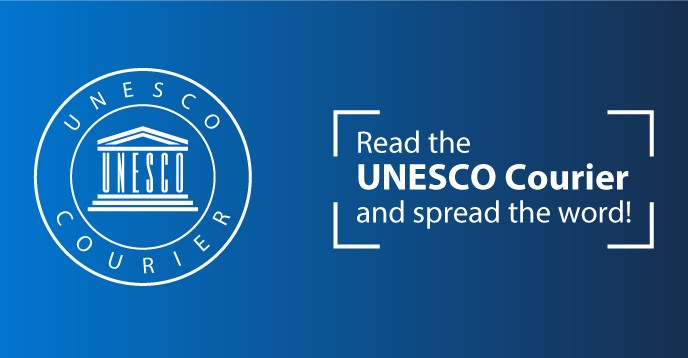 Terms of use 
Periodical available in Open Access under the Attribution-ShareAlike 3.0 IGO (CC-BY-SA 3.0 IGO) license. By using the content of this publication, the users accept to be bound by the terms of use of the UNESCO Open Access Repository.
The present license applies exclusively to the texts. For the use of images, prior permission shall be requested.
The designations employed in this publication and the presentation of the data do not imply the expression of any opinion whatsoever on the part of UNESCO concerning the legal status of any country, territory, city or area of its authorities, or concerning the delimitation of its frontiers or boundaries.
Articles express the opinions of the authors and do not necessarily represent the opinions of UNESCO and do not commit the Organization.
Information and reproduction rights
THE UNESCO COURIER
7, place de Fontenoy, 75352 Paris 07 SP, France