The Virtual Museum as a tool for distance teaching and learning in Palestine
The UNESCO Office in Ramallah has joined with the Palestinian Ministry of Tourism and Antiquities to develop the Virtual Museum, a tool to support distance teaching and learning processes in response to challenges posed by the COVID-19 pandemic. Through selected artefacts discovered during Palestinian scientific excavations, the Virtual Museum presents episodes of Palestinian cultural heritage, from the Stone Age to the end of the British Mandate period in 1948. To complement the tool, a user-friendly web platform and mobile application have been developed to enable students, researchers and those interested in history and cultural heritage to learn about each historical period through the exhibited artefacts.
http://www.travelpalestine.ps/virtualmuseum/index.php
Music discovery for children in Morocco
Initiated in May 2019, "Music for sustainable development in Morocco" is workshops programme on music discovery for children. Financed by the Federal Ministry for Economic Cooperation and Development – BMZ, the project aims at integrating culture into the national strategies to favour the social and economic development through culture. These workshops aimed at bringing together children and future musicians-trainers to raise children's music sensitivity in an innovative way – through various music non-classical instruments – and to teach them the basic knowledge about music such as the reading scores, rhythm and tempo. The follow-up to these workshops consists in the establishment of a partnership agreement with each of the partnering NGOs. The objective of these agreements is to hold, over a six-month period, several music discovery courses for children.
Learning culture and history through Ceramic Calligraphy at the Rashid National Museum in Egypt
The role of museums is vital in making connections between the people and their heritage, culture and history. They are vectors in nurturing global citizenship, promoting  appreciation of cultural diversity, by providing another pedagogy venue for education on arts and culture in the out-of-the-school setting. The Rashid National Museum was established in 1959 at the historical building of the Islamic style in Rosetta, Egypt. The city is best known for the -Rosetta Stone that was discovered at Rashid village. The Museum holds over three hundreds artifacts. The Education Department of the Museum regularly organizes workshops in arts and crafts for the community. In December 2019, a Workshop on Ceramic Calligraphy was held to coincide with the International Day of Arabic Language (18 December). The Workshop participants learned the skills in producing ceramic plates with Arabic calligraphy, linking their works to the global celebration of the International Day of Arabic Language. Moreover, with the facilitation of the Egyptian National Committee for the International Council of Museums (ICOM) which has a formal relationship with UNESCO, a group of students enrolled in the Heritage Science Programme at an Egyptian university visited the Workshop.
https://www.facebook.com/rashidnationalmuseum/
COVID19 awareness raising video – National Museum of Beirut
The Lebanese Ministry of Culture in partnership with UNESCO Beirut Office has launched a COVID19 awareness raising video on the occasion of the International Museums Day. This video shines by its creativity of showing archaeological pieces from the National Museum of Beirut with sanitary messages to prevent spread of COVID-19. Starting from Hygeia, Goddess of health, cleanliness and hygiene in ancient times, 1 minute video is giving health instructions to counter COVID19 pandemic, such as "Put on face masks", "Stay Home", "Respect social distancing" with relevant images of cultural heritages of Museum. The video plays a promotional role not only of public institution but also of sanitary campaign.
Virtual tour, Interesting stories & arts and educational competitions in Jordan
The Children's Museum provides educational opportunities for children through hands-on enjoyable learning and play. The Museum decided to keep this online platform to remain accessible to those who cannot reach them in some form even after they open. A virtual tour aims to give the children the opportunity to explore the museum's contents with the help of their parents. In addition, the museum continues to provide educational contents about science, arts and others, in its interactive image via social media platforms. Learners can have access to all the activities since March and interact with the online educational practices and competitions on the social media pages.
Shaghafi (My passion)
Shaghafi (My Passion) is a platform created by Ministry of Culture in Jordan for developing and cultivating the capabilities of young talents. The main aim of this initiative is to develop their skills by providing easy, simplified and free training in the fields of arts and cultural industries, by enriching knowledge and importance of cultural and artistic areas in terms of economy and social development. After creating an account on the platform, learners can explore divers online trainings courses without any fees. Trainings courses cover many fields, for example Visual and plastic arts, Musical arts, Cultural industries and Design Arts. The platform offers short and intensive training courses starting from two to eight hours distributed in the form of short practical lessons, each 20-minute lesson.
Increasing appreciation of Yemeni cultural heritage and diversity amongst youth as a confidence-building measure for peace
In the context of protracted conflict in Yemen, UNESCO produced diverse educational contents using storytelling and factual data in order to increase cultural heritage appreciation amongst youth as a source of income and social cohesion. This initiative is part of the EU-funded project Cash for Work and was implemented in partnership with RNW Media. The project covers three main activities. First, a series of five videos called "Turathna" (Our heritage), covering historic cities in Yemen and targeting young audiences, was produced. Featured by a renowned young Yemeni female influencer Somaya Gamal, the videos are disseminated through the popular Yemeni youth online platform manasati30.com as well as on social media and on local TV. Second, the script of videos is based on the findings of an online study on youth perception towards cultural heritage. This youth-led approach survey reached out over 2,500 respondents. The dissemination of the findings of study adopted a youth-friendly format such as infographics and cartoons, which were shared on social media. Finally, the study nurtured the organization of an awareness-raising campaign consisting of two cultural heritage tours in the historic cities of Shibam and Aden, involving media and 16 young influencers from each city (journalists, social media activists, Vloggers and actors). The total reach of the campaign is 3,930,097.
https://en.unesco.org/doha/cashforworkyemen
Creative Family Initiative – Let Us Watch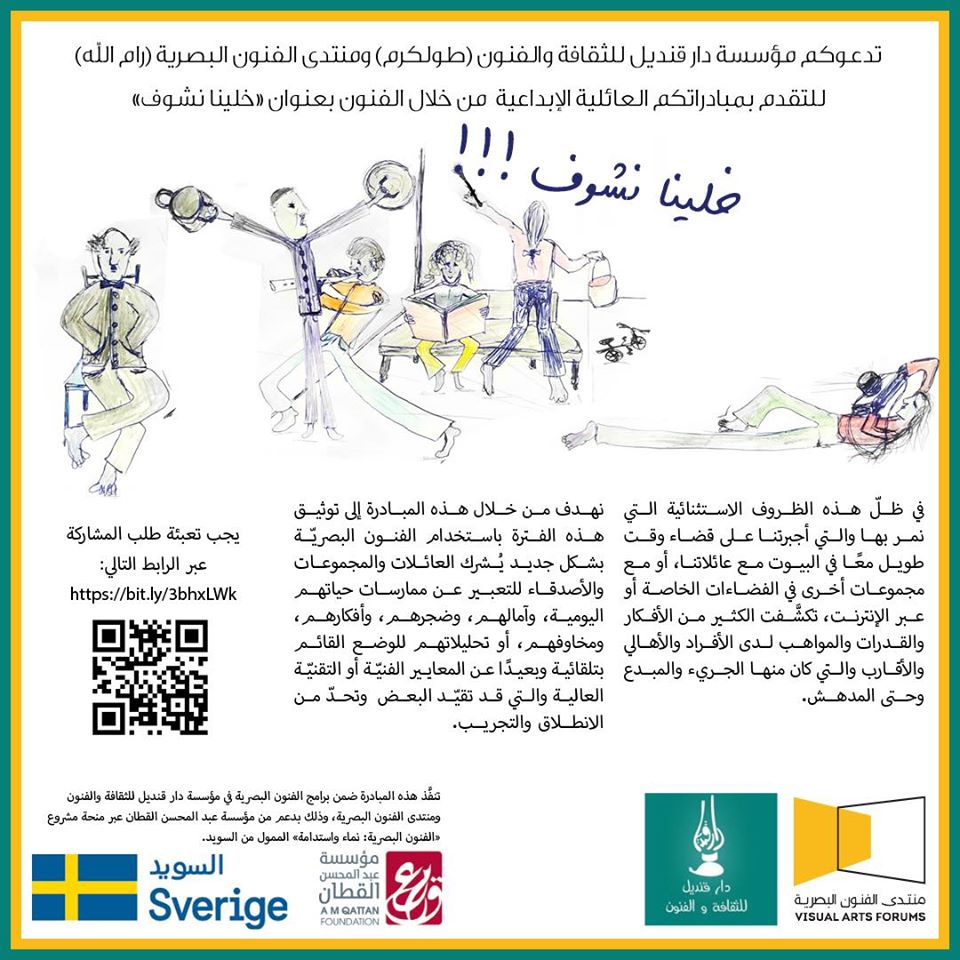 Dar Qandil Foundation for Culture and Arts is the first of its kind based in Tulkarm, which works as an educational organization and provides many artistic activities for several categories of the surrounded community. In cooperation with the Visual Arts Forum, they published an initiative to support different visual arts such as video, photography, drawing, design, sculpture, handicrafts etc. and to make families facing with the covid-19 confinement participate in "Creative Family Initiatives – Let Us Watch" by means of these arts. The aim of this initiative is to document this period by using visual arts in a new way that invites families, groups and friends to express their daily life practices, hopes, boredom, thoughts, fears, or their analysis of the situation. The commission will pick 5-shared experiences as winners and share their contribution via social media to engage others in these experiences and to show divers ways of utilization the free time through arts. With a financial award of 300$ for each.
https://www.facebook.com/permalink.php?story_fbid=1628522463...