UNESCO Story4Development & Prize for the Digital Empowerment of Persons with Disabilities
The Call for Nominations 2020-2021 for the UNESCO/Emir Jaber Al Ahmad Al Jaber Al Sabah Prize for Digital Empowerment of Persons with Disabilities is open until 21 September. Candidates and organizations are invited to share their stories of empowerment and success on the new online platform "Story for Development", to inspire others and provide evidence-based information for policy-making.
Share your story=enable your rights! Inspire other #personswithdisabilities all over the world, share your story of empowerment on the new UNESCO platform Story4Development 
Your story will inform policy-making in the area of #disabilities by providing accurate information for action. 
&
Enable the rights of persons with disabilities, join the new UNESCO Platform Story4Development!
Be part of the change and share your story for development, inclusion and empowerment at  
This unique collection of stories will contribute to the formulation of evidence-based policies for persons with disabilities worldwide. 

Great news! Deadline extended to 21st September
Apply now for the UNESCO Prize for the Digital Empowerment of Persons with Disabilities! 
How do you promote the digital inclusion and access to information for persons with disabilities? Tell us more! 
#ThisAbility
@UNESCO & @NipponF_pr have created an online community for people with disabilities to tell their stories and gather data for informed policies and action! 
Share your story of empowerment now, and apply for UNESCO's Prize for Digital Empowerment of Persons with Disabilities by 21 September!
People with disabilities are the world's largest minority, yet there is not enough data and research focused on understanding their needs for informed policy formulation. 
By sharing your story, you contribute to the implementation of evidence-based policies and actions.  #ThisAbility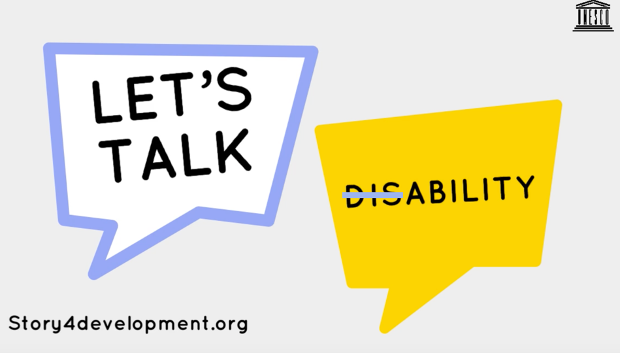 If you live with a disability, one thing you can do during the #COVID19 pandemic is to visit @UNESCO & The Nippon Foundation (日本財団) new platform #Story4Development, a new space for people with disabilities. 
This unique collection of stories of empowerment aims to inform policy and decision making in the area of disabilities. Be part of the change and make your story of digital empowerment visible now! #ThisAbility