The Calakmul Biosphere Reserve, located at the base of the Yucatan Peninsula, is the largest forest reserve in Mexico. It comprises 723,185 hectares of protected land with some 52 'ejidos', or local communities with almost 23,740 inhabitants (2000) in its buffer zone. It is not an untouched forest, as testify the remnants of Mayan cities, abandoned in A.D. 900. It consists of Tropical humid forest ecosystem type covered with Evergreen tropical humid forest, semi-deciduous forest with low temporally flooded forest, thorn forest and tropical deciduous forest.
Description
Map
Surface : 1,371,766 ha
Core area(s): N/A
Buffer zone(s): N/A
Transition zone(s): N/A
Location: N/A
Administrative Authorities
Municipalities of Calakmul, Candelaria, Champotón, Escárcega and Holpechén in Campeche; José Ma. Morelos and Othon P. Blanco in Quintana Roo; Tekax in Yucatán
José Adalberto Zúñiga Morales
Director RB Región de Calakmul
Calle Puerto Rico SN, frente al panteón municipal, Xpujil, Municipio de Calakmul, Estado de Campeche
C.P 24640
Mexico
Tel.: 52 (983) 871 6147 and (998) 887 1997
Email: jzuniga@conanp.gob.mx
Website ǀ Facebook ǀ Twitter
Ecological Characteristics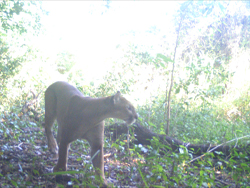 The Biosphere Reserve is characterized by its size, good state of conservation and continuity with other regions in the Yucatán Peninsula, Chiapas, Guatemala and Belize. It is considered to be the largest forest mass in Mexico and, together with the forests of Guatemala and Belize, the second largest remnant forest left in Latin America after the Amazon. Its great diversity of species responds to regional heterogeneity, where in spite of its scant land forms, high and medium altitude sub-evergreen (moist) forests, medium altitude sub-deciduous (dry) forests (with a predominance of Holywood Lignum-vitae (Guaiacum sanctum)); lowland deciduous forests and savannahs can be found.
This group of forests harbours Mexico's largest populations of fauna and flora, comprising charismatic or flagship species of biological and ecological importance for the region, such as the Jaguar, the Puma, the Tapir, the White-lipped Pecary, the Howler Monkey and the Spider Monkey, the King Vulture, the Ornate Hawk together with Mahogany, Cedar and Ciricote trees. There are also endemic species of economic and ecological importance for the region such as the Ocellated Turkey (Meleagris ocellata) Gray Brocket Deer (Galindo-Leal, 1999). Ninety percent of the amphibian species and over 50% of the reptile species reported for the Peninsula are to be found in the region. The land area is very important for birds with over 360 species recorded and it is also considered to be an important geographical area for Neotropical migratory species. (Galindo-Leal, 1999; Berlanga and Wood, 2001).
Socio-Economic Characteristics
Since the Old Maya City and the Protected Woods of Calakmul were declared a Mixed World Heritage Site, tourism in the area has increased exponentially. From 2012 to 2016, the number of tourists almost doubled, and they are mostly interested in the place's archeology and natural features. 
Other activities include forestry, beekeeping, animal husbandry and fishing. For instance, a cooperative with 220 beekeepers of the Biosphere Reserve has been established and produce 440 tons of honey, which makes up 32% of the local GDP.
In terms of animal husbandry, the activity has grown substantially due to governmental support since 2004. Livestock production is at extensive level, with little technology application.
 Back to Biosphere Reserves in Mexico
 Back to Biosphere Reserves in Latin America and the Caribbean
 Back to World Network of Biosphere Reserves
Last updated: October 2018