The Thuringian Forest is one of the longest-running Biosphere Reserves in Germany. By the time of its designation in 1979, it was called Vessertal Biosphere Reserve and had 1,384 ha. Then, it was expanded to nowadays' 225,300.
It represents a typical section of landscape from the central European Mittelgebirge ridge in the Thuringian Forest, one of the largest contiguous forest areas in the country. Because of its forest wealth and traditional land use, the area is of great importance for the preservation of biological diversity as demonstrated by the occurrence of 193 species of ferns, flowering plants, fungi, and lichens as well as 245 animal species.
Designation date: 2014
Networks
Regional network: EuroMAB
Ecosystem-based network:
Description
Map
Surface : 33,672 ha
Core area(s): 1,044 ha
Buffer zone(s): 7,932 ha
Transition zone(s): 24,697 ha 
Location: 50°36'15"N – 10°51'40"E
Administrative Authorities
Thuringian Ministry for Environment, Energy and Nature Conservation (TMUEN)
Thuringian Forest Biosphere Reserve, administration
Brunnenstraße 1
D-98711 Schmiedefeld am Rennsteig GERMANY
Tel.: 0049 / (0) 361 / 57 392 4600
Email: poststelle.thueringerwald@nnl.thueringen.de
Website ǀ Facebook ǀ Twitter   
Ecological Characteristics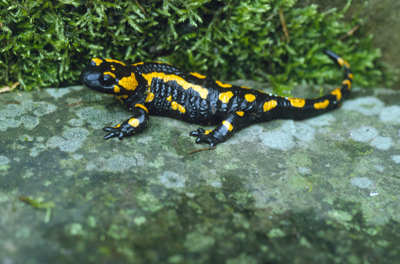 The biosphere reserve is part of the biome of the deciduous forests within the province of the Central European forests of the Palaearctic regnum. The area is dominated by forest ecosystems (total area of 28,204.8 ha = 83.7%), which, despite the prevalence of ecosystems dominated by coniferous tree species, still feature considerable diversity with respect to the forest communities and anthropogenic intensity of use.
Part of one of the 30 German hotspots of biodiversity according the Federal Biodiversity Program, it is home to a various endemic species, such as the mountain lead beetle (Oreina alpestris ssp. polymorpha) and the red alga (Lemanea rubra).
Socio-Economic Characteristics
The most important economic sectors in the region are tourism and forestry, with the former becoming increasingly important, particularly in the areas of Oberhof (winter sports) and Masserberg (health resort). On the other hand, agriculture and industry also make an important contribution to the local economy. Traditional industries include wood processing and glass production, while newer sectors account for plastic production, information technology and numerous technology-oriented enterprises.
Back to Biosphere Reserves in Germany
Back to Biosphere Reserves in Europe & North America
Back to World Network of Biosphere Reserves
Last updated: October 2018