The Gerês Xurês Transboundary Biosphere Reserve is located on the western-most region of the Iberian Peninsula. The hilly relief contains two major peaks: Nevosa, which rises up to 1 556 metres, and Fontefría, reaching 1 559 metres. A continuous mountain range includes Peneda, Amarela Xurés, Quinxo and Santa Eufemia mountains, which are encircled by tributaries of the River Limia and Minho. Other major rivers that cross the biosphere reserve are Vez, Homen and Cávado. The reserve's natural landscape is divided into plateaus and glacier valleys (Homem and Vez), and the wide valley of the Lima River and steep slopes. In general, the hydrographic network spreads through narrow and deep valleys creating almost rectilinear trajectories.
Description
Map
Surface : 259,657 ha
Core area(s): 40,772 ha
Buffer zone(s): 83,227 ha 
Transition zone(s): 135,658 ha
Location: 8°22' 40.053W – 42°13' 
Administrative Authorities 
Direcção Regional de Conservação da Natureza e Florestas do Norte 
Av. António Macedo
4704-538 BRAGA
Portugal
Tel.: +351 253 203 480
Email: pnpg@icnf.pt
Conselleria de Medio Ambiente e Desenvolvemento Sostible. 
Direccion Xeral de Conservacion da Natureza
Complexo Administrativo San Lázaro
Santiago de Compostela 15781
Spain
Tel.: +34 981 547 201
Email: dxcn@xunta.es
Website ǀ Facebook ǀ Twitter
Ecological Characteristics
The Biosphere Reserve has a rich and very unique diversity of flora with more than 800  native and non-native taxa including a large number of Lusitanian and Iberian endemisms. Endemic Lusitanian-Galician species include, among many others, Armeria sampaioi and Ceratocapnos claviculata (Climbing corydalis). Records of Iberian endemics species comprises more than 100 taxa, approximately 50% of which are limited to the northwest of the Iberian Peninsula. Distribution areas of several species of vascular plants are closely linked to this territory, as a fingerprint of the biosphere reserve. 
Among them,  many species of vascular flora are included on protection lists at European, national or regional level.
The Gerês/Xurês Biosphere Reserve is also home range of Iris boissieri (Yellowbeard Iris), Veronica micrantha and Ruscus aculeatus (Butcher's-broom). More than 300 taxa of bryophytes, comprising four taxa of hornworts, 227 taxa of mosses and 86 taxa of liverwort occurs in this territory. 
Nearly  250 vertebrae species and more than 1000 of invertebrates have been recorded in the territory. Examples of common fauna species include Coronella girondica (Southern smooth snake), Bubo bubo (Eurasian eagle-owl) Iberian Wild Goat (Capra pyrenaica), Iberian desman (Galymys pyrenaica), Golden stripped salamander (Chioglossa lusitanica)  and Iberian wolf (Canis lupus). 
Socio-Economic Characteristics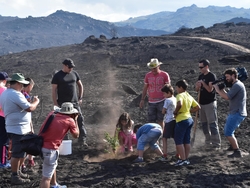 There are nearly 70.000  people living within the transboundary biosphere reserve. Traditionally, agriculture is the main economic activity, but today the economy is increasingly linked with cattle raising. Significant and increasing income come from service sectors, in particular tourism.
The  populated areas (small villages) are mainly in valleys and the mountain areas, which are found throughout the entire buffer zone, are less populated.
Cultural and historic sites are spread all over the Biosphere Reserve: Numerous sacred, historic and prehistoric sites have been recorded and can be visited. Santa Maria la Real Church is a national monument since 1921 and is beautifully preserved. The church of Santa Maria la Real embodies a very typical baroque frontage of the seventeenth and eighteenth century. Among the other architectural constructions of historic value are the castles of Lindoso and Montalegre, built during the XIII century. 
Back to Biosphere Reserves in Portugal
Back to Biosphere Reserves in Spain
Back to Biosphere Reserves in Europe & North America
Back to World Network of Biosphere Reserves
Last updated: March 2020