This biosphere reserve is part of the eastern extension of the Tibetan plateau ranging from 2,200 to 6,032 m a.s.l. The area is not only noted for its high biological diversity, but also for its associated cultural values as three sacred mountains are located within the area. The local inhabitants observe the custom of revering nature and preserving the environment of the sacred mountains. The Kangba-Tibetan ethnic group accounts for 90% of the total population of the biosphere reserve, which practise shamanism or adhere to five different sects of Tibetan Buddhism.
Designation date: 2003
Photo gallery ǀ  Press release
Networks
Regional network: East Asian Biosphere Reserve Network (EABRN)
Ecosystem-based network:
Description
Map
Surface : 145,750 ha
Core area(s) : 84,910 ha
Buffer zone(s) : 32,880 ha
Tansition zone(s): 27,960 ha
Location: 28°22'N - 100°13'E
Administrative authorities
Yading National Nature Reserve
Daocheng county
Ganzi Tibetan Autonomous Prefecture
Sichuan 627750
Tel.: +86 836-5728888
Email: N/A
Website ǀ Facebook ǀ Twitter
Ecological Characteristics
Located in the south of Ganzi Tibetan Autonomous Prefecture, the east of the Qinghai-Tibet Plateau and the middle of Hengduan Mountains, the Biosphere Reserve borders Muli county of Liangshan Yi Autonomous Prefecture in the southeast, Xiangcheng county and Zhongdian county of Yunan in the west and Litang county in the north. In the east part of the reserve, three mountains are straight into the sky, which are Xiannairi in the north with an elevation of 6300 m, and Yangmaiyong and Chanodnj in the south and east respectively with the same elevation of 5958 m. They are known as holy snow-capped mountains in the west Tibetan areas of China. The higher mountain natural ecosystems are predominated by icy peaks, snowcapped mountains, glaciers, broad valleys, virgin forests and plateau meadows have been kept in this region.
Endowed with distinctive landscapes, the reserve has vascular plants of 1126 species from 431 genera in 120 families and 291 species of vertebrata, including beasts of 69 species, birds of 197 species, reptiles of 5 species, amphibians of 10 species and fishes of 10 species. Attention is given to the protection of some 20 rare animal species in the area, including leopards, black bears, Asian golden cats, golden pheasants etc. There are 2 kinds of plants (Sorolepidium glaciale Christ and Isoetes) and 12 kinds of animals including 6 kinds of beasts and 6 kinds of birds under first-grade state protection, as well as 7 plants and 42 kinds of animals under second-grade state protection. 29 Chinese endemic species in the region include 15 kinds of beasts, 11 kinds of birds, plus 2 kinds of amphibians.
Socio-economic characteristics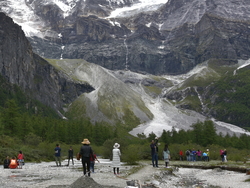 People living in the reserve are mainly Tibetan, together with Han and ethnic minority group such as Naxi and Hui. The multitude of temples combined with the scenic beauty make this area an interesting tourist destination. Economic activities predominated by tourism have boosted the development of associated industries. Family hotels with local traditional customs, which are also compatible with surroundings, are promoted at Yading, Shangri-La and Kasi. They are run by local residents themselves. The tertiary industries, in particular tourism services, production of souvenirs and processing of agricultural byproducts are supported. Introduction of fine livestock breeds also help increase the incomes of local communities.
Local communities are highly involved in the planning and management of the reserve, through villagers' committees and neighborhood committees. To address sustainability, a catering centre, where vegetables and meat products are natural and organic from local areas, is being built. Research focuses on botany, zoology, climate, land forms, and more recently, on human-environment interactions in connection with increasing tourism.
Back to Biosphere Reserves in China
Back to Biosphere Reserves in Asia and the Pacific
Back to World Network of Biosphere Reserves
Last updated: July 2019