This site, which is part of the Sobo-Katamuki-Okue mountain range, is characterized by steep mountains. The forests cover 85% of the area of this 243,672 ha site. The use of forest resources (wood production, shiitake mushroom cultivation, coal production ...) has remained sustainable. Due to the high forest biodiv ersity, research on fauna and flora in the Mountain Range has been conducted for quite a long time and the area has become an important base of biodiversity in the region.
Designation date: 2017
Networks
Regional network:  
Ecosystem-based network: 
Description
Map
Surface : 243,672 ha
Core area(s): 1,580 ha
Buffer zone(s): 17,748 ha
Transition zone(s): 224,344 ha 
Location: 32°49'52"N – 131°32'20"E
Administrative Authorities
Oita Prefecture, Miyazaki Prefecture, Saiki City, Taketa City, Bungo Ono City, Nobeoka City, Takachiho Town, Hinokage Town
Sobo, Katamuki and Okue Biosphere Reserve Promotion Council
3-1-1 Otemachi, Oita-City, Oita 870-8501
Japan
Tel.: +81-87-506-3025
Email: sobokatamuki.br.council@gmail.com
Website ǀ Facebook ǀ Twitter
Ecological Characteristics
There are still many natural forests at high altitude in the Sobo-Katamuki-Okue mountain range, where a wide range of vegetation from warm temperate to cool temperature can be found depending on the mountain height.
It is a precious area, home to many rare plants and animals with limited areas to live such as the Japanese serow, a special natural monument, and the so-called Sohayaki group of plants, said to reveal the origins of the Japanese archipelago. These rare species are endangered so we need to protect their habitat environment.
Socio-Economic Characteristics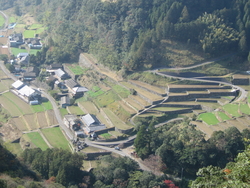 Since ancient times, people in this region have been grateful for the produce of the Sobo-Katamuki-Okue mountain range with which they closely interact in the course of their daily lives, and have performed kagura dances and lion dances at festivals to pray for their harvest and their safety. To this day, they retain this respect for nature and are taking steps to pass their traditions on to future generations.
In the challenging natural environment of this steep terrain, residents have accumulated the
knowledge and skills to make the most of what nature provides. Previously, the region prospered as a leading mining area of Japan, and various industries such as agriculture, forestry and bamboo work have continuously been handed down. Nowadays, it is one of the country's main producing areas of items such as timber, shiitake mushrooms, and Japanese star anise used in Buddhist services.
Back to Biosphere Reserves in Japan
Back to Biosphere Reserves in Asia and the Pacific
Back to World Network of Biosphere Reserves
Last updated: May 2020