The Miankaleh Biosphere Reserve is located in the southeastern region of the Caspian Sea. Major habitats include wetlands, inter-tidal mud with sandy shores, shallow marine waters, forests, peat lands and agricultural areas. Miankaleh was designated a Ramsar site in 1975.
Local people earn their income from agriculture, horticulture, animal husbandry, handicrafts, carpet weaving, traditional poultry farming and tourism. Management challenges include overgrazing, illegal hunting, fishing, deforestation and the unplanned spread of villages.
Designation date: 1976
Networks
Regional network: SACAM
Ecosystem-based network: 
Description
Map
Surface : 96,678.5 ha
Core area(s): 5,539 ha (terrestrial) and 19,411 ha (marine)
Buffer zone(s): 12,348 ha (terrestrial) and 29,690 ha (marine)
Transition zone(s): 29,690 ha
Location: 36°52'11"N – 53°13'08"E
Administrative Authorities
Miankaleh Biosphere Reserve
Roodaki St., Amir Mazandarani Blv.
Sari, 48185-679
Islamic Republic of IRAN
Tel.: +98 151-2258813
Email: dara8niaki@yahoo.com
Website ǀ Facebook ǀ Twitter
Ecological Characteristics
The Miankaleh Wildlife Refuge consists of two aquatic and terrestrial ecosystems. The sand dunes, which are an essential part of the terrestrial ecosystem, slope gently from west to east along the Caspian Sea's shoreline. Relative differences in altitude range from 3 m to 5 m across the Miankaleh Peninsula. The reserve is one of the richest and most invaluable geological regions situated along the Caspian Sea.
A variety of ecosystems, wetlands and sand dunes exist in the area, hosting a diverse range of migrant water and land birds, reptiles, mammals and different types of flora communities found throughout the biosphere reserve. The reserve also serves as a major staging area for millions of migrant birds. Some species are listed in the IUCN Red Data Book of Threatened Animals including the White-tailed Eagle (Haliaeetus albicilla), Dalmatian Pelican (Pelecanus crispus) and the White-headed Duck (Oxyura leucocephala).
The Miankaleh wetland fulfils Ramsar Convention criteria as a result of the number and distribution of migrant water birds, and the presence of spawning grounds and nursery and migration paths of endemic and commercial fish.
Socio-Economic Characteristics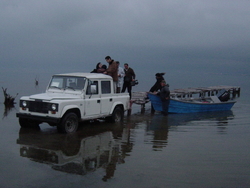 No villages exist within Miankaleh's core and buffer zones. There is only one abandoned village, Khosh-neshin, located on Ashoora-deh Island. The majority of the inhabitants of Miankaleh Biosphere Reserve are ranchers most of whom have settled permanently in the region. 
The local populations located in the transition area of the reserve derive mainly from four ethnic origins: Turkmen, Kurd, Turk and Mazani. Their livelihoods consist of animal husbandry, agriculture and fish hunting cooperatives. Fishing nets are scattered all along the coastline and ranchers raise livestock throughout the reserve. Tourism activities also take place in the area with tourists visiting Ashoora-deh by boats that stop at Bandar-Turkmen Port.
The Miankaleh wetlands provide numerous natural attractions including huge colonies of migrating birds, which attract bird watchers during the autumn and winter seasons.
Back to Biosphere Reserves in Iran
Back to Biosphere Reserves in Asia and the Pacific
Back to World Network of Biosphere Reserves
Last updated: February 2019