The Albay Biosphere Reserve is located at the southern end of the Luzon Island of the Philippines, and covers some 250,000 hectares. The terrestrial elevation of the site culminates at 2,462 metres, while its marine part reaches a depth of 223 below sea level. The site's high conservation value is constituted, notably, by 182 terrestrial plant species, 46 of which are endemic. Its marine and coastal ecosystems comprise 12 species of mangrove, 40 species of seaweed or macro-algae, and 10 species of sea grass. Five of the world's seven species of marine turtles are also found in Albay. Agriculture is the main source of income in the area.
Description
Map
Surface : 247,919 ha
Core area(s): 12,084 ha
Buffer zone(s): 44,918 ha
Transition zone(s): 190,917 ha
Location: 13°07'13 – 123°44'60
Administrative Authorities
MVNP – Department of Environment and Natural Resources MMWFR – Department of Environment and Natural Resources Malinao-Tiwi Geothermal reserve – National Power Corporation
Provincial Government of Albay
Albay Capitol Bldg.
Legazpi City 4500
PHILIPPINES
Tel.: +052 481-2555
Email: albaygovoffice@yahoo.com 
Website ǀ Facebook ǀ Twitter
Ecological Characteristics
The Albay Biosphere Reserve is located in Southeastern Luzon in the Philippines. Its inner lands are composed mainly of open, grassland and forest ecosystems, while its coastline consists of mangrove forest, urban centres and agricultural land. It is home to three mountains including Mt Mayon, the Philippines' most active volcano, which reaches 2,462 metres above sea level at its highest elevation. 
The reserve contains 182 terrestrial plant species of which 46 are endemic. It also hosts four endemic mammal species, 12 endemic species of birds including the famous Luzon bleeding heart (Gallicolumba luzonica), 17 species of amphibians of which 13 are endemic, and 30 species of reptiles of which 22 are endemic.
In addition, Albay's marine and coastal ecosystems are home to 62 species of flora, which represent 62.5% of all know species in the Philippines, as well as five of the world's seven marine turtle species. The diversity of seagrass, seaweed beds and mangrove forests in the reserve is intrinsically linked with the diversity of faunal species found across the marine and coastal ecosystems, particularly in the marshlands or mangroves. The marine and coastal fauna encompass 272 species including 158 species of gastropod, 15 bivalve species, 12 crustacean species, 13 echinoderm species, 1 sea slug species, 26 coral species, 5 species of turtles and 42 fish species.
Socio-Economic Characteristics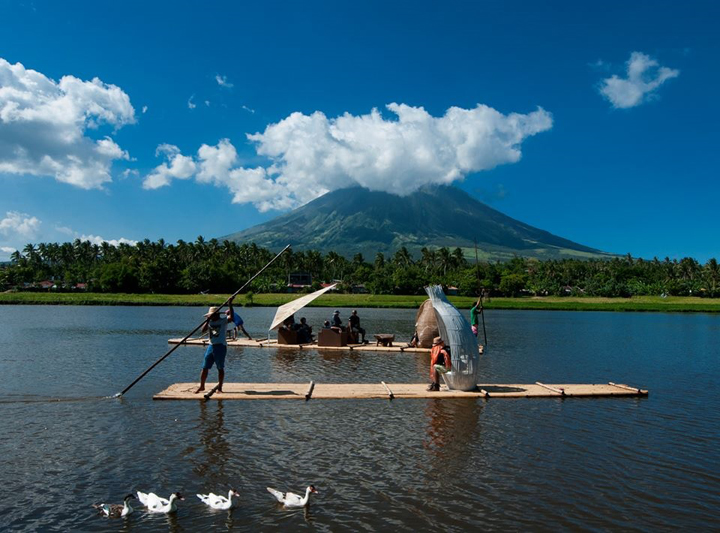 As of 2010, the reserve had 1,233,432 inhabitants distributed among 15 municipalities and three cities. The Bicolano are the dominant ethnic group and constitute the majority population. The reserve has a rich cultural diversity indicated by the use of four spoken languages, as well as the presence of three indigenous groups: the Agta Cimarron, the Agta Tabangnon and the Tabo. 
Traditional agricultural practices such as crop farming and wetland rice farming remain the reserve's main economic activities, while fishing, ecotourism on Mt Mayon and crafts also represent significant additional sources of revenue. Examples of the latter include pottery-making in Tiwi, knife-making in Tabaco, mat-weaving in Bacacay and abaca handicrafts in Daraga.
The Tabo were able to remain in the reserve due to the development of a local and sustainable economy. Today, the tribe's economy is based on fishing, trading, gathering palm leaves to make into shingles, and producing firewood and charcoal from mangroves. In addition, the Tabo have been taught to make woven bags from karagumoy, a local plant with leaves similar to the pineapple, which grows in the forested areas of Rapu-Rapu.
A number of cultural celebrations take place in the reserve, including the Daragang Magayon Festival, which is inspired by the reserve's three mountains. The area also hosts several historic landmarks.
Back to Biosphere Reserves in Philippines  
Back to Biosphere Reserves in Asia and the Pacific
Back to World Network of Biosphere Reserves
Last updated: October 2018